While most of you think that refrigerator magnets are made only for sticking various notes or just decoration, advertisers see it as an effective way to advertise things. It is estimated that magnets are used on at least 80 percent of household refrigerators and most households view their fridge door over 40 times per day. Keep that in mind when planning your next ad campaign! Collection of unusual and creative magnets that will look great on any fridge. So here is a list of 10 magnetic labels giving a new dimension to home decor. Have a look!
1. Photoshop magnet kit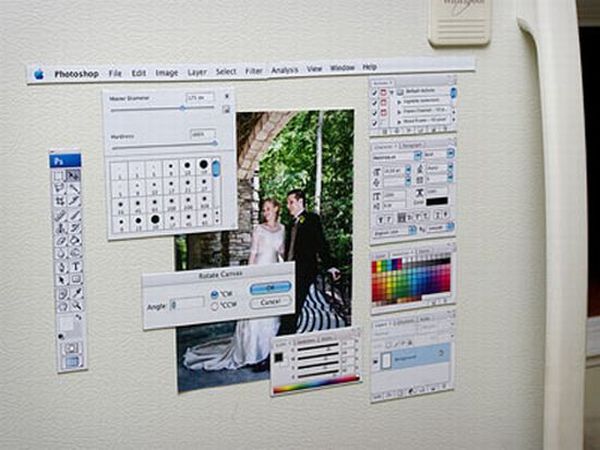 For all those who love photoshop, here is something that you're sure fancy. Taking home the Photoshop magnet kit will make is possible for you to make your family photo you post on your fridge look photoshopped. The magnet set is based on CS3, MAC version. From now, you don't have to open your laptop to show that you're a designer; your friends will know as soon they enter your kitchen.
2. Green house fridge magnet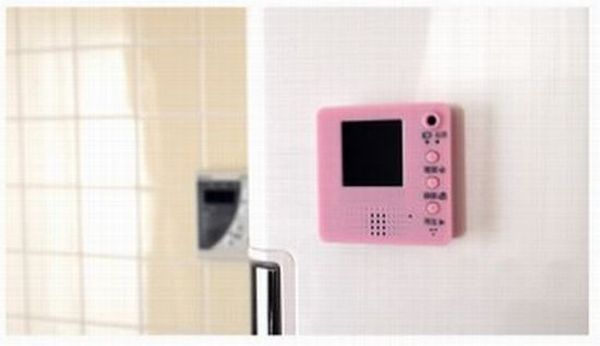 With the green house GH-DM14M video note, your fridge can be saved from bearing your numerous reminder notes. It is a fridge magnet that allows you to record video messages on its 1.44-inch (128 x 128) LCD monitor via a tiny camera. You can record about a 30-second long video clip in M-JPEG format at 20 fps. Available white, blue or pink, the green house fridge magnet is available for purchase at GeekStuff4U for about $66.
3. On/off magnet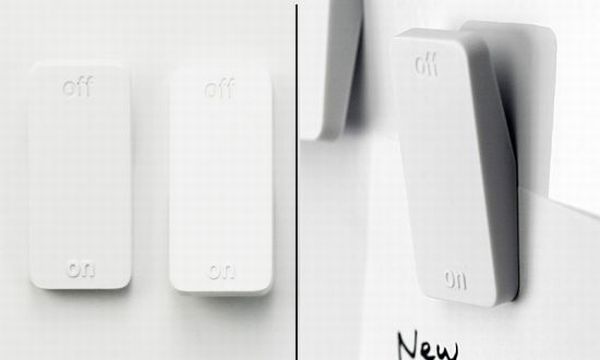 Little accessories in your home play an important role but are often ignored. Megawaing's on/off magnet is a set of four magnetic sticks that when turned 'ON' lets you stick memos on the refrigerator, turn it off and you can use a pair as a picture stand. These magnets reflect those emotions that we go through every day, sometimes on, sometimes off. Ask me and I'll say it is a must-have for all you button freaks!
4. iPod shuffle inspired iMagnet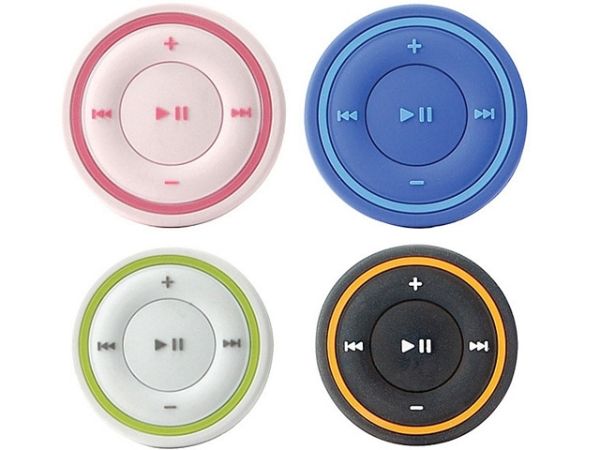 Here is a fun geeky accessory that is bound to add some geek style to your apartment, the iMagnet. The iMagnet is a fun fridge magnet that was inspired by the original iPod shuffle, and it is bound to look great on your fridge. The iMagnet comes in four funky colors, black/orange, blue/light blue, pink/white and green and white, they are available for $6.95 each from Xtreme Geek.
5. Treebuttons magnets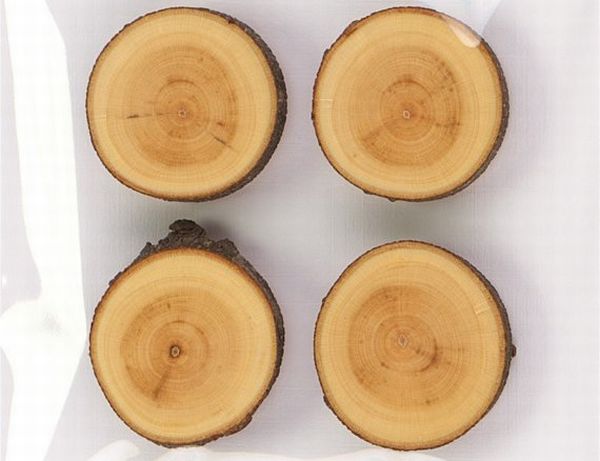 These really make the best small gifts or wedding favors. Treebuttons are handmade wood magnets made from salvaged cross sections of branches. The actual magnets used are extremely strong rare earth magnets. Every treebutton is finished using 400 grit sandpaper and preserve exotic nut oil, so they are extremely smooth and beautiful. They are also thoroughly kiln dried so they will not check or warp. You can specify treebuttons that match your cabinets or woodwork in your home, or if you just love a certain species of wood by contacting us. They come in a variety of species including cherry, birch, oak, maple and apple to name a few. Each treebutton is entirely crafted by hand and is completely unique.
6. Magnetic bacon strip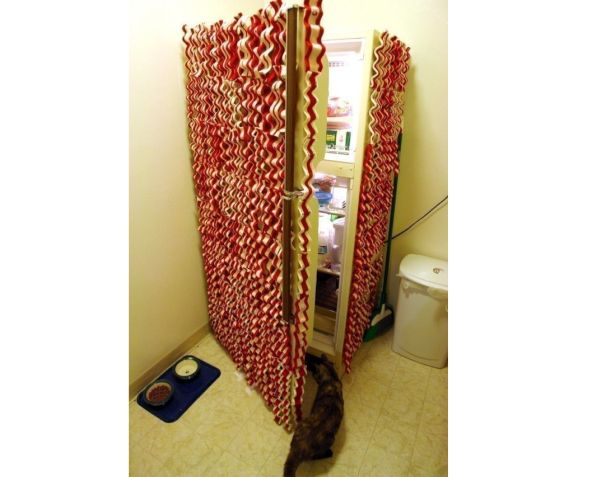 Now this is something that will completely transform your old refrigerator into a cool and stunning new generation refrigerator. These are actually magnetic in nature that can easily be placed on the surface of your refrigerator, and for what it looks and delivers, it will completely add to the beauty of the refrigerator and ultimately to the beauty of the house. These cute strips are provided with various smileys' that are really adorable. It has a length of 7 inches.
7. iPhone application magnets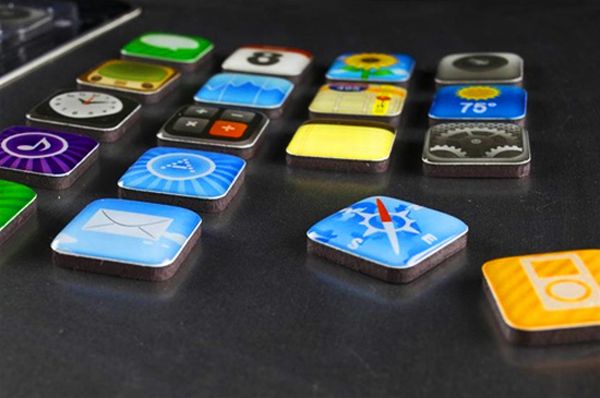 These iPhone application magnets are a crazy and highly original way to keep your fridge in touch with technology. They were created by a firm called Jailbreak Toys who is selling them online for $12,99. Now the pack comes with 18 Apple applications, but it is up to the user to choose the ones he or she likes the most and unconventionally remodel the fridge. We can't help but notice just how popular the iPod, iPad and iPhone are and how many unusual designs they have inspired since their launch. Some of these unusual creations we already presented on Freshome (iCushion, the iPod Touch Themed Bedding and the Handmade Wooden iPhone Docks) and they had a large impact on our readers. What do you think of these application magnets?
8. LOL magnets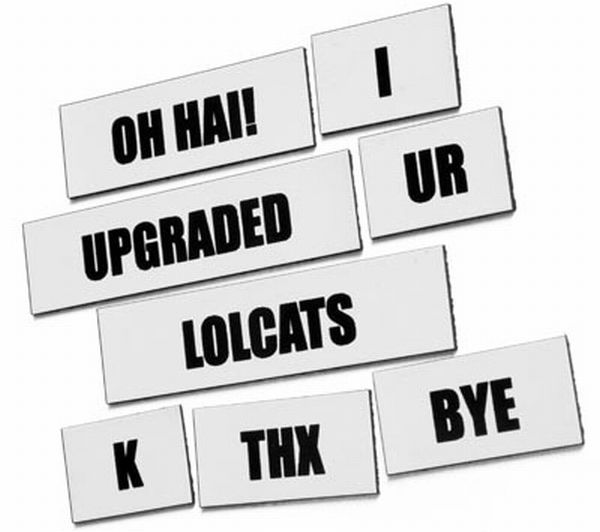 LOL cats are funny and cute. And with this LOL magnetz set, making your own LOL Cats is very easy. Just get a picture of the cat (or other animal of your choosing) and use the magnetz to build the caption right on your refrigerator. Because they are magnets, they will also hold the picture they are captioning. It is amazing; it is a miracle; it is LOL magnetz. Priced at just $19.99, these LOL magnetz are worth of a strong recommendation.
9. Berry magnets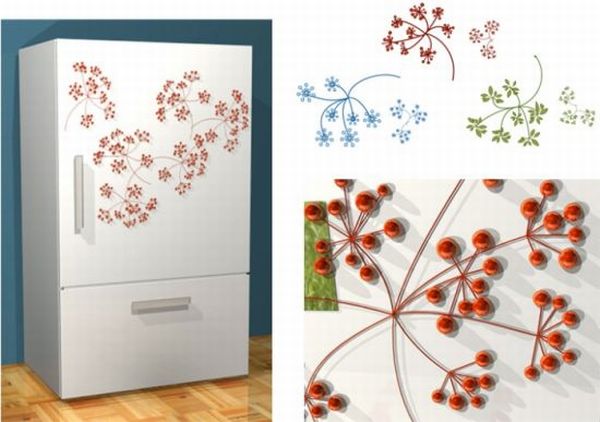 Does your simple monotonous looking fridge annoy you? You surely have thought of different options to decorate it. If none appealed you and you want something really unique and beautiful then the modular magnet system by Betsy Barnhart can do wonders. These Berry Magnets together creates a custom look thereby enhancing the beauty of your fridge.
10. Space invaders magnet set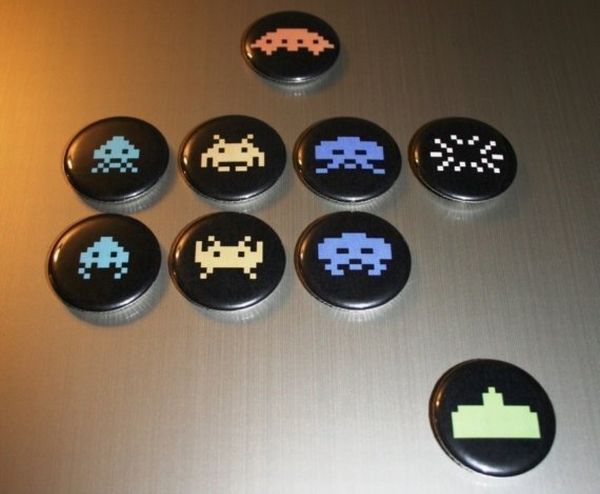 Taken from actual screen shots of the original arcade version of the game, this is a set of 9 awesome space invaders button magnets. The buttons are all to scale, and match the game pixel for pixel. These are re-colored so that they would be more ultimate.
Everything important is included in this set, like small invader (open and closed) – Blue – 30 points; medium invader (open and closed) – Orange – 20 points; large invader (open and closed) – Purple – 10 points; saucer – Red – 50~300 points; explosion – White and cannon – Green. With all these cool features and components, this product is really hard to ignore and is worth of a deal.