A well-designed terrace adds to the beauty of your home. Just as a porch, atrium or backyard patio gives a chance to entertain people outdoors. A comfortable and beautiful terrace can also do the same.  A mix and match of different furniture and materials for the flooring and walls can completely transform your terrace. Paved terraces are much more durable. Any changes you make to the terrace will be great, but you have to keep in mind that there is an avenue for the rainwater to be drained out. Check out these small terrace design ideas to which we're sure will inspire you:
12 small terrace design ideas
Convert your small terrace into an extra sitting space where you, your family and friends can soak up the sun. It is a great idea if you want to enjoy cool breezes and starlit nights. Here are some good ideas you can use:
Romantic corner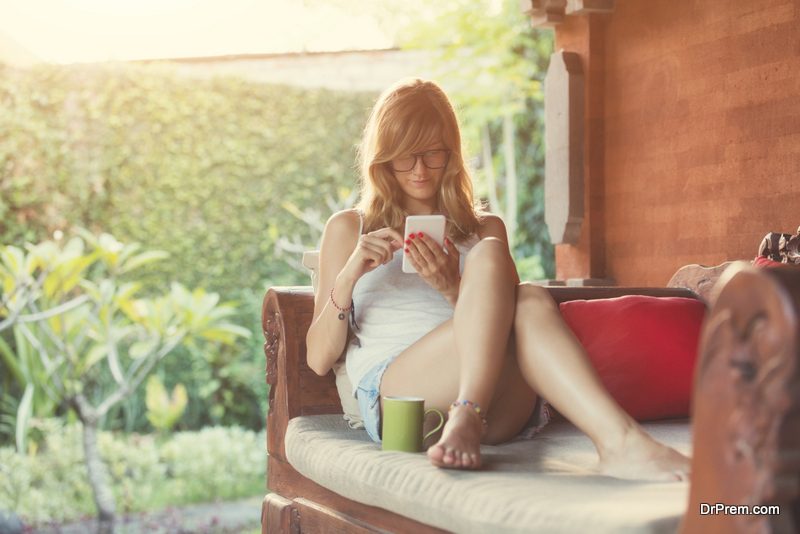 If you have a very small terrace or a small balcony, convert it into a cozy corner for two. A small loveseat in cream or a small round corner couch covered by cream-colored curtains would give you and your sweetheart some privacy. Curtains would shade you from the brilliant sun too. This is one of the terrace design ideas that can be easily executed.
Contrasting shades
Color plays an important role in design. One of the roof terrace design ideas is to use contrasting colors. Dark blue and dark green don't often go together; but you'll be surprised at how good and fresh these colors look when used as complementary colors.
Dark blue cushions placed on navy blue stone benches surrounded with tall bamboo looks fascinating. This is just one idea for contrasting shades – you can use your favorite color contrasts to create your unique terrace garden.
A roof with a view
If you are lucky enough to have a roof that looks over to the sea or forest, use it to your advantage. All you have to do is place some chairs and a table where you can enjoy your meals looking at the beautiful natural sights. Small terrace design ideas are often simple but elegant. Choice of furniture also matters. You can keep the look minimalistic by choosing furniture with austere lines. The same space can be luxurious if you choose end couches etc.  There are design ideas for a small roof            , which can make your roof terrace look magical.
Use a lot of candles
Candles have to be a part of all terrace design ideas. Whatever your décor, candles can make any terrace design special and intimate. You can make candles and use them or buy those that do not have any fragrance, as they are harmful for you and the environment. Place them all over the terrace to give an ethereal look to your terrace. Another plus of candlelight and other low lighting is that they can make any space, décor and design looks dreamy.
Hot tub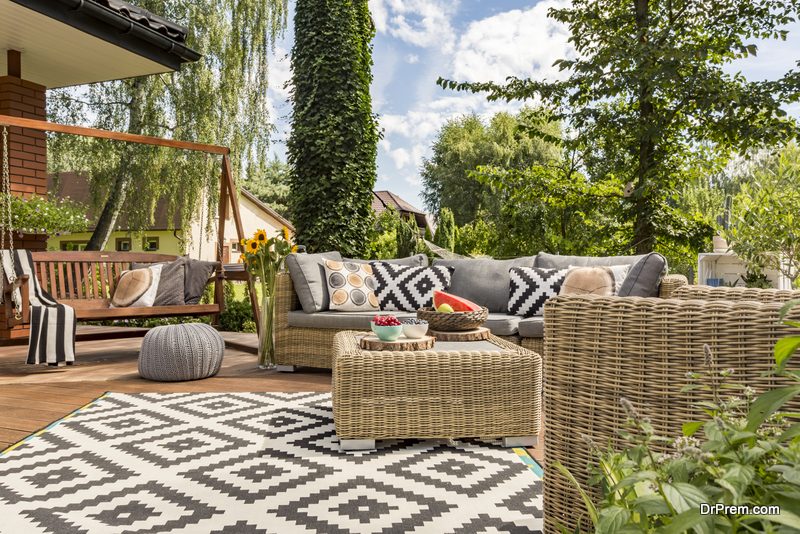 Luxuriate in a hot tub on your terrace. It's a small terrace design ideas which look great and will entice you to spend more time outdoors, whatever be the time of day.
Stone wall
Stonewalls are great roof terrace design ideas.  You can choose any stone, though those with some texture would add an extra design element. Your stonewall would be the perfect and one of a kind accent wall for your terrace design. Match the stonewall with simple rattan furniture.
Garden umbrella
A small glass table with two or three chairs with a garden umbrella to provide the shade is a simple but effective idea for a small terrace. You can choose wooden or aluminum or wrought iron chairs and tables. This is ideal if you have enough space for a terrace garden.
Hammock
Who says you need trees for a hammock? Tie a hammock between two pillars on the terrace and enjoy the warmth of the sun, especially in winter. One of the small terrace design ideas that you'd love!
A rug, lanterns and cushions..
You don't have to buy any furniture at all for your small terrace. Bask in the company of friends in the lovely light of lanterns. Just buy some floor cushions and a coir rug or mat. Place the cushions on the mat and your terrace now has a lovely, enchanting oriental look, at hardly any expense.
Rustic vibe
Check out yard sales or sales at antique/vintage stores to find the perfect wooden furniture that has a rustic charm. You can use pallets and DIY tables and chairs for your terrace. Use pretty colors and accessorize with flowers and Mason jar decorations to complete the look.
A thatch roof will give you shelter from the elements and look charming. A rustic décor will match with the thatched roof, to create a space that will stand out in the urban context. Design ideas for a small roof such as a thatched roof to partly or wholly cover your roof are amazing and work well all through the year.
Firetable
You may not have space for a firepit or a fireplace, but you can include a small firetable. You can sit and swap stories with your friends around the firetable and have a very pleasant time, while enjoying the warmth. For small terraces, gas firetables, which can be lit with a remote, is best, instead of something, which needs logs or other material.
Choose colors wisely
You can keep changing the look of your terrace by just changing the colors of the cushions and other accessories. Oranges, reds, turquoise shades will brighten the look and give it a summery vibe. If you're more into Scandinavian color schemes, opt for cool blacks and grays, as well as natural wood shades.
Whatever your color scheme; have as much greenery as possible, as it will keep the temperature down. Seasonal flowers, succulents in terrariums placed in small side tables, tall shrubs and vertical garden walls are a few ways to add some natural color and texture to your terrace.
You can combine several of these ideas to create your own look for your terrace. Most of these ideas are easy and simple. They will help to add an extra space to your home. Apartment dwellers can use the small terrace design ideas for their balconies to have a wonderful sitting space outdoors.