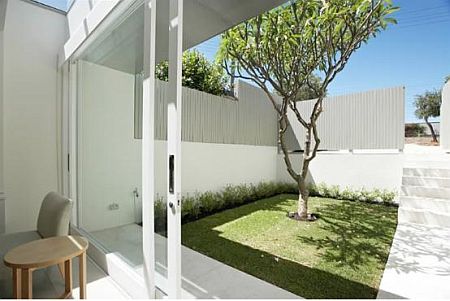 When considering urban cities, this one thought immediately strikes our mind. And that is, with ever increasing population and the never ending pollution, life is being so lost in this cemented grey jungle. Where living space is getting smaller and smaller, people are inheriting the idea of outdoor living space to bring in the greenery and love for nature at their own roof tops. Terrace gardens are the new trend in the cities not only to make ones homes attractively beautiful but also to survive with eco-loving peace. If you are thinking to adopt the beautiful idea of terrace garden or if you already have one for your roof top and thinking for its makeover then this web space would surely help you out. But, there are things if taken proper care of, would help get you relief socially and emotionally. So, we have enlisted some of the interesting ideas and easy to follow tips that will make your terrace gardens feel like a mini heaven from nature. Have a look on the tips below.
Make the base strong for durable Terrace Garden
Take a right and planned step towards building your dream terrace garden. Keep in mind some of these valuable things while designing your garden. The very first thing to consider is that the terrace or roof top should be constructed with extra beams and columns. This helps your house to bear that extra weight of the garden. Next is to consider a non-porous water proofing roof that prevents the moisture trickling down the roof making your home walls loose n weak. Some of the water proof roofing solutions are PVC compound, fiber plus coating, epoxy raisin, slate stone, rubber bitumen compounds etc. While choosing certain roof make sure its light weighted. Third important consideration is relating to the drainage hole and its slope. Gardening and watering goes hand in hand thus, the drainage hole should be wide and clear and it must have a slope correctly designed for smooth flow of excess water n mud. Fourth very important thing to inherit is the planters and pots for your plants. It is a beautiful option to go for Terracotta planters or even the plastic ones as it is light in weight.
Lighting up your terrace garden will make it more appealing
Lights acts as an essential part when it comes to decorate your terrace garden. Light up your garden with Terracotta lamps or even some antic lamps such as pole lamps, rustic hanging lamps, statue lamps, etc will add the glittering beauty to your garden. Brighten up the starry atmosphere with those defused shower falling from such lovely lamps.
Bring in Bonsai treatment to terrace garden
Bonsai's are a great way to decor your garden even when it is running out of space. You can plant mulberry, pomegranates, oranges, etc. as bonsai in the garden. They are even available in hand-ready position from nurseries. Moreover, canopies, shade work, artifacts, water body are another great way to decor your garden.
Use of bamboo decoration will bring in natural effect to your terrace garden
You can also make use of bamboo stalks if you are planning to part in some tree to your garden. With use of bamboo stalks you will only need some vases which are very easy to use. You just need to fill these vases with clean water and bamboo shoots. Such bamboo stalks looks great in sunny area on your terrace.
Proper maintenance is very much essential for terrace garden
You can beautify your terrace in a more elegant way by adding flowers to your garden. While selecting flower plants, make sure that the roots are grown in slow process with low humidity. However, make it a point that humidity is not at the least scale as proper growth is wholly dependent on right amount of moisture and humidity. Further, you can maintain your terrace with proper seating arrangement to enjoy all the favorable moments. It is very much important to take regular maintenance follow up so that your terrace garden doesn't stale and become dirty. Remember it is one of the most cherishable and some what a personal space that you and your family will love to enjoy.
Some important points to be taken care of:
After designing your terrace garden with all the above beautiful ideas, you have to take care of some more essential points to keep your greener space filled with fresh breezes, calmness and happiness. Here are some more small yet valuable tips that are necessary to keep in mind.
a) Shape of the terrace
If you deal with small terrace garden then folding chairs will be very much favorable to you. If this is not the case and you have ample of space left then go for sofa chair to bring the luxurious environment in your green corner. It can be best used in summer season for sunbathing and even for taking a relaxing moment from your busy day. Thus, shape of your terrace does matter a lot in case of decorating it with proper furniture.
b) Matching furniture for terrace
This outdoor living space can also be as functional as your living room inside your house. Make it more comfortable and functional with matching furniture, pillows, texture, shape, color selection of pots and vases, etc. Make it look more natural with making use of bright natural colors.
c) Outdoor furniture for terrace
Keeping in mind the current fashion trends in homes and terrace gardens, designers have bench-marked their creations in beautiful form of outdoor furniture especially designed for the terrace space. They are not only a source of fun in your garden but are also good and chic idea for an outdoor family dinner. This furniture is long lasting, stylish and are available in many themes. So, select a particular theme of furniture and add some fun loving drama to your garden.
d) Decor your terrace in different styles
You can certainly change the look of your terrace garden according to the occasions. Make it change to a rustic look by adding some wooden chairs, wooden benches, tables, rustic wooden archways, watering cans, soft cushions, clean white cloth, etc. Everything would imitate the rustic look of olden times. You can even change your garden to classic look by adding some iron made furniture and accessories that will represent the 70's era with very classy touch.