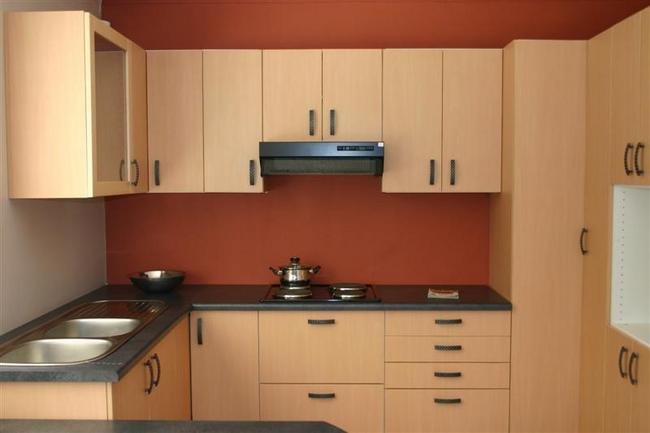 Kitchen is the main working place of housewives. There is a popular proverb saying that, "The way to a man's heart is through his stomach." So no doubt, you can enjoy cooking only if you have a best space for it. Modular kitchens are the latest trend among the home interiors. The main attraction of the modular kitchens is the storage space they provide. We can store a lot of thing inside the cabinets. Now new designs have come, and you can store even your washing machine in the kitchen! But all these ideas are applicable to the big kitchens and the houses where a lot of space is provided. But, for a cramped house or an apartment, how can we design a small modular kitchen? Is it possible?
Yes, if you have some creativity and ideas, you can make your small kitchen a space for style and entertainment. Here are some fabulous ideas for your small spaced kitchen:
Provide maximum storage
Providing maximum storage space is a great idea for keeping the kitchen appliances in place. You can build cabinets, under the platform and on the walls. The materials should be waterproofed and of a best quality.
Use small appliances
Manufacturers have come with most modern designs today. Most of the kitchen utensils and appliances are available in compact designs. For a small kitchen, such small but useful items are ideal. Foldable tables and chairs can be used in small kitchens.
The island kitchen idea
The island kitchen idea works for small spaced homes. The island provides a space for dining as well as storage.
Decorate with your pots
Do you have beautiful shining crystal pots and pans with you? Then why do you hide them inside the cabinets? Hang them up in the kitchen. Provide an elegant look for the kitchen.
Built in dining table
Built in dining table is a best idea for small kitchens. You can create an extension of the kitchen platform and use it as a dining table. It suits well for a small family.
Gallery kitchen
The storage cabinets can be built on the two sides of the corridor. This galley design goes well with small kitchens.
Proper ventilation
Proper ventilation is a significant factor, not only for the small kitchens, but also for the big ones. The sunlight should fall directly into the kitchen. In some modern designs, to provide maximum light, ceiling is created with glass.
Suitable shades and tiles
Certain colors can influence the appearance of rooms. Light shades will make the room look bigger. So apply light shades in the kitchen. Moreover, it will provide more light in the kitchen. You should select long tiles for a small spaced kitchen. They provide a different look.
Proper lighting
Using modern techniques for illuminating the house is a new idea. Proper lighting will provide a soothing effect. You can try different lighting techniques in your small kitchen. Use lights under the platforms and cabinets.
Avoid cluttering
Kitchen is not a space for dumping old items. Old items always make your kitchen dirty. So use convenient and necessary items only in the kitchen. You need to clean the cabinets weekly to avoid cluttering.
Make use of the corners
You can make the corner spaces of your kitchen useful. Build a compact corner stand and place it there. A small storage space is ready.
Horizontal windows
Horizontal windows are a great idea for small kitchens. You can get enough space to build storage cabinets on the top of the windows.
Thus, if you consider such ideas, you can surely transform your small kitchen a fantastic space for cook and dine.