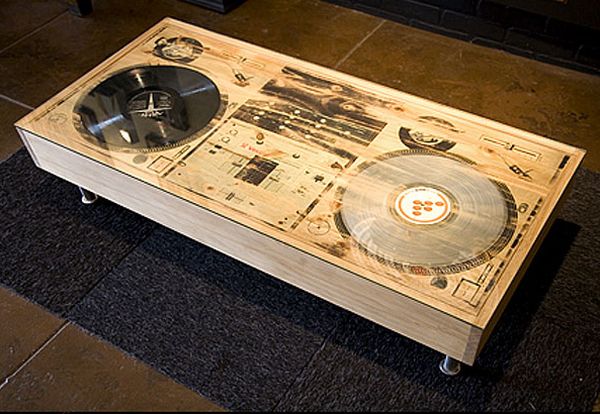 Renowned writer Shakespeare once said: 'If music be the food of love, play on'. Music enchants each and everyone. Music soothes the mind and helps to relax and unwind. Now if there are furniture designs, which are inspired from music, then you will not have to go anywhere as it will be handy for you. Let us have a sneak peek into some of such furniture designs that got inspiration from music.
Guitar chair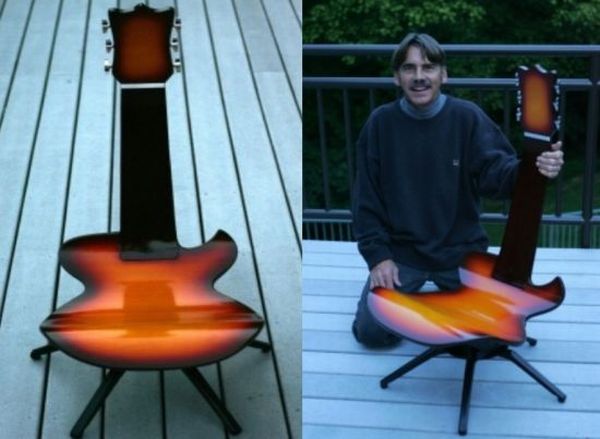 Guitar-themed furnitures will definitely top the list when we talk about furnitures designs inspired from music. Several designers have come up with furnitures designed in the shape of guitar. The latest guitar chair is the brainchild of artists at Metz Functional Art. This beautiful and stylish guitar chair is made of dry molded Russian birch. The finishing of this chair is done with lacquer to give an elegant and attractive look to artistic item. The chair stands on five spring steel base. This chair is very comfortable and the spring steel base allows the user to swivel it 360 degrees. Priced at around $500, the guitar chair is certainly a furniture worth owning.
Guitar table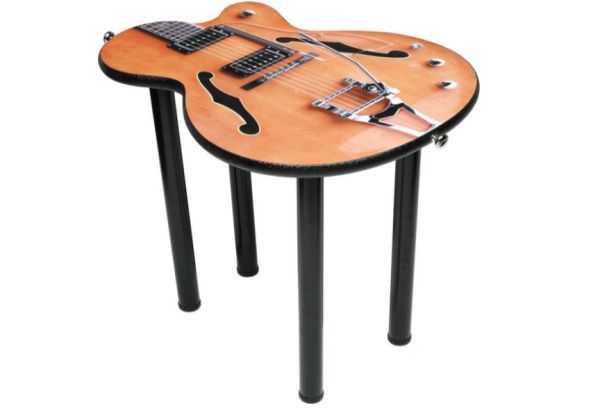 If you are interested in remain connected to the music even while sitting near your table then guitar table is the perfect item for you. This table is designed like a guitar and it could add musical sprinkling to your discussions and gossips. This wonderful piece of art is strong and sturdy. This guitar table is washable as well. The length of this beautiful table is 42" and its lower bout depth is 25-1/2." The height of the guitar table is 17" and the upper bout depth is 31." The surface of this guitar table remains unaffected by boiling water and high temperature. The surface of this table is stain resistant. The price of this guitar table is around $400.
Musical rumba table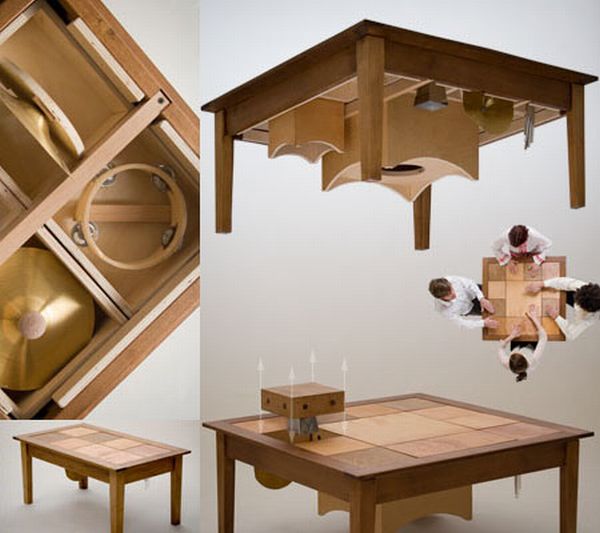 Musical Rumba table is music-inspired furniture, which can make wonderful symphony. This beautiful table can be used as showpiece furniture as well. The users can use this table to design their own drum table and produce tunes and loud beats. The beats and tunes produced by this rumba table are similar to the beats and tunes produced by drums. This table is available in four different sizes and prices. The 2×2 tables are priced at $800, while the cost of a good 4×4 table is $2900. This table is a perfect item for those who are musically inclined and want to manufacture new tunes and beats while sitting on the table. The smallest table can accept four small instruments, while the largest table can accept sixteen instruments.
LED piano light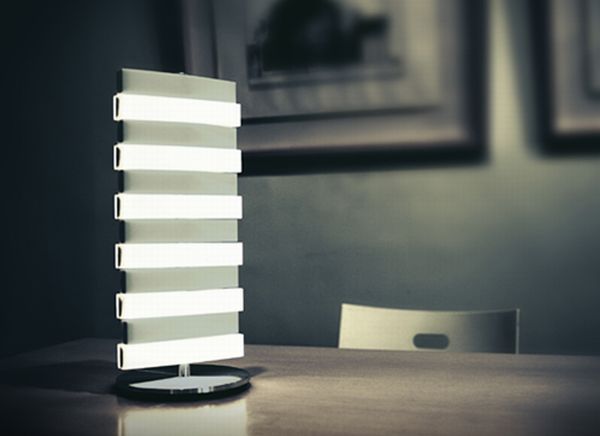 The design of the LED piano light is inspired by the player piano. Users can tickle the 'ivories' of the light and can feel the experience of playing a grand concert. This unique furniture has been designed to use the low-temperature characteristic of the LED light. Users can touch the surface of the Piano Light without causing burns. Besides being an object to enjoy some funny moments, the LED piano light also emits light which is sufficient for reading. This artistic furniture provides eco friendly lighting.
Piano table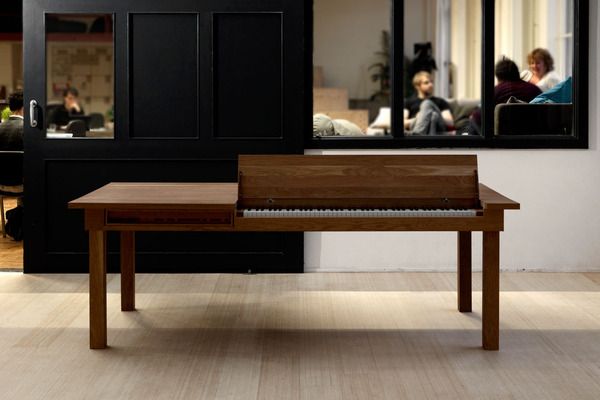 Georg Bohle has designed a piano table which is a perfect item for urban homes where lack of space often forces people to give up their desire to follow finer interests. The design of this sleek and stylish piano table is linear. This table is made of oak wood and it can be used both as an electric piano and a dining table. The piano keys are concealed under the wooden tablet. The tablet is made of oak wood and it is used for dining purpose. The lines of this piano table are neat and clean. The table has a plain polished appearance, which gives an attractive look to it. This piano table is priced at around $6000.
Console turntable clock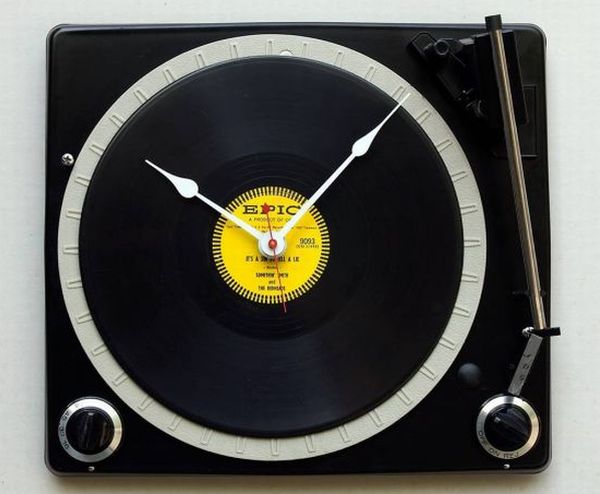 Those of you who are interested in buying retro piece of art as a decorative item should buy this console turntable clock. This unique clock is made of a recycled ADS console record player. This innovative clock features an Epic Records 78. The width of this clock is 13″ and its height is 12″. Featuring the new quartz clock drive, this wall clock is powered by a single AA battery. The price of this handmade turntable clock is $119.
Xradio 2 disc cocktail table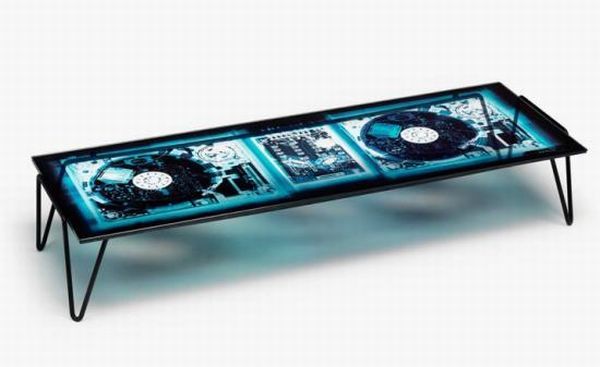 Denim brand Diesel and renowned Italian furniture maker Moroso have jointly designed and manufactured Xradio 2 Disc cocktail table. This artistic music-inspired furniture has been produced under "Successful Living" brand name of Diesel. In this table, a digital print of DJ console is fitted on the glass of the table.
Bughouse coffee table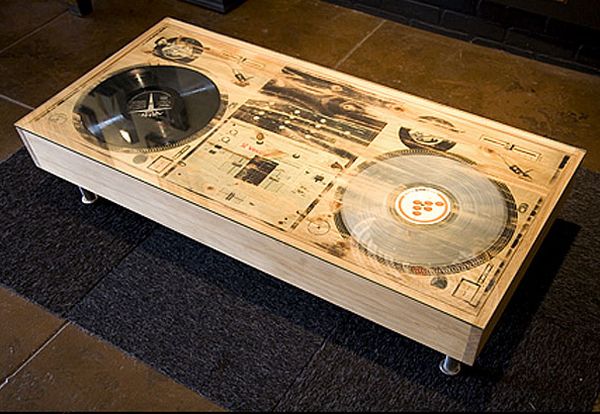 Designed by Bughouse Art and Design, the Scratch DJ coffee table is actually an image of two turntables and a mixer. These items are under the top of the table. The top of this uniquely designed table is made of glass. The Bughouse coffee table is available for sale online for $850.