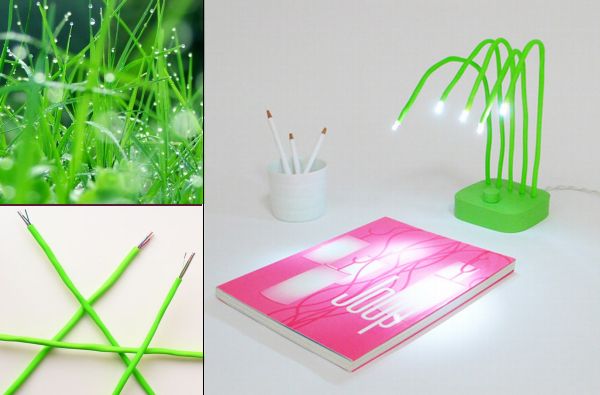 The Designer/Manufacturer
New York based product designer Victor Vetterlein has designed the fresh desk lamp to give your desk, a touch of spring.
Overview
As the name suggests, the designer has played with the concept of a refreshed touch of color and earthiness to your everyday urban life, keeping you rooted closer to the scenic nature. Visualizing a clutch of fresh green blades of grass dripping rain or dew drops as viewed against sunlit mornings, Vetterlein has designed the lamp in green strands made of rubber sheaths with LED fixed to the stem that ends with a common base. The grasses here can be bent either way to make it more relevant and focus better light to the required area. The light when erect stands at 35.56 cm and each blade head is of 0.95 cm in diameter. The base holds the power voltage converter required to make use of low energy source. The blades of grass are each rubber coated metal wires with neoprene coated resilient aluminum lengths to give it a strong shape and resistance.
What's unique?
The US based designer has launched this desk lamp to enhance home/office decor as well as balance the structural format of urban life with the country life. His muse here is the visual depiction of green tall blades of grass that bend down with the weight of rain droplets.
High Points
Not only by its look, but also by its design, the lamp gives a more eco-friendly and natural look to your office or home ambiance. Using LED lights with acrylic magnifying lens, makes it economic, power friendly and a far less expensive option in hand for a desk lamp. Being bendable in all directions makes it more flexible and functional. Its direct prismatic light both individually or in group makes it more attractive and useful.