Pergola is the outdoor open framed structure which gives you extra space and feel of an extra room in your home. In short, it provides you with privacy and a place to relax and spend some "Me time". So why not make this place interesting and attractive by opting for some modern and unique style ideas which add a spark to your overall appearance of the house. Let's look at some of the interesting pergola design ideas to give a nice décor to the overall look of the pergola.
1.     Mixed patterns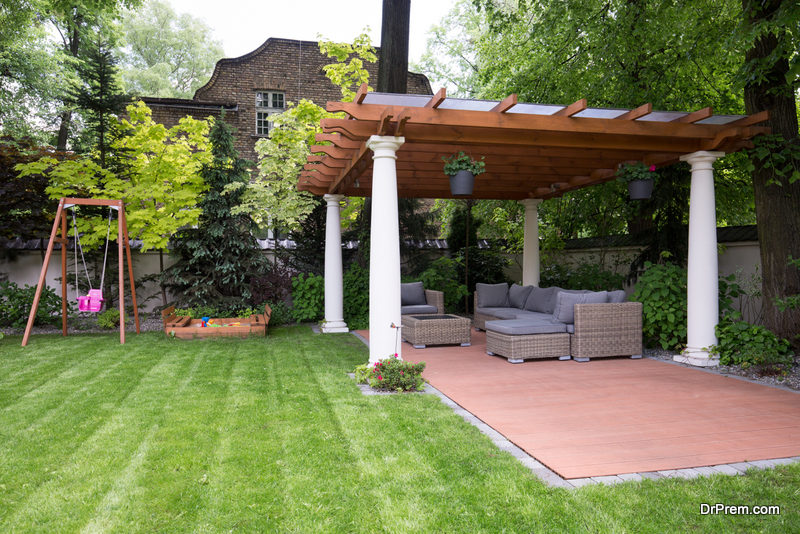 The mixed patterns pergola design ideas have made its place from 2017 and are still ruling them with style. The idea of this design is to use mixed patterns and style in the furniture's kept in the pergola. If you are keeping a monochromatic sofa in the pergola, you can make it interesting by adding and draping it with some regal and vintage artsy patchwork patterned material.
You can also throw some cozy blankets to make the place warmer and cozy which gives a comfortable time at night. Have a nice rug, carpets, drapes, and bright tablecloths. Do not limit yourself as designing and decorating the space as it is your space and doesn't have to compromise with comfort.
2.     Concrete pergola
This one is a truly elegant pergola design ideas to try. Combining smooth arches and sturdy posts with the roof, this pergola stands on its own covering the patio. Lumber pieces used with decorative cuts made at each piece give the unique and finished look to the pergola. If you want to create the same look, consult a skilled carpenter to have this kind of design as they can only create this design and masterpieces with a perfect finish. If you want, you can use bricks and stones to give some earthy feel to the pergola with its natural color and design. Choose the color of your choice to paint the posts so that it gets highlighted and eye-catching.
3.     Pool Area with Swing Bed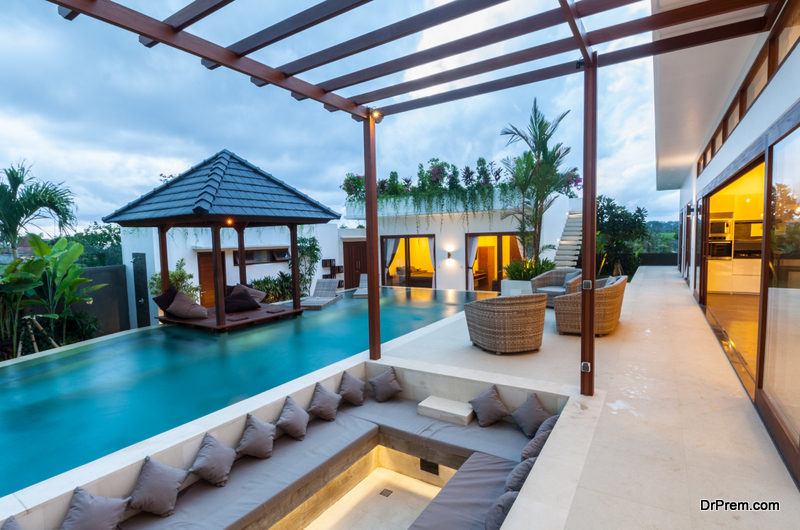 This is one of the most comfortable and relaxing pergola design ideas. If you have space or pool area at your home, why not create a pergola near the pool area. It is the perfect location for the pergola for the relaxation and rejuvenating oneself. A swing bed pergola near the poolside gives the owners to sit back and enjoy their time at the backyard. Arrange a nice seeing inside the pergola facing the poolside. To make it more interesting, use some palm trees to give the feel of a resort at your very own home. With white fences and columns imitates the front porch giving a modern look.
If you want to add some romance here, add a roof with screens of the pattern which gives you shade as well as keeps your space looking gorgeous at night. Keep white and blue patterned flooring to match and go with the flow of the poolside and get some decorative lights at the ceiling or shade. This could become your perfect place for a party when your friends drop in your house without informing.
4.     Two in one pergola design
This pergola design is the wooden attached pergolas which offer you your space and also gives you a place to grow vines. This is becoming famous in the county sides as it works as two in one with pergola. As the pergola is attached to the house wall, the post supports one side of the pergola. Pressure treated pine and cedar are usually preferred for this design as they cheaper than the other woods. They are treated with copper-based pesticides to prevent the woods from rotting and also keep the insects away. Make sure you paint this area carefully as it leaves a little grove or marks on the woods after painting. So be careful as you paint these posts to get the perfect look.
5.     Go Green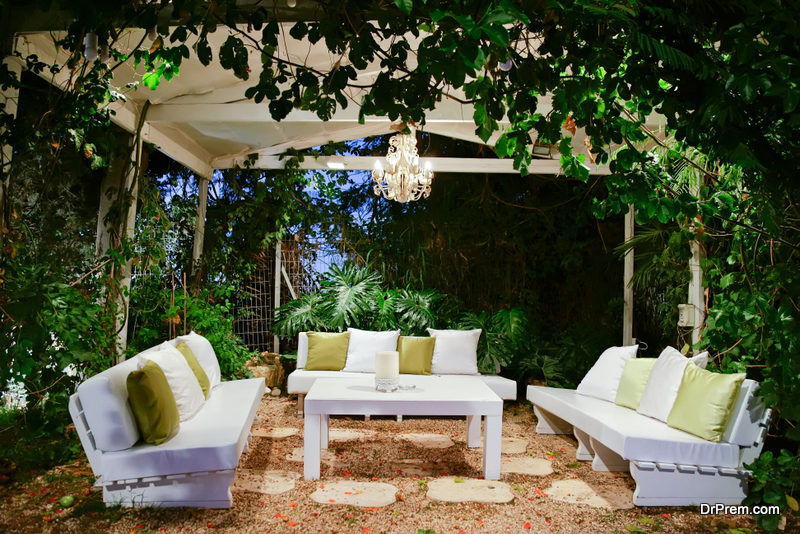 Give the splashing green color tones to your pergola as the coming year is sure to bring some earth tones to your décor. Colors like green and blue are what you need to decorate your pergola with. It makes you close to nature and gives greenery all around. Green here doesn't refer to as bight or gloomy green, choose the greens which is subtle and cheerful and which provides a soothing effect to your eyes. Do not go with painting your entire pergola with green or painting the posts with green color. Just make your sitting arrangement in a greener way. Give your old pillowcase and sofas with a green color covers which immediately makes the mood fresh and attractive. One of the instant ways to enhance the look is to add some nice flowy green color curtains at every post and tie them with some nice vintage curtain ribbon ties.