It is essential to encourage your kids to start reading from an early age itself. Sadly, a lot of kids today tend to get distracted by the television programs, video games and so on. How then, would it be possible to create a reading nook in the house that would be functional enough to house all their favorite books and yet creative enough to boost their imagination to new heights? Here are some really cool reading nooks that achieve the perfect balance between function and creativeness, thus encouraging your kids' to start reading books regularly.
Closet Reading Nook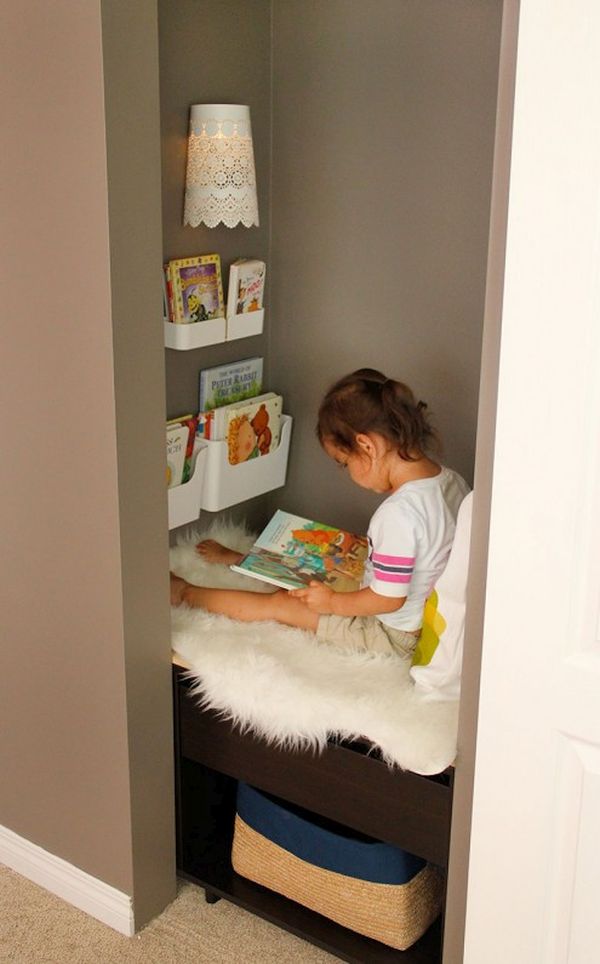 If you have a spare closet in your home, consider transforming it into a mini-library for your kids. A small sized bed would take the bottom space, giving your kids an ultra-comfortable space to sit on while reading. Rail shelving mounted just above the bed can offer a nice space to keep the books in while ensuring they stay within arm's reach.
Wall to wall shelving on the higher levels ensures that you still get to enjoy a closet space to keep items in. Don't forget to paint the space in bright colors while adding creative lighting options and some colorful cushions. All of this would create a really striking and yet cozy reading nook for your kids.
Treehouse Reading Nook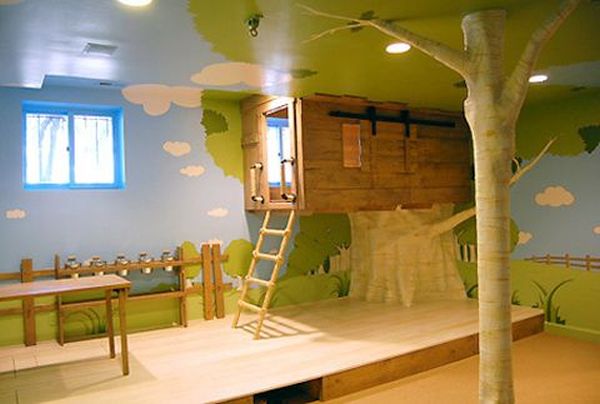 Of course, there is no need to start looking around for a tree in the garden if you want to build a treehouse for your kid. Look indoors in your kid's room. If you have a ceiling space that is high enough to accommodate a small room, consider building a tree house here itself. Better yet, you can transform the treehouse into a reading nook which would give your kid the ultimate privacy as he grabs his favorite book and climbs up the ladder to enjoy some quality reading time in his very own treehouse library.
Window Reading Nook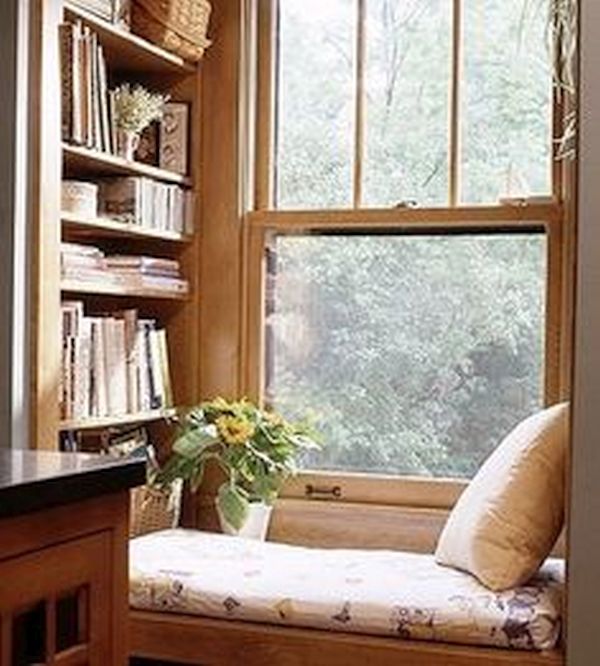 One of the best places to set up a reading nook would be right next to a window where your kid can enjoy his favorite story book as well as the sights outside. If you have space beneath a window in your kid's room, consider setting up a small library and a comfortable perch right underneath it for the same purpose.
Peewee Teepee Reading Nook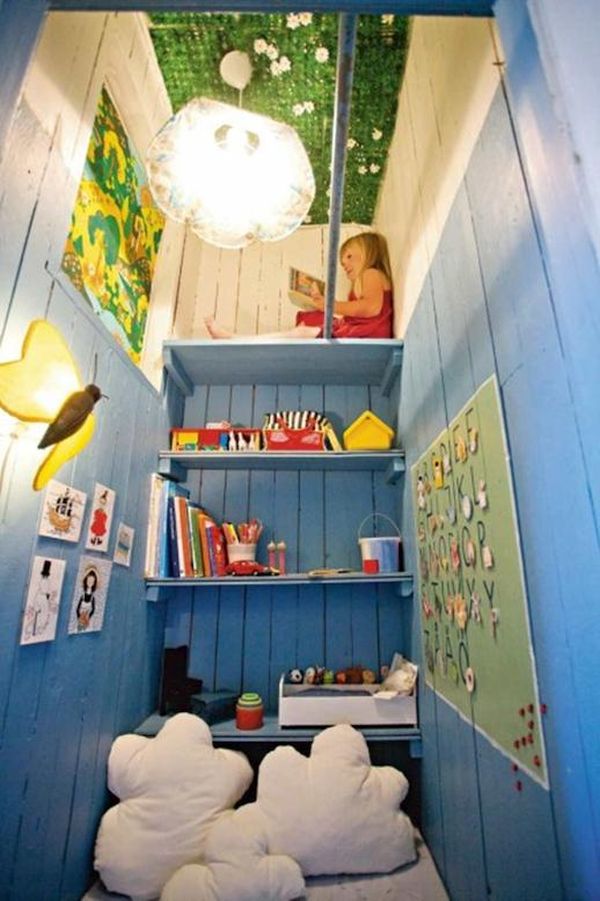 How about a more adventurous setting for your kid's reading nook? You can set up a little teepee inside your kid's room and decorate it with everything he likes, including bright colors, Christmas lights, little toys, comfortable cushions and of course, his favorite books. This would be the perfect place to read out a bedtime story for your kid before you put him to bed every day.
Attic Reading Nook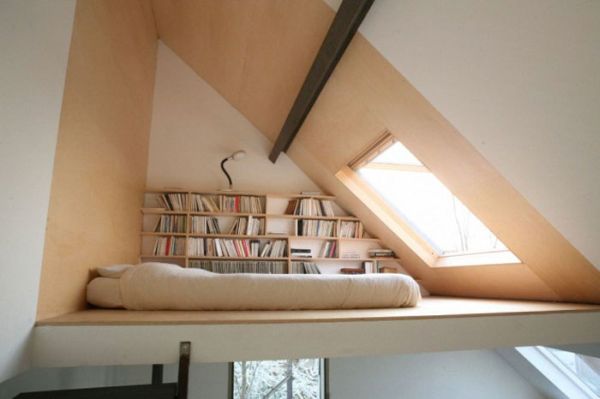 Most of us tend to have a lot of leftover space in our attic. If you do too, then consider using this space to create a customized reading nook for your kid. Close off a portion of the attic you wish to use as the library. Paint it in bright colors and decorate it with all the necessary stuff required to make it look interesting and alluring. And then, add the highlight. A separate flight of stairs from his room to the attic above so that he can choose to spend some quality time in it whenever he feels so.
Hideaway Reading Nook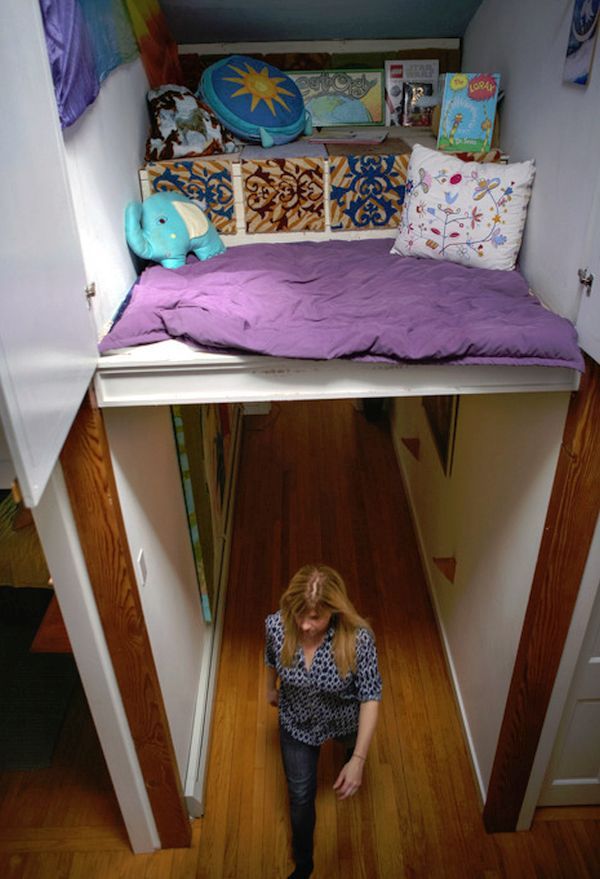 A lot of homes tend to have large unused space right behind the drywall at certain areas in the home. If you seem to discover such an area, consider transforming it into a reading nook for your kids, albeit with a little mystery involved in the whole process. Paint the walls and use laminate tiles on the floors. Throw in some rugs and cushions. Add some creative lighting option (don't forget the ventilation). Create an entry way for the room through an opening in the wall which can then be conveniently hidden behind a chest of drawers. Your kid will absolutely love this new arrangement.

Thinking of setting up a reading nook for your kid? Rather than sticking to the same, usual standard reading nook design, consider creating some really creative reading nooks to inspire your kids to start reading.