Cooking in a kitchen that has been designed as per your needs enhances the cooking experience. A modular kitchen with a great design will make you want to spend more time in it.
Foodlab on wheels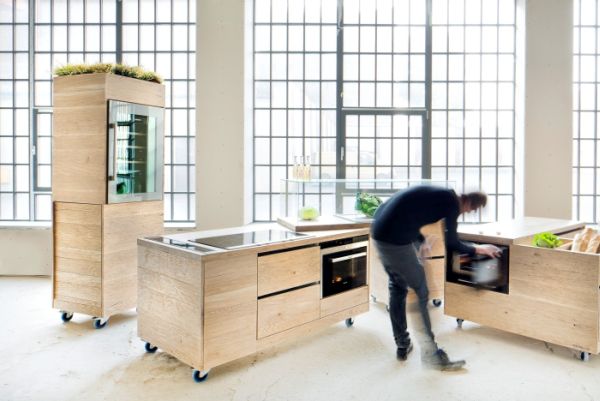 Studio Rygalik has brought about this modern concept. Whenever you think that, the kitchen is too crowded you can shift anything you want to a different place with ease. There are wooden boxes of varying dimensions as per the purpose it would serve, fixed on wheels.
So, there is one to house your oven, one for refrigerator, counter top to prepare your meals are also on wheels. These modular pieces can be added as per your requirement. These individual pieces can be pulled out of a corner whenever the need arises and pulled back again to get more room. You can enjoy the plenty of breathing space while cooking.
'Barely there' kitchen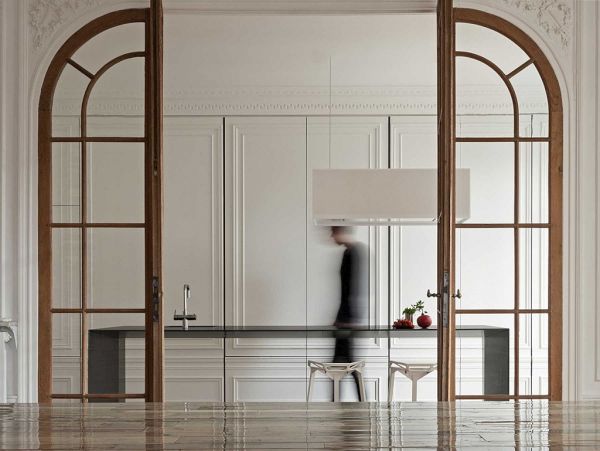 Perhaps it is a kind of stealth kitchen, which is 'Barely there'. This modern design by i29 Interiors is cleverly designed to use the modules of the kitchen as furniture. The designer/s have focused on placing the cooking appliances, water and electrical connections in such a way that they appear 'barely there'.
Storage for the kitchen essentials and space for the appliances is given behind sliding doors. This minimalist modular kitchen design is very different from a conventional kitchen, its spacious and looks just like another room in the house.
Shaping silestone kitchen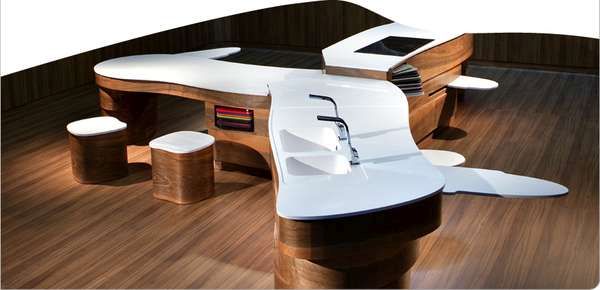 Just like the three Musketeers, this kitchen has three constituent pieces. One is for the stove, another one houses a sink and a table and the third one will give you plenty of space as a counter top. Campanas have designed the Shaping silestone modular kitchen. So, why did they name it so?
Interestingly they got the inspiration from a Swiss army knife to design a modular kitchen. Just like in the army knife as the elements pop out, modular quits from the tables come out when you require them. They are simply pushed back when the job is done. You get more space and an awesome design.
Mono office kitchen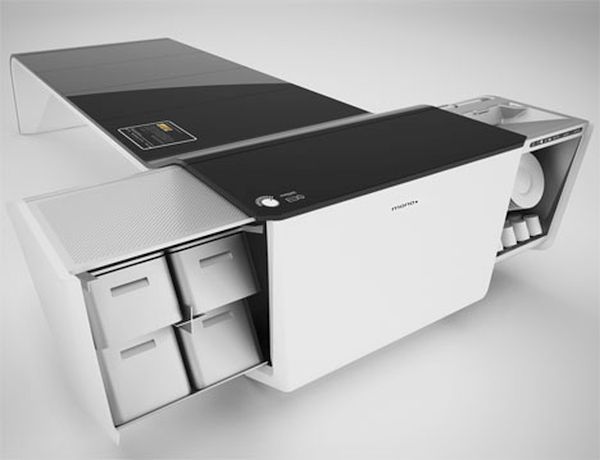 The mono office kitchen is a futuristic concept and the equipment is probably borrowed from the Jetsons. The entire kitchen is hidden inside a long table that appears like a normal dining table. When you see the several buttons and a touch screen on the table, the inquisitiveness begins. You can browse for recipes or order food online with the help of this touch screen.
There are pullouts, open able slots and modular fittings in the table. The table incorporates a dishwasher and a well-designed sink. If that is not enough, know that it also has storage compartments for the kitchen essentials. The table is a complete kitchen, which after usage can be folded back into a table.
Modular mobile kitchen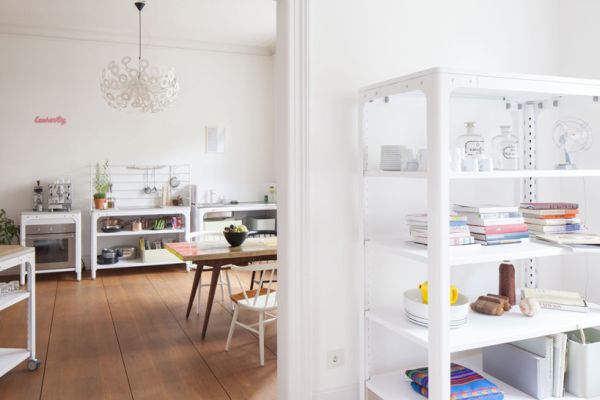 With the help of this mobile kitchen, you can have a great cooking experience as it allows you to change the location of the kitchen at your will. Bureau Kilian Schindler has designed this modular kitchen in such a way that you can put it together or open it up in a matter of minutes.
It comprises of a sink, a butcher block, a storage cabinet, a table equipped with gadgets and a working top. If you wanna watch TV in the living room and take your kitchen along with you, the mobile kitchen is the obvious choice.
The equipment in the kitchen and the ergonomic design of your kitchen heightens your cooking experience. The more comfortable you are the better the experience will be.