One of the worst parts of owning or renting a home is the danger of flooding. If disaster strikes and water starts rushing into your home, you may start to panic. The combination of adrenaline and frustration causes people to make snap decisions that could have dire consequences. If there is water damage in your home, stay calm and follow these six steps to avoid additional issues.
Turn Off the Water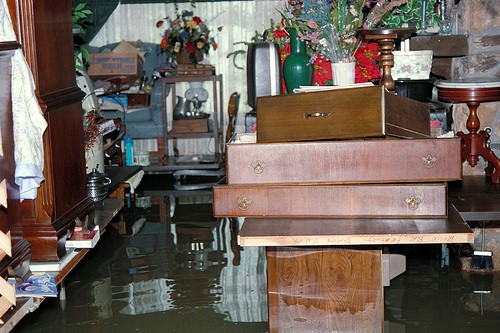 Image via Flickr by State Farm
In crisis situations, common sense often takes a backseat. If you have flooding in your home, odds are good that at least some of the water is coming from your pipes. Once they burst, there is no way to fix them without taking other steps. You can, however, turn off the water main, which will eliminate any internal pipe issues. If flooding is coming from an external source, the focus becomes reducing the amount of immediate issues.
Cut the Power
When you see your home flooded, there is a tendency to forget obvious concerns. For instance, you may forget that water plus electricity is a dangerous combination. Your home, your purchases, and even your priceless keepsakes are less important than the safety of your family. Before you attempt anything like moving items or draining water, cut the power to prevent the potential for electrocution.
Note that there is a second form of potential danger. Some vermin and even snakes may have lived in your walls when the flooding occurred. If so, they have moved to a new home, which is the affected area. Getting bitten by a snake while your home floods is like a bad country music song. Check the region for critters before doing anything else.
Move Affected Items
With the water stopped and the area secured, you can prioritize the clean-up phase. Identify the items that are most at risk and move them first. For example, soggy clothes are less important than family memorabilia. Accept that some of your items may suffer irreparable damage and focus on saving the ones that matter most.
When you move your items, understand that they may drip. Put something under them that will prevent carpet damage. Once those items are out of the way, check your furniture. If it is in the affected region, move it to a dry place. You should also put something under it, as wet furniture is the most likely thing to destroy flooring.
Drain the Water
This grueling task is the most demoralizing phase of cleaning up. You will need to mop the affected area, but you may need to use towels to soak up water before then. It depends upon the amount of flooding experienced.
Once the water level is manageable, use fans and a dehumidifier to increase the speed of drying while also circulating air. Note that renting or purchasing a wet vacuum can speed up the drying process. If you must plug in the devices, check for any potential water issues near the electrical outlets. Safety remains the first priority.
Assess the Damage
Dispose of the destroyed items in an environmentally safe way. If there are area rugs in the affected area, accept that they are probably a lost cause. Be especially careful with the carpet in the area. Water makes it shrink, and you can accidentally uproot it, which will guarantee the need for new carpet, an expensive proposition.
Consider hiring a professional to be safe. Water damage restoration by Service Master guarantees that your flooding is handled in the best way possible. Whether you do it yourself or hire an expert, your clothes become a priority after all other damage is assessed. Wash them immediately, possibly multiple times. If a smell persists, you probably cannot even donate them to Goodwill.
Contact Your Insurance Agent
Start your claim as soon as possible. That way, the details are fresh in your mind. You can relay the exact details to the agent, and you will learn quickly what is covered. If possible, track down a copy of your insurance contract before the call to strengthen your position.
Flooding is a resident's nightmare. If you keep a cool head and follow the steps listed above, however, you can make the best of a bad situation.
Article Submitted By Community Writer