The kitchen sink is traditionally the most 'dirty' area in the kitchen after the dustbin! However, that no longer seems to be the case with the arrival of some neat and creative kitchen sink designs. Here are some designs which promises to transform the kitchen sink into a thing of beauty.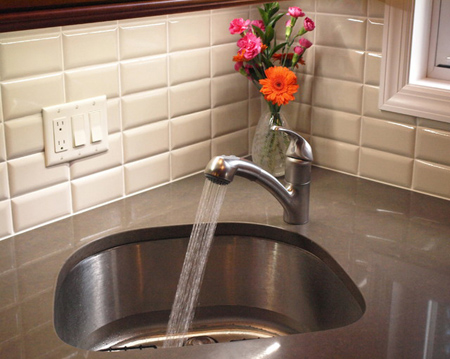 1. Sink with attached cabinet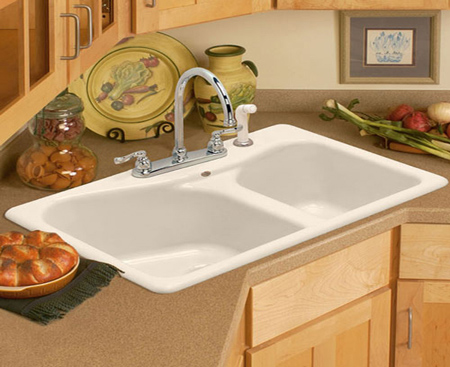 This is a simple yet elegant design for a kitchen sink that is functional and decorative. The white plastic looks great and is resistant to corrosion, rust and stains. The stainless steel tap is also maintenance free. The two divisions help in washing dishes and letting them dry too.
2. Stainless steel sink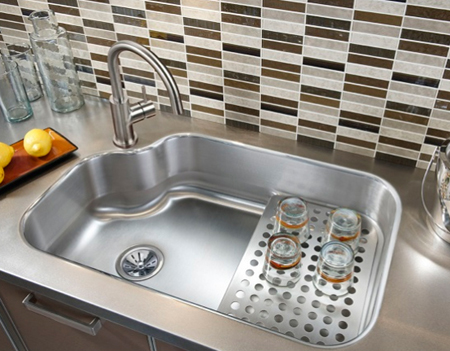 Highly functional, this sink is an elegant addition to a kitchen with any theme because stainless steel gels well with all colors and textures. The material is also corrosion-resistant and stain-resistant which makes cleaning and maintenance very easy. The water run-off plate comes handy to dry glasses and other dishes.
3. Large Ceramic sink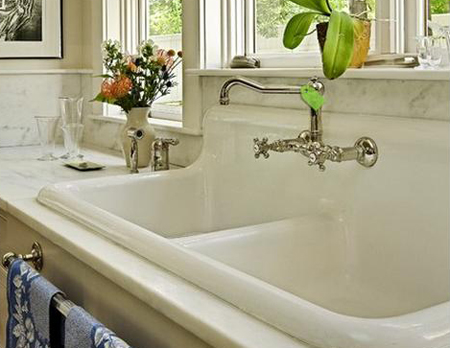 White somehow indicates cleanliness and purity. A large ceramic sink is sure to usher into the kitchen a sense of simplicity, beauty and cleanliness. Its size ensures that it is usable in spite of dishes being piled in it. Be careful not to spill acids in it though!
4. Stone sink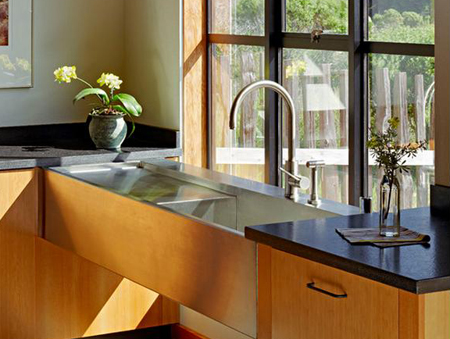 Stone is one of the best materials for the kitchen sink in terms of being hassle-free and easy to maintain. Chipping is the only problem to be avoided in the stone. Otherwise, the stone will blend beautifully with the counter top and also be easy to clean.
5. Corner under-mount kitchen sink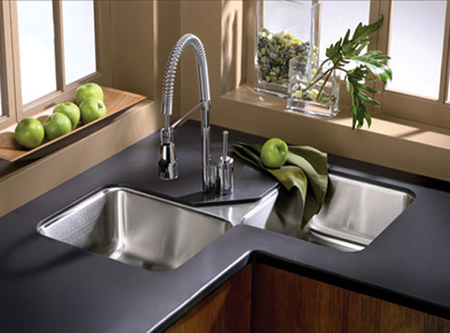 Another example of a kitchen sink that blends well with the counter top, this design has been strategically placed at the corner to serve as a double-sink! It also comes with an attached cabinet below which provides useful storage space.
6. Monaco sink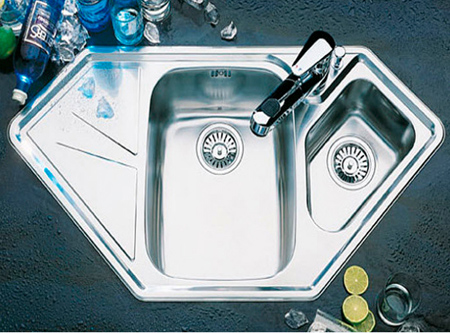 Playing with shapes in an innovative manner is a cool idea to bring in a dash of difference to the kitchen. This unique shape of the sink is also functional because it allows the user to do different things in the sides.
7. Good old mini sink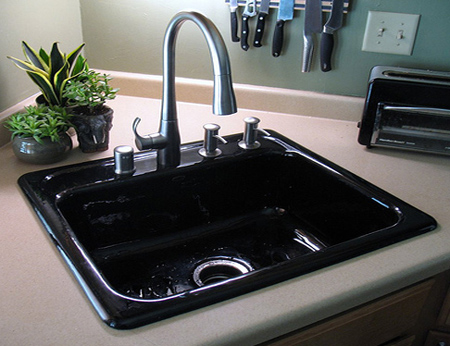 This sink stands apart as an example of how good use of colors and faucet design can give a face-lift even to the most traditional kitchen sink design. The stunner has a faucet design which ensures minimum splash and therefore the sink can afford to be small in size.