Thinking of revamping your kitchen? Then you would probably know that most of the money allotted for the project would towards sprucing up the countertop. If you are apprehensive of spending too much for the same, here are some affordable materials that would help you get a kitchen countertop that shines like new, albeit at a much lower cost than expected.
Paint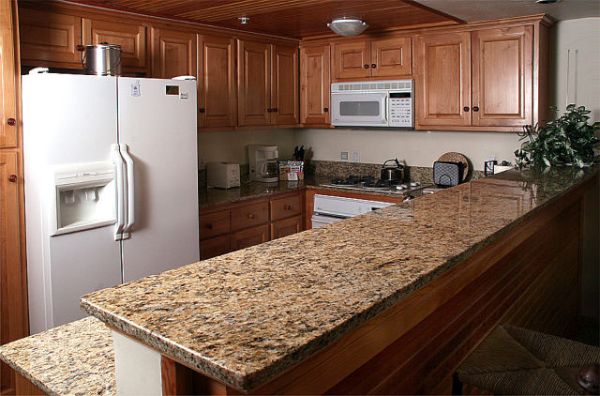 You will be amazed at what a fresh coat of paint could do to a countertop. You will also be surprised by the sheer amount of affordable products available in the market for the same project as well.
The thing about paint is that you can either stick to a pattern, emulating tile, laminate or any other material, or you can unleash your creative side and create your own masterpiece of colors and patterns on the countertop. Finish off with a coat of sealant to give the space an ultra-glamorous, polished look that would give any luxury countertop material a run for its money.
Laminate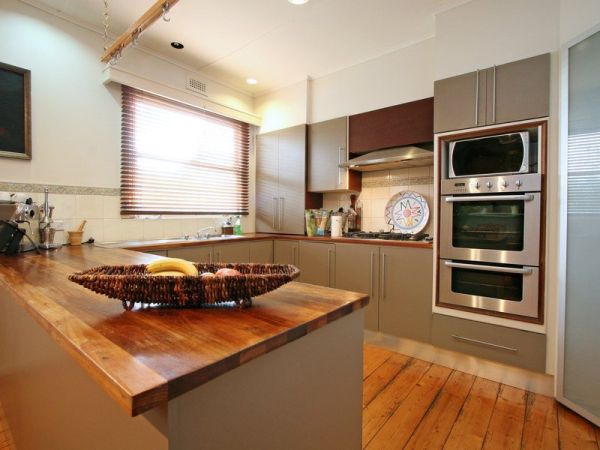 Like paint, laminate would offer you a very affordable way to revamp your countertop. While custom made laminates that are designed to mimic other countertop materials like marble can be expensive, normal laminate comes at a much cheaper price. In this case, laminate would be fairly easy to install and maintain, provided you don't expose it to too much water, burbs, stains or scratches.
Solid Surfacing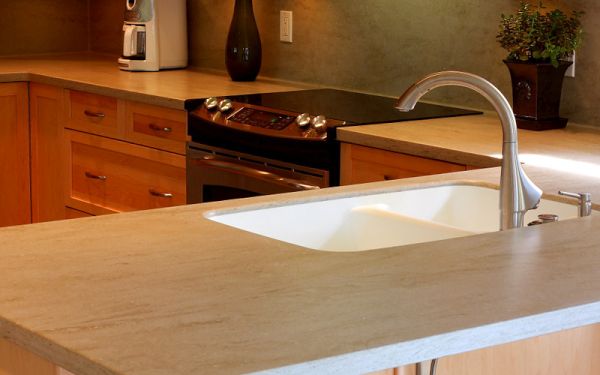 Solid surfacing offers countertops are as close to the natural look as possible. Made out of a mix of polyester and acrylic, the material comes in myriad colors and shades to lend the countertop a bolder look.
Solid surfacing countertops are also very easy to maintain, with burns and scratches easily treated by sanding. While you can install the material yourself, it is considered wise to call a professional for help in order to prevent cracks from developing on the surface during installation.
Reclaimed Glass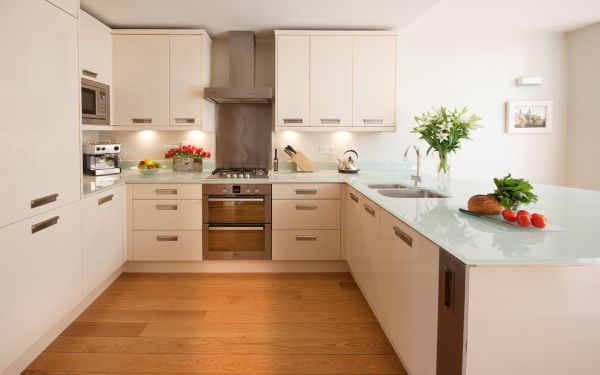 Reclaimed glass countertops are becoming a rage these days, thanks to the glossy look they provide at a very cheap price. There are literally hundreds of colors, patterns and designs to choose from when opting for reclaimed glass. The material is also very easy to clean and maintain, thus offering you a hassle free and yet, glamorous countertop option.
Concrete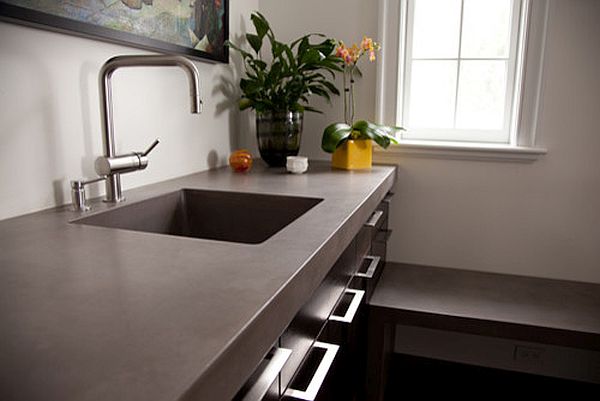 If you prefer a more modernistic, industrial flair, opt for a concrete countertop. Concrete emulates the earthy feel offered by natural stone countertops. However, concrete is cheaper than natural stone and can be easily installed.
If you are worried about getting stuck with a dull gray countertop, think again. Recent advancements have allowed concrete countertops to get glossy stains and finishes that make them stand out.
Tile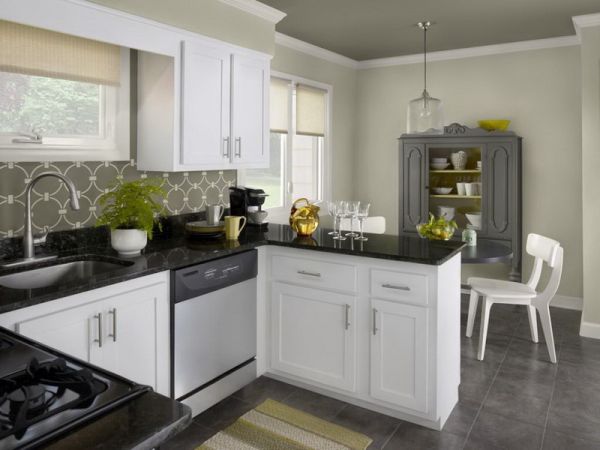 Another interesting and cost effective option to revamp your kitchen countertop is to use tiles like porcelain and ceramic for the project. In addition to being available in myriad colors and designs, these tiles are easier to install and can be done without the need for professional help.
Tile countertops are also scratch proof, heat/stain resistant and easy to clean and maintain. This would make them the best choice for heavy duty kitchens for sure. Another potential advantage of using tiles for your kitchen countertop is that you can easily replace damaged or broken tiles without tearing out the entire installation.
Wood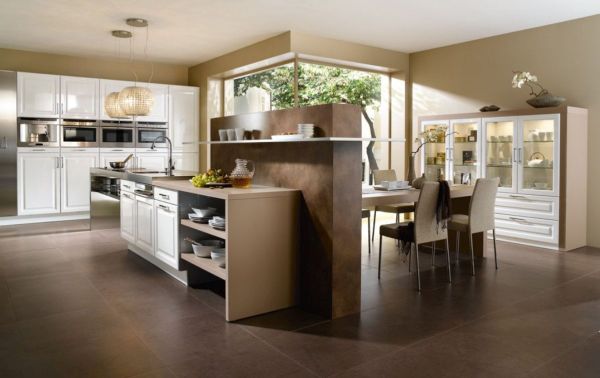 Wood is slowly making a comeback into the modern kitchen, thanks to its rustic look and affordable installation costs. Wood is known to add warmth to the kitchen and is cheaper when compared to other materials like marble, granite or even natural stone.
You can also choose from different varieties of wood for the countertop, including maple and bamboo. Reclaimed wood is also becoming a popular choice among homeowners for the kitchen countertop these days.

Renovating your kitchen countertop need not be a costly project. From paint, wood, tile and glass to concrete, solid surface and laminate, there are several cost effective ways with which you can make your kitchen countertop shine like new.