The advent of the winters signals the passing of Halloween, the family getting-together for Thanksgiving and the arrival of the winter wonderland. That means Christmas and the decorations accompanying them will inevitably make their appearance in a few days time. The best way to celebrate a minimalist Christmas is going the Scandinavian way. They do not compromise on the scale of their festivities, rather keep things strikingly simple.
Now decorating for the holidays often seems like an expensive and time consuming affair. And on many an occasion going all out for the decorations seems just does not feel like it is your style. Having a more streamlined approach or a minimalist Christmas may be the perfect way for you to celebrate this festival of lights and cheer.
Here is a list of ideas for DIY decor that will help keep minimalism at the core and help you fill the house with festive albeit simple decoration:
For a minimalist Christmas keep things deliberately simple –

Rather than going over-the-top with buying Christmas ornaments, keep it simple by using more paper products. They are the perfect way to include minimalism in your DIY decor. Cut out stars and other shapes from different coloured paper and string them using warm white lights. You can decorate the children's room and even the den this way.
Going bare does not means going frugal – One of the best ways to embrace minimalism and celebrate a minimalist Christmas is to only focus on the essentials. Rather than decking up the tree, go the minimal approach and only use a string of lights or use a white tree strung with warm white lights. Instead of decorations for the tree, you can use hand-crafted snowflakes. It looks warm and inviting without all the extra trimmings attached. It will give the room a very modern vibe.
Recycle old things in the house to celebrate a minimalist Christmas –

If you were often left wondering last Christmas what to do with those old flowers, here is a simple solution. Do away with them completely this year. Use old mason jars in the house. Fill them up with twigs and add a few white lights in the mix. Display them as centerpieces. You can even add a few paper snowflakes or a few simple ornaments. The trick is to keep it simple.
Celebrate a minimalist Christmas with a small Birch tree – One of the centerpieces for any household during this festival is the large Christmas tree. But if you have a rather small house that cannot accommodate a large tree or if your budget does not allow it, go for a small adorable birch tree. Even decorating this small tree is fairly simple. This miniature wonder can be kept on the mantle or even the tables. And you can have more than one such tree and place them all over the house.
Gift wrapping with handmade paper and string –

To continue with the minimalist Christmas approach, leave no gift left behind. Once you are done with decorating the tree, move on to the gifts. And this year, mix things up a bit. Instead of using the same old wrapping paper and fancy string, use hand-made paper and twine. Make most of the go-green initiative. Add a bit of greenery to your gifts and sprinkle lavender scent or eucalyptus scent on top of the gifts to make them more inviting for the recipient.
Go small and cover every inch of the house – One of the best advantages of minimalism is that it gives you the flexibility of going small and that way being able to cover the whole house. My traditional means, covering the whole house seems like a very daunting task and then you begin to worry about the kind of effort you will have to make to get the whole thing down. But it doesn't have to be overpowering. Recycle old boxes and jazz them up with DIY decor like holly leaves and little twigs. And pepper them throughout the house.
Rethink the wreath –

One of the first things that announces to the world that you are Christmas decorating is the wreath that you put outside the door and around the house. The wreath does not have to be an extensive exercise rather you can play it safe by applying a minimalist design to them as well. Use holly, eucalyptus or pine to add a more festive look. These designs really shine with the other DIY decor you will use around the house.
Reuse Last Year's Decoration – One of the best ways to increase Christmas cheer and invest more time in the festival frolic is by adding DIY decor to your list of things to do. The theme for this year's celebration can be minimalism. Rather than unboxing last year's decorations, you can have simple decoration this year.
An Eco-friendly Christmas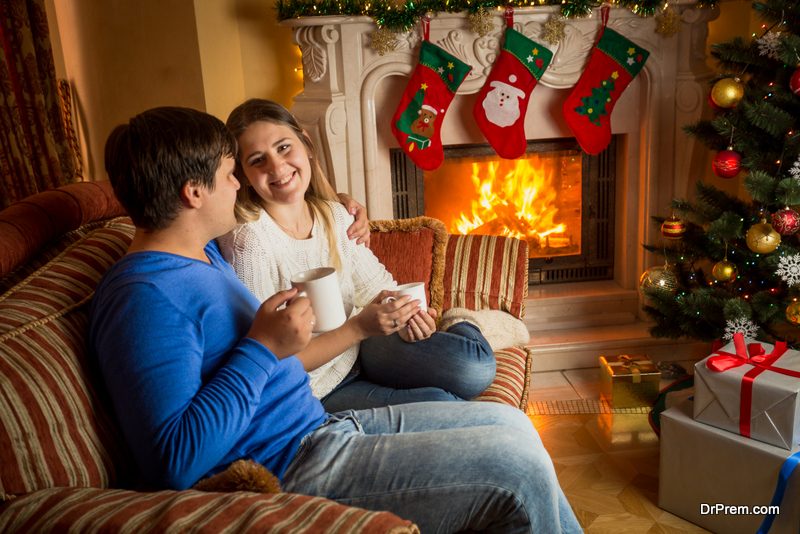 Celebrating a minimalist Christmas does not imply a departure from traditions at all. It does signify the birth of a new tradition. This festival of lights and cheer is more about family and ringing in the new year with family and friends. It is also the time to clean the house and rather than throwing away things you do not want to use, you can recycle them and make the most for this Christmas.
And if reducing the every bill this season is at the top of your list, then think more along the lines of white and scented candles inside the house. Ditch the lights and go-green.
But embracing minimalism does not mean that the emphasis lies on recycling. It emphasizes more on going small rather than being loud. This also means you can revisit your childhood and use ornaments and practices you had as a child. Which means more glitter and craft supplies for you. This also means that it no longer has to be a solo activity. The family can gather around the table with piping hot cocoa and make the most of it. After all, this is what Christmas is all about, isn't it?