It's that time of the year when summer is gone and it's too soon to ring in the Christmas vibes. Fall is here, accompanied by muted colours. A pop of orange here and a dash of green there is sure to brighten your living space. Not always do we have to spend a lot while looking at home decorating for fall on a budget.
Fall home decorating ideas can be the cheapest investment if you know what you're looking for. Fall decorating ideas DIY can really spice up the interiors of your house. And they can be really inexpensive. Hence it is important to study the trends for fall decor ideas 2018. With Halloween round the corner, this should be the best time for you to implement these ideas.
Here are some ideas for home decorating for fall on a budget:
1. Incorporating greens and browns: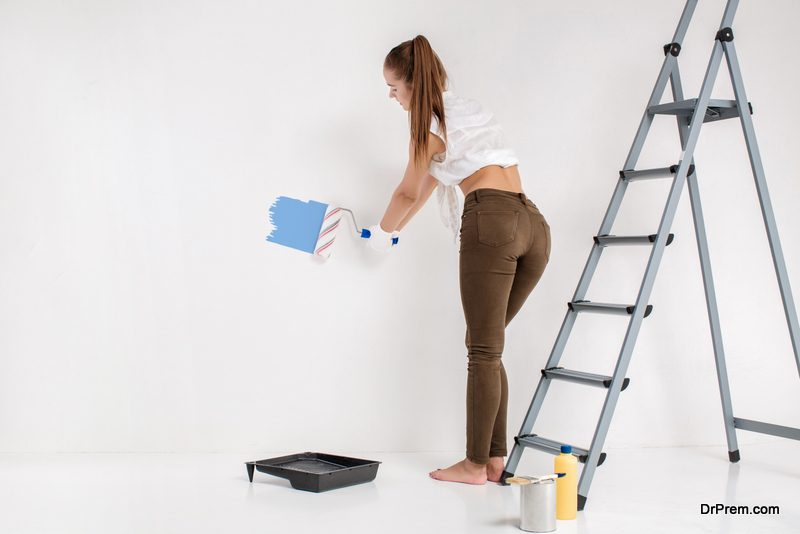 Some of the most muted colours on the shade palette, brown and green tones can add character to your space. Not only that, it provides a warm tone to the entire living space. Dark greens also add to the anticipation of Christmas whereas browns add more depth.
Orange-ish brown tones can also be used in place of dark browns to add to the spirit of Halloween. Placing elements of furniture in these shades or simply colouring a wall can add to the autumnal spirit. This can involve using plaid cushions or a hearth-rug in shades of caramel. This is one of the trendiest fall home decorating ideas and one that you should definitely try out.
2. Create comfortable living spaces: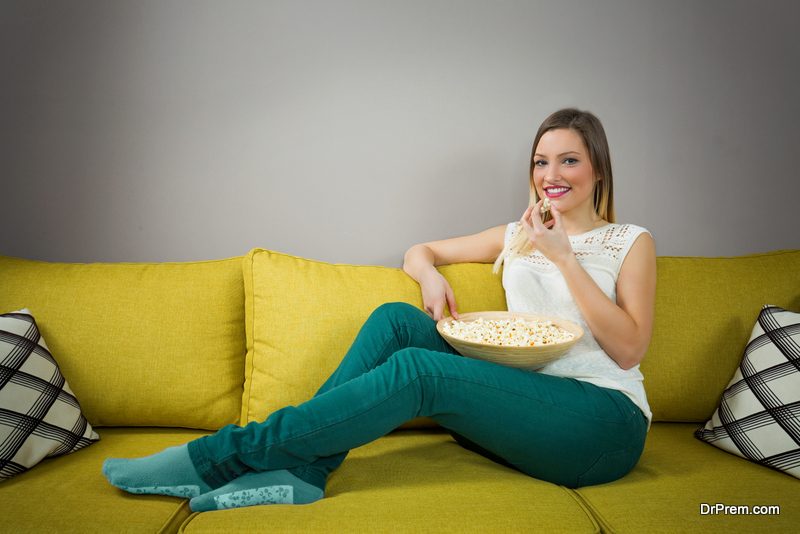 With Christmas right around the corner, this is one of the most practical ones for fall decor ideas 2018. The idea is to create as cosy a living space as possible. This involves using warm blankets, pillows with plaid covers and cushiony headboards as well.
For decorating the beds, using plaid blankets in hues of red, golden and orange makes the rooms look extremely aesthetic. And this is not just limited to bedrooms. The living room can also be decorated in a similar ways. Adding blankets and pillows gives an added aura of warmth to the living space. The addition of bench with cushioned seating can also give off warm vibes to the residents. Thus, even while implementing ideas for home decorating on a budget, it is possible to spice up the house.
3. Fall decorating ideas DIY: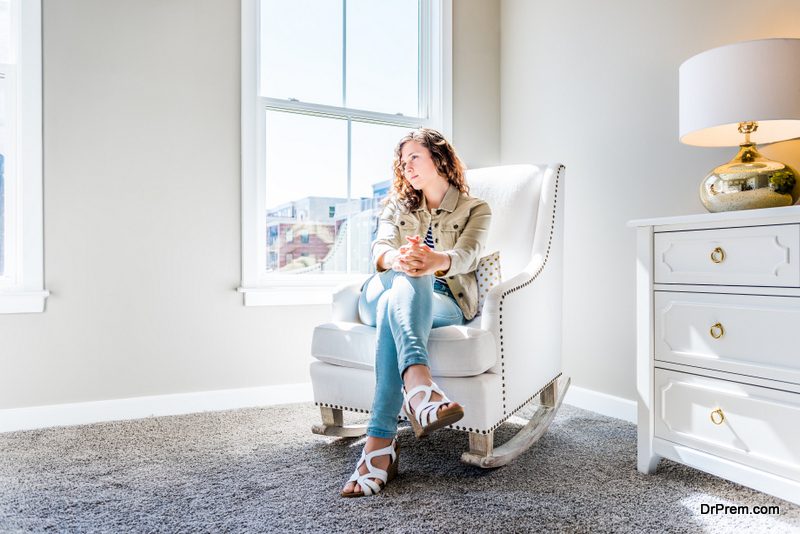 Fall is also the season for harvesting different kinds of crops. Hence using a number of DIYs to spice up the living space is one of the latest trends. DIYs are some of the best hacks for home decorating for fall on a budget. Creating autumnal display arrangements out of wheat sheaves is once such hack. Nothing spells out fall spirit as the sprays of wheat. These can be placed into vases and used to decorate the mantelpiece.
Another idea is to display all kinds of autumnal fruits and veggies at the dinner table. Foraged branches and leaves from a fallen stack of leaves can also be used. These can be placed in an antique pitcher (used as a vase) and displayed on the table. Adding miniature pumpkins is also a possibility. Although a very simple hack, this can add character to the living space within minutes.
4. Creating a space for artwork on chalkboard: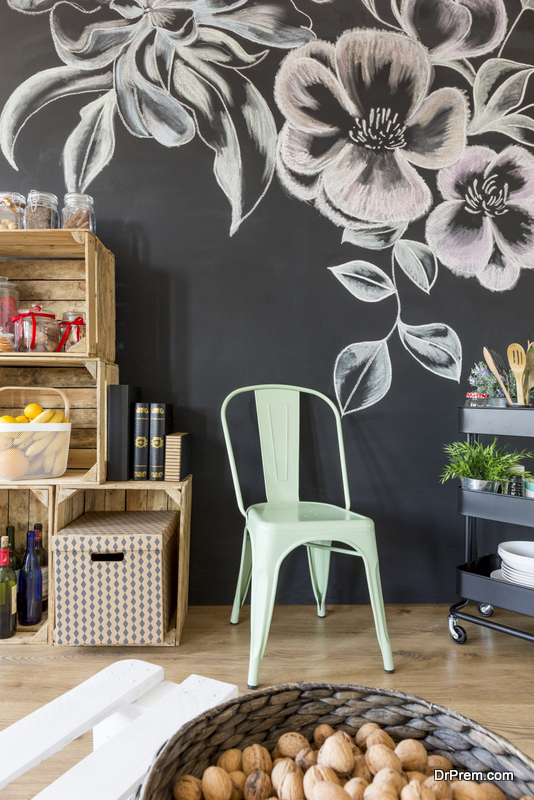 This is another way of channelling your creativity. Autumn being the season for going back to school, a chalkboard is a great way to incorporate this. Installing a chalkboard is quite inexpensive and it can be made even if you don't own it already. Simply coating any old frame with chalkboard spray paint can achieve the desired goal. This can be installed on any free wall in the house. Then you can use chalk to write down inspirational quotes on them for that added boost of motivation. This is one of the best tricks for home decorating for fall on a budget.
5. Using pumpkins as vases: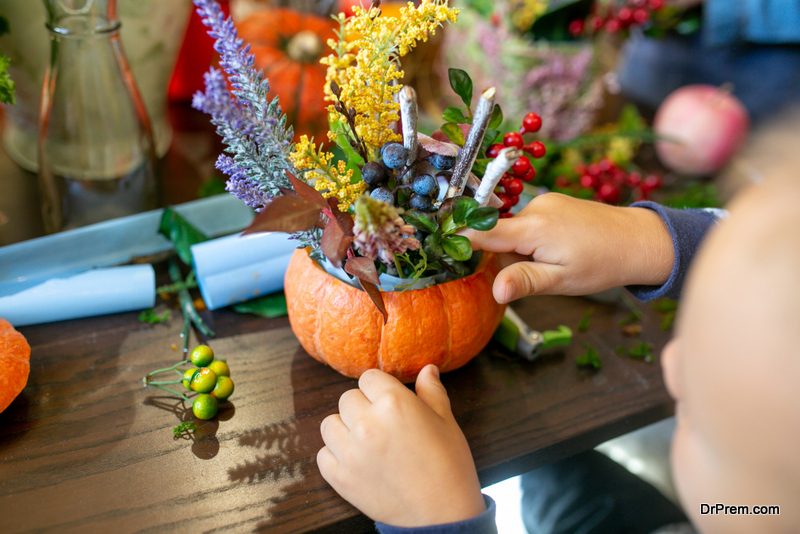 The most trending DIY trick is using pumpkins in a multitude of ways this fall to brighten the living space. The vegetable itself is quite aesthetic and can be used on a standalone basis for Halloween. It can also be carved out, painted in white and used as a vase for holding flowers. Different foraged flowers can be used for the purpose. Pumpkin can also be used as an inexpensive substitute for an ornate centrepiece. Additionally, adding a lace throw cover over a pumpkin can add some sophistication to it. This can be installed on the front porch for a more refined autumn vibe.
6. Decorating the door: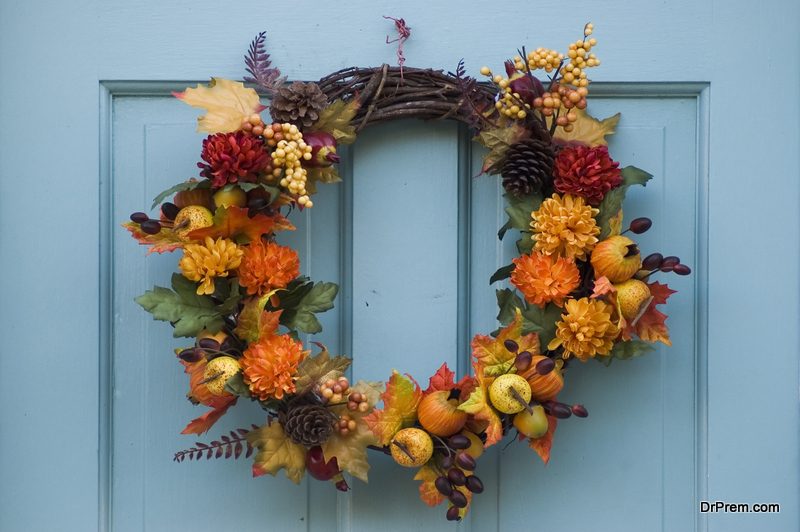 The door being the entry way to a house's interior, gives some idea about the aura of the interiors. Hence it is important to decorate the door as well. Wreaths made of dried leaves and twigs can be used to make it into a fall entrance. Wreaths made of corn husk can also be used for the purpose. These wreaths can be made by using hot glue to entwine the husks and cobs to a wire frame. Garlands made of dried leaves or corn husks can also be made for the entire frame of the door.
7. Using wicker pieces and wood furniture: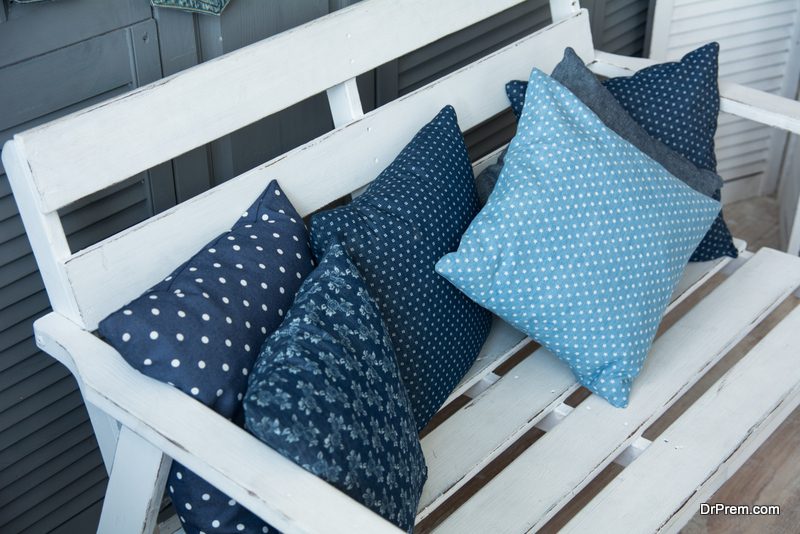 Autumn is the season for warm brown tones, hence using wicker baskets and chairs is a very good idea. Irregular wood furniture is also quite the style statement these days. Burnt reds and oranges go really well with the wood from wicker. Hence pillows in these colours can be used to create a contrast. Using refurbished old tea tables and chairs also add to the vintage and rustic vibes. There is no need to buy new furniture for this purpose. The more vintage it is, the more it adds to the charm. Hence if you are interested in home decorating for fall on a budget, then this tip should be helpful.