The thing about decorating with glass furniture is that it can be a very tricky process. While a glass console table would blend in seamlessly with the surroundings owing to its transparency and contribute to an uncluttered look, glass does not go well with every other type of home décor.
Hence, when choosing a glass console table for your home, you need to opt for a design that stands out in terms of shape, versatility and simplicity. Here are 8 such designs you can look at.
Osmos Table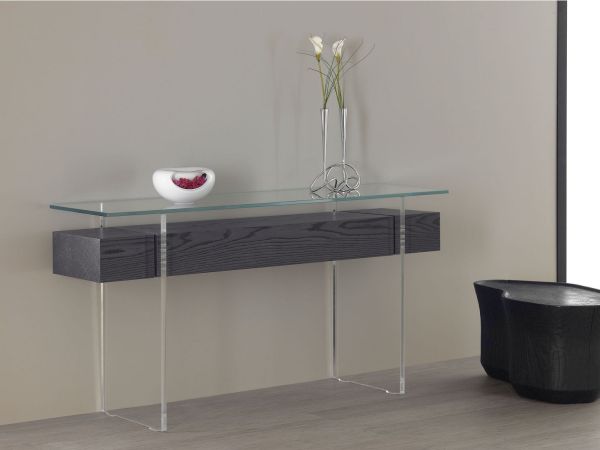 The Osmos Table features an exemplary design crafted by Erwan Peron. The table features a glass top console as well as colorless supporting legs made of extra clear tempered glass for a classy touch. Right beneath the glass top is a central drawer which is made of plywood. The designer has also used oak veneered block-board panels for additional support.
Hip Hop Table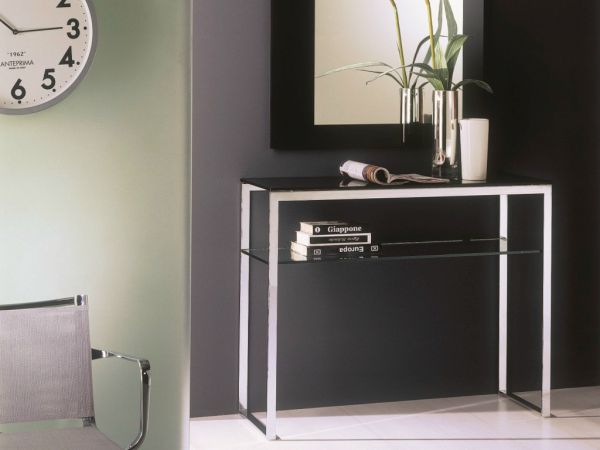 Designed by Studio 8, the Hip Hop table features a striking rectangular glass tabletop. Below it, two lower shelves are fitted to make the table in its entirety, more versatile for different spaces. While the glass top can be used as a display surface for collections, the lower shelves can double as storage units.
Penrose Console Table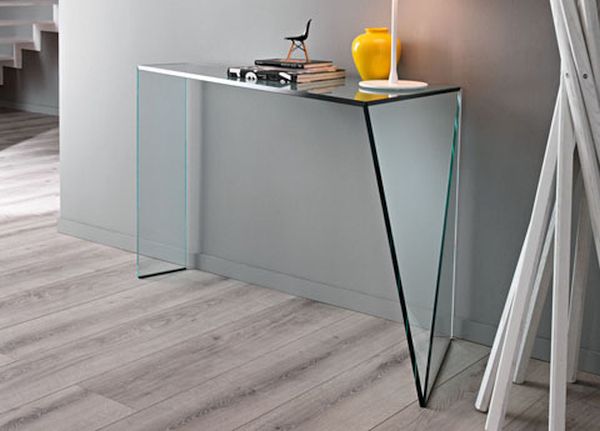 The Penrose Console table also features a rather striking design made of over three sheets of tempered glass. Each of these glasses has a different shape, with the oblique cuts adding to the sculptural look of the table. The table was designed by Lucia Fontana, Masaya Hashimoto and Isao Hosoe, and is the perfect choice for modernistic homes with minimalistic décor.
Diapason Table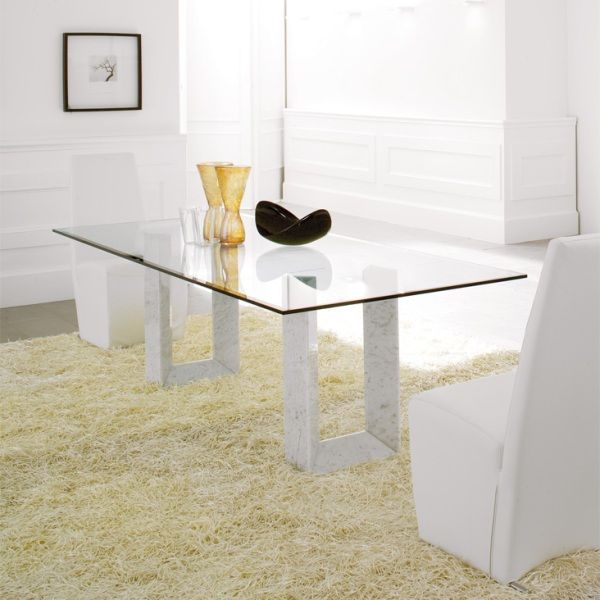 Designed by Studio Diapason, this table differs from its counterparts in that its base is made of white Carrara marble or travertine. The irregular shaped base supports a glass top made of clear glass. The unique design of the table makes it a great choice for dining spaces and even living rooms.
Valentine Console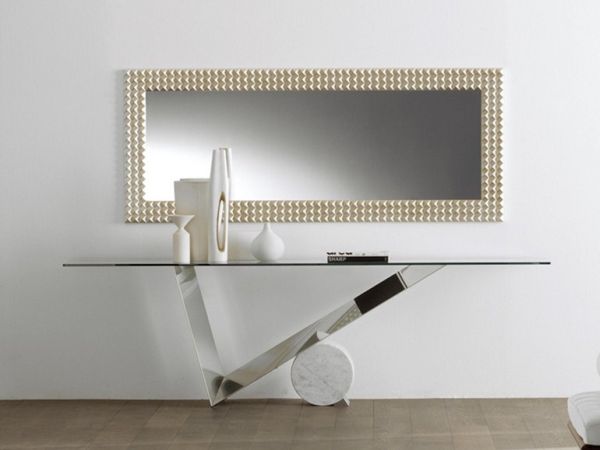 Designed by Emanuele Zenere, the Valentino Console table is a beautiful blend of different elements like marble and walnut, with the glass top taking center stage. The table features a sculptured, symmetrical look that would allow it to stand out wherever it is placed in your home.
Saphira Table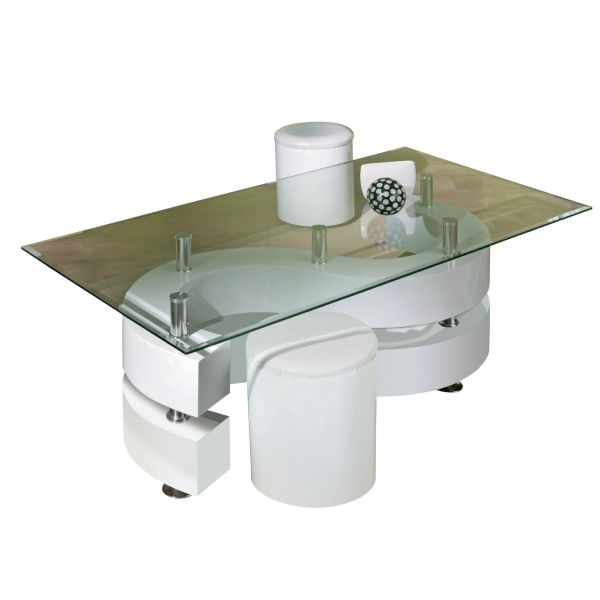 This striking table features a design made entirely of glass. There are no other elements in it. However, instead of the sharp lines and angles of standard glass top tables, the Saphira table comes with smooth curves and a rather transparent look that ups its elegance quotient several notches. This makes the table look appropriate for any setting in the house.
Zen 13 Table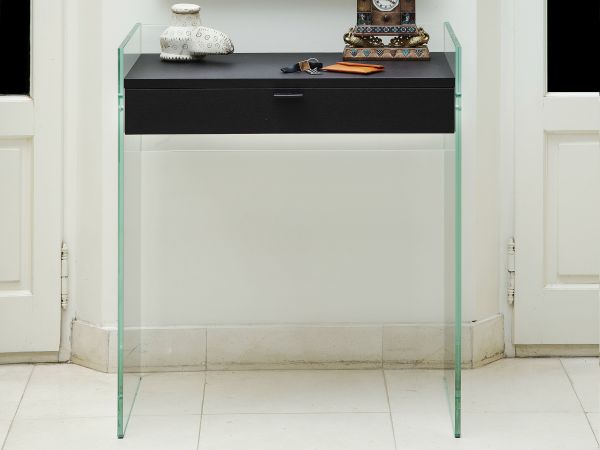 Considered to be a table that resembles the classic French console tables, the Zen 13 Table comes with clear glass elements for a streamlined look. It also comes with a wooden wenge drawer. While the glass top can be used for display purposes, the drawer can be used to store accessories. It would make a great addition to your home office in particular.
Tour Console Table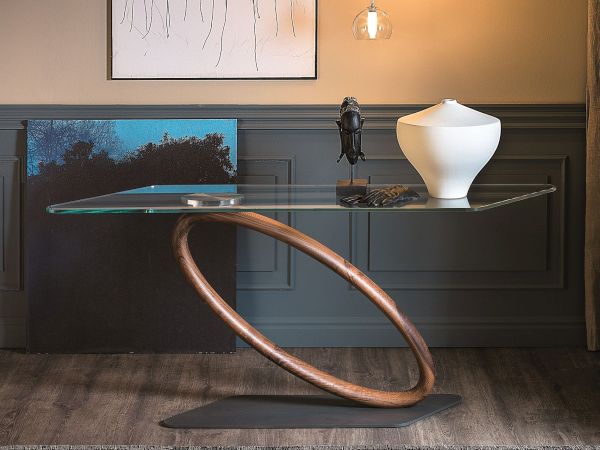 This eye catching glass console table owes its striking design to Giorgio Cattelan. The table features a top made of clear glass which is supported by nothing but a circular middle section made of walnut. If that was not enough to boggle your mind, the Tour Console table features a flat base made of lacquered steel embossed in graphite. This table would definitely be the cynosure of all eyes in your home.
Glass top tables can offer a de-cluttered look to your home. These glass top tables can make a great addition to your home and wow everyone with their remarkable design and elegance for sure.