Red and green are the famous Christmas colors and every year you see the same glitz and glam all around. But not everyone loves red and green and sometimes it's good to break the rules and go away from the tradition. If you are also the one who wanted to do something new and unique this Christmas season, this is the perfect chance for you. There are some amazing nontraditional Christmas décor ideas for your home which you can try and give an all-new look to your space.
1.     Black and White Christmas tree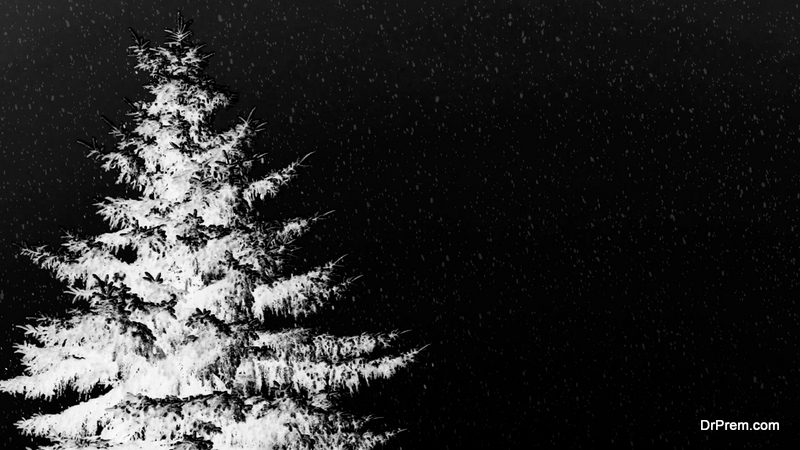 The most important thing about Christmas is Christmas tree but we all end put decorating the Christmas tree the same way. You will witness the same colors and decoration every year. To break this law, let's give a different look to your Christmas tree this season. Now, this look is quite contemporary where you have to focus more on black and white. A Christmas tree with full decoration in black and white colors creates a unique base.  You can create a different look pattern with glittery hues. A golden color pop will give brightness and punch of color to your warm black and white Christmas tree. Use lots of Christmas charms and décor on it to get the best look. You can use little fabric decoration to make the tree more appealing and which suits your festive vibes.
2.     Yellow, Black and White Tablescape
One of the ways of nontraditional color combinations for Christmas decorations is setting a table all dressed up in non-traditional Christmas colors. How about a yellow and white color scheme. It gives your surrounding a happy, warm, and cheerful atmosphere and you will definitely don't miss those red, green and all bright colors. Give your table a new look by including new tableware, decorations, and dining accessories. You can also add a white colored tablecloth for a perfect warm backdrop. So now, set your unique table ready with all the props in yellow, black and white color theme this Christmas party.
3.     Outdoor Christmas gathering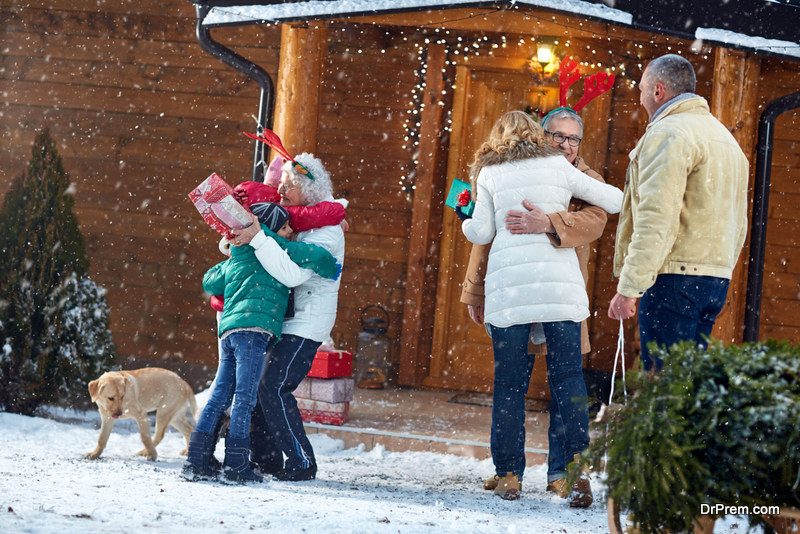 Christmas is the time to decorate all your spaces, it not only gives a new look to the rooms but also decorate the exterior of your house. Do not limit yourself by only decorating your inner space, and give an all-new appearance to your front and backyard spaces as well. One of the creative ways to decorate your house for Christmas is a well decorated Christmas cheer made just right for the backyard. How about a warm and cozy retreat made and decorated beautifully for this chilling winter season to give some warmth to the place.

Do not forget to place your Christmas tree again decorated in a nontraditional way with lots of gold, blue and whites' hues. Beautify it with lots of string and golden lights to throw away little light. Finish the decoration with a fireplace which is all lit up with lamps and covered candles. It gives the place a stunning, cozy look with a blazing fire to set up your venue for an outdoor Christmas party.
4.     Elegant centerpieces
Centerpieces are the most important part of your Christmas party so it has to be special and something different. Create perfect and warm centerpieces with pink, oranges flowers surrounded by white berries. The colors match well and it gives a warm feel. If you want, you can highlight it with a silver vase or select a metallic vase to display the flowers and make it stand out properly. One of the ideas to keep the décor minimal is by going for a rustic vase with boxwood votives, fresh foliage, and bulbs which gives a natural touch to your rustic décor and again looks something different and unique. Sprinkle some berries around the vase to add some texture. Complete the look by adding some warm lighting in the room and some scented candles at the table to convert your place into a dreamy party venue. And let your savory aroma can finish the job for you.
5.     Welcome lantern at entryway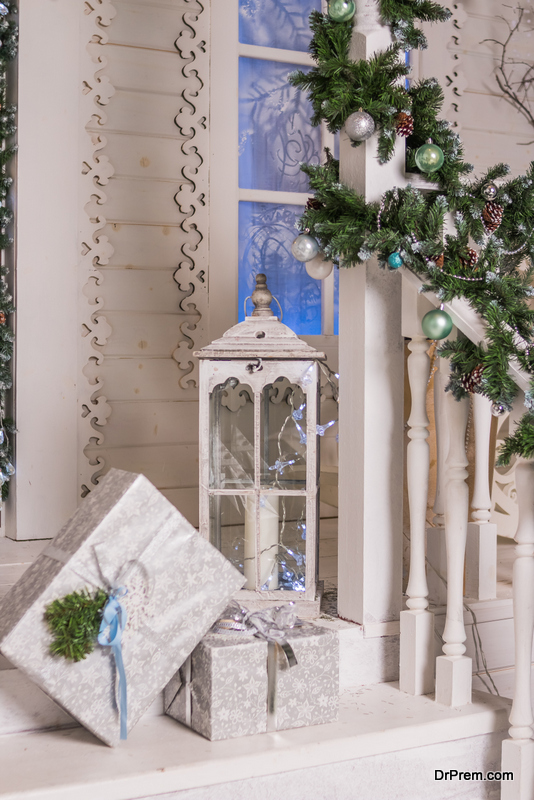 The most special way to greet your guest this holiday season is with a nice Christmas lantern. It can make up your place and gives the perfect Christmas feel all around. Place some nice candleholders in your entryway for giving a quick decoration. It's one of the easy, versatile and creative ways to decorate your house for Christmas. It surely warms up your entryway and gives a warm welcome to your guest. Place candle and lanterns which you can find easily from your house and put it at your entryways. Pick a large and sturdy candle in warm shades, keep in mind that it's an outdoor decoration, so try using flameless candles so that it can last longer and give you a longer decoration all Christmas night.
6.     Making an oval-shaped wreath
Now, this is surely a nontraditional Christmas decor idea. A Christmas wreath is a must have at your space but how about an oval-shaped wreath. Give a personalized touch by converting around wreath into an oval-shaped décor at your doorstep. Give this shape by vertically stretching the wreath. For this, the wreath should have a flexible base so that it can be shaped and stretched according to your desired shape. The oval-shaped wreath gives a unique sense of decoration and is just perfect for your entryways. Now comes the decoration, how about decorating with some fresh and bright flowers. If you want to make it more attractive, use fresh flower wreath just for a Christmas Eve to make the place filled with fresh perfume at the entryways.
7.     Decorating your mantle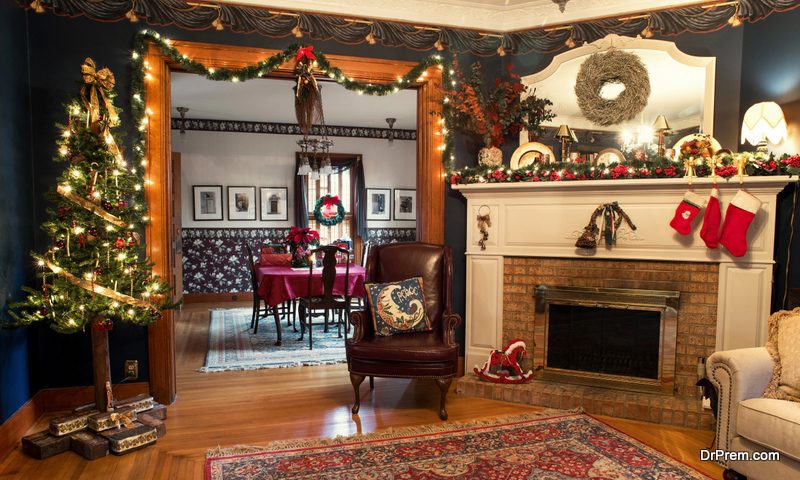 In all these years, the mantle of your house is being decorated with garland, flowers or it is used to give away the same feel and decorations all the time. Let's gear up to make something new and give a different feel to your mantle this Christmas season. How about dressing up a mantle with a mix of candlesticks, tall and small mercury glass and all crystal décor? Go for cranberry and decorate with the blue colored theme to highlight the place and make it stand out properly.
8.     Black Simplicity
Now the most important part of your Christmas celebration, the Christmas gift. How about a Christmas gift all wrapped in black colored paper. Gift wrap the Christmas gifts this season with black colored paper and give it gold colored bows which will highlight and gives a festive glow to your gifts. Take a break from the entire bright and bold colored gift wrapping paper and try some nontraditional Christmas décor ideas which would surely give an exclusive feel to your Christmas celebration.