Usually, homes are not designed keeping the elderly in mind. Elderly people have special needs and your home should have some elder friendly features, for their comfort, so that they can move around easily. Homes which are designed for older people should be easy to maintain. Kitchen, bedroom, living room – all the spaces inside the home should be designed in a way that the elderly can negotiate easily. Striving to anticipate any misfortunes through reimagining those spaces at home could increase your chances. For instance, placing Grab Bars right where is needed could facilitate elders' motion and double their safety. Here are 10 design tips which will make your home friendly for your older relatives:
Kitchen design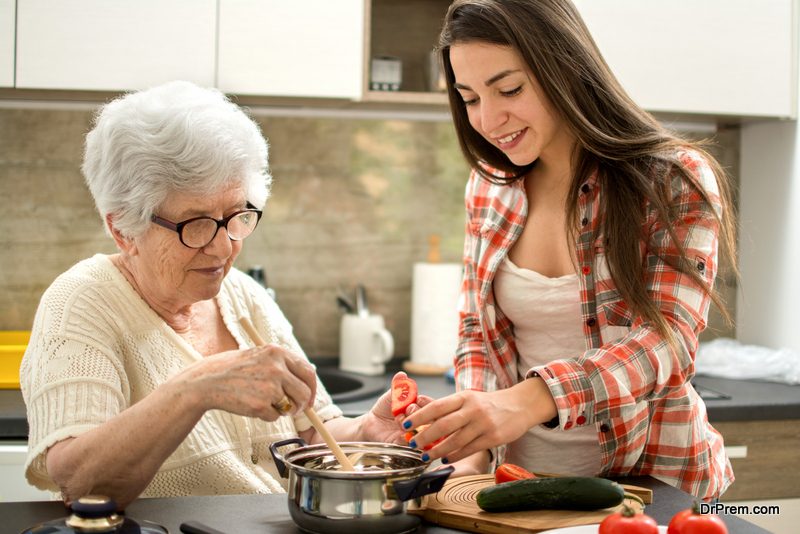 As people get older, they get upset when they cannot do the things they were used to doing. Even a simple thing as making themselves a cup of coffee or tea, or making their own dinner or helping the family cook dinner. To help them be as independent as possible, you can make a few modifications in the kitchen. Install a tap with a flexible hose, which could be pulled out. It can also have a level handle. Appliances like induction cookers can keep them safe. There should be space enough to maneuver their wheelchairs, install sinks and desks, which have knee clearance, and make everything reachable for them.
No step entries
Raised entry ways are not good when there are elders in the home. They usually move around using canes and wheelchairs, which cannot enter the home over raised thresholds. The entryway is their connection to the world – if they want to go out to buy groceries or attend social events etc so their life would be very difficult if they had difficulty moving in and out of the house.
The walkway from the driveway or sidewalk to the entry of the house should have no steps, and should not be sloping either, so that an elder person who uses a wheelchair can enter your home easily.
Lighting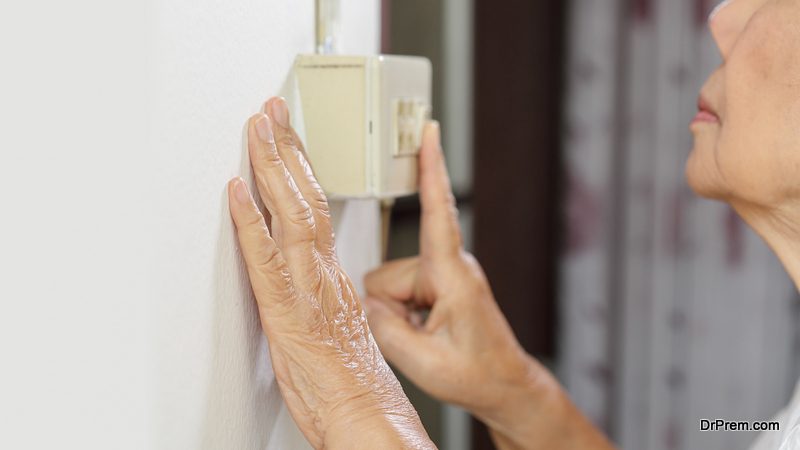 Even if everything is perfectly designed, you have to ensure that your home is well-lit. Adequate lighting makes it easier for old people to find their way about without injuring themselves. Natural and artificial light can both be increased, for example bedside lamp, staircase light, bathroom, living room and kitchen light should be ample.
Garage lift
A garage lift is a great way to enable older people, who have a hard time climbing steps gain access to the garage from inside the house, and also easier to go inside the home after parking their car.
Bedroom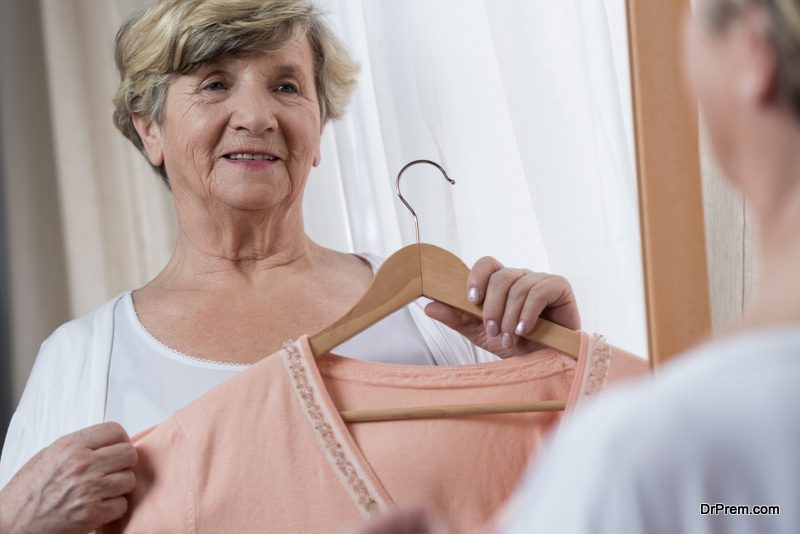 In the bedroom, the wardrobes should be built to ensure easy access from a wheelchair. Switches should not be at ground level, but at a height which they can reach from a wheelchair or when they stand up. Low beds are a no-no as they are difficult to get up from. Keep a comfortable chair near the window so that they can look out when they feel like it.
Bathroom
Bathrooms are probably the most important rooms in a home with elderly people. Especially their bathroom should have adjustable shower heads, the sink height should be low with knee clearance. You can install elevated toilet and grab bars too. Don't convert  towel rails as grab bars as they're not strong enough. The bathroom has to be safe room as most elders get injured in unsafe bathrooms.
Living room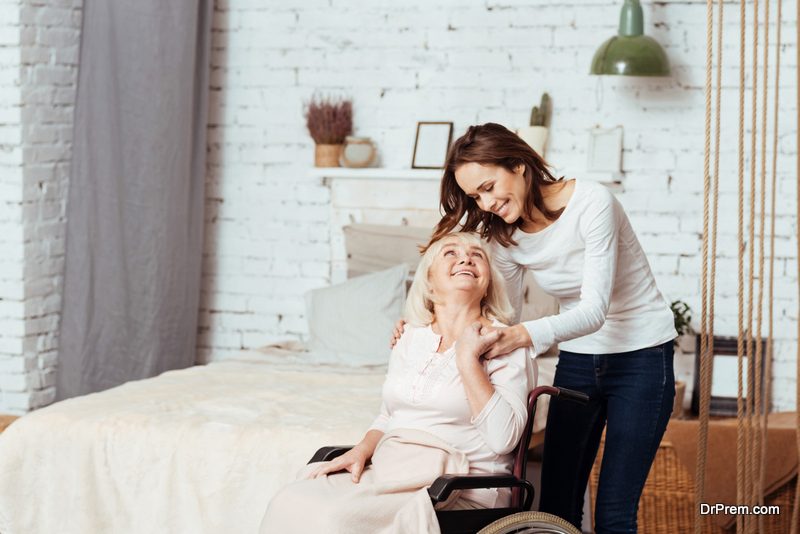 The living room path should be free of any projections, protrusions and obstacles. Install eye viewers at a good level. Moreover, vibration indicators will be helpful if you have an elderly person who is hard of hearing.
Select comfortable furniture like soft L-shaped couches and ottomans where they can put their feet up.
Thresholds
Thresholds are a common tripping trap, so any home with elders should definitely not have any thresholds, which can trip them up, and cause serious injuries. Entryways, both to your home and rooms, should have no thresholds at all. 
Slip resistant floors are a must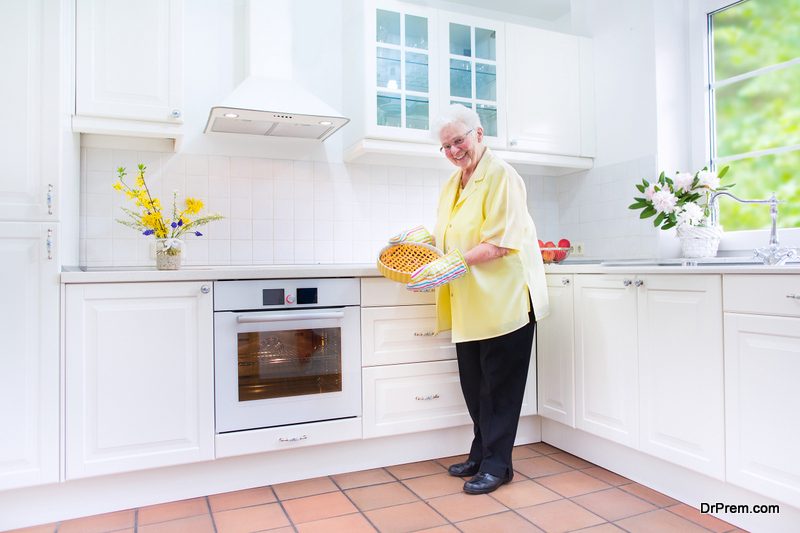 Bathrooms floors are extremely slippery and dangerous. You could install anti-slip floors to minimize accidents. There are many varieties of slip resistant floors you can choose from according to your budget.
Making your home elderly friendly will enhance their safety and make day to day life easier for them. They would also feel be more independent and able to look after themselves if your home is convenient and designed according to their needs.