Designing beautiful landscape with a Spanish flair seems to be all the rage these days. More and more people are falling for its ultimate beauty and feel. The Spanish garden design and landscaping seems to have taken inspiration from Islamic, Moorish and Persian gardens. It looks best in areas wherein hot and dry climate prevails. If you happen to be falling for this style of landscape for your garden then continue reading, as you will find all about Spanish garden décor here, making it easier for you to incorporate this style in your home garden.
Main elements and features of a Spanish style garden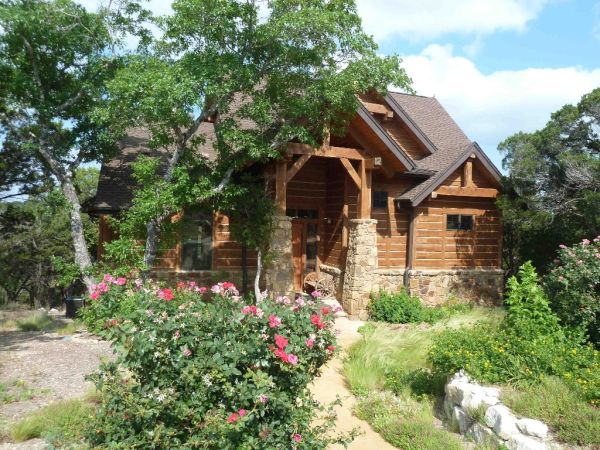 Spanish style gardens and outer spaces are way different than other styles, such as the presence of a separate space or a room within the garden layout. Probably one feature you will not get to see in any other style. This particular feature makes Spanish style garden and patios an ideal place for you and your guests to enjoy private evenings amidst nature. The walled sections, plants, fountains, Moorish lanterns, urns, Saltillo tiles, and more make your Spanish styled garden a thing all your neighbors would be envious of.
Spanish archways, mosaic accents, and fountains are the main elements of a Spanish style garden décor. Fountains and reflecting pools support the drought-tolerant landscape design. Built-in benches, retaining walls, reflecting pools, water fountains, and walkways covered with bright colored ceramic tiles look attractive. Large terracotta pots, rod iron furniture, lamps, and urns placed against white or light colored walls look breathtakingly beautiful.
Spanish Garden – A residential garden style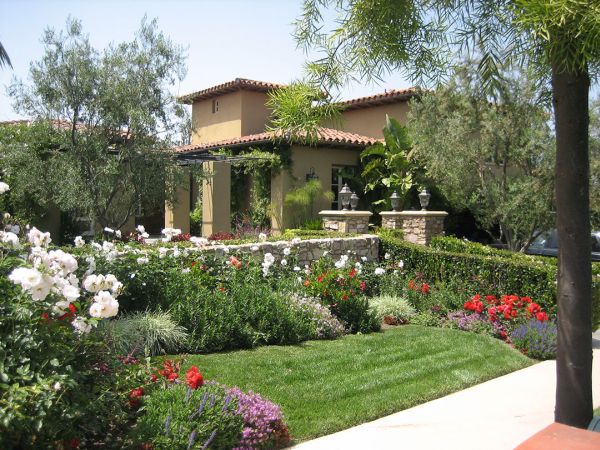 The private garden spaces decked up with elements that make those private spaces look like comfortable residential suites. This garden style thrives to offer a space that offers maximum intimacy, comfort, and entertainment to you and your guests. You consider the overall architecture of your home and the space you have, accordingly plan to incorporate one or two main features of a Spanish style garden if not all of them at once.
Tips for transforming your home garden into a Spanish style garden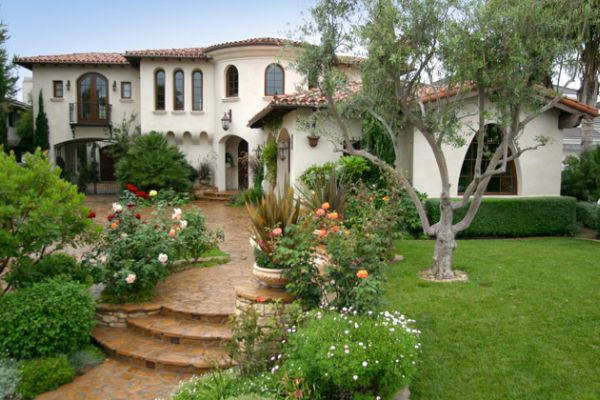 Use of white or colored stucco, colored tiles, ironwork, and Saltillo pavers is what will help you add a Spanish style to your home garden. Plant bright colored flowers, use large pots painted in attractive colors and use bright colors to adorn the walls as well. For the walls, accent wall painting is also cool. This type of garden has walled up spaces but no roofs, so you can play hard with bright colors without any fear of the roof that will reflect the colors back at you and making it overwhelming.
A Spanish garden décor is all about bringing detailing to every aspect. Say the patio and the pathways, no need to leave them boring and dull; rather learn to play well with designs and patterns that add life and a different personality to the pathways as well. Embellish the path with river rocks or the flagstones. You could use small colored tile pieces as well.
Drip irrigation system and the fountain is an integral part of a Spanish garden owing to the extremely hot and humid climate. Ensure that every plant and grass keeping getting adequate amount of water to survive the hot weather condition.
Make a visit to an antique shop where you can get unusual items that go pretty well with the Spanish garden décor. Lamps, urns, and iron furniture will help you make your Spanish landscaping even more real.

Walled off and a very private Spanish styled garden gives you and your guests a welcoming and a comfortable experience. Do not forget to incorporate Spanish art such as mosaic tile art that looks ideal on tabletops, walls, and even on pathways.