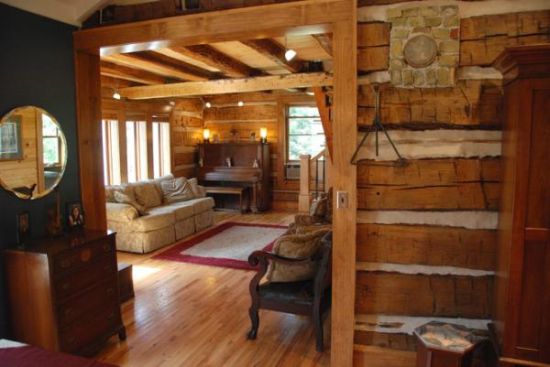 Jon and Eucine Gewele bought an 1843 log home in Menomonee Falls fourteen years ago and have converted it into a stunning muse. They have converted a two story log home into 1 ½ storied contemporary house. When they started renovating, there were many structural problems. The floors of the house weren't level, it was dark and chilly, the walls were covered and some of the rooms had bug infestation. They began by cleaning the plaster and other things that had been covering the walls of the house.
After all the cleaning, they power washed the logs and sandwiched the foam between the logs for good insulation in winters. They also installed new doors, windows and replaced the flooring with oak. The second level pitched roof was removed and ceiling with skylights was installed. The upper portions of the wall were installed with wood panels. Stairway connecting the two levels was reconfigured to render it more contemporariness and stability. The house had 18 support beams in the basement and all of these were replaced by just one beam.
Nevertheless, every time the house sagged another support beam was added. Originally the house also had two basements, so a doorway was cut in 30 inch thick Lannon stone wall that seperated the two areas. They transformed the summer kitchen area into a bath cum laundry room and Florida room into the family room. The Florida room had leaky roof, so when they set on to replace it, the ants that were dwelling in the walls started pouring out.
Consequently, they pulled down the exterior wall sand roof after the incident. On starting work in the dining/kitchen area, they realized that the opening connecting the room to the log cabin had to be extended and it was done so. Consequently, they removed the interior walls and installed hickory cabinets. In addition to some of the new things mentioned above, they also installed granite counter tops, a granite counter top island and a new entryway. This house was one challenge to renovate, but they did it to live in a masterpiece.
Via: Jsonline