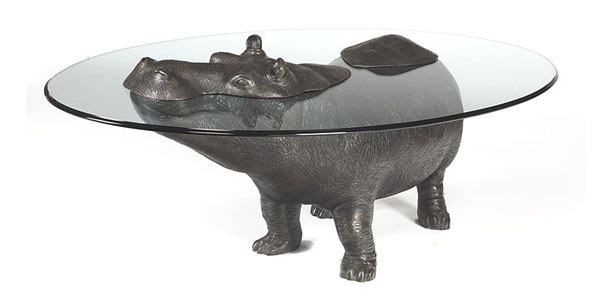 Until date, you might have seen animals coming out of the river after bathing, but have you ever imagined the animals emerging out of glass surface? It is true, as Mark Stoddart has come up with his new table collection where you will find animals emerging out of glass surface. These animal tables will certainly look very attractive in your dining area and will liven up your drawing room. The detailing done on the animals is perfect and the bronze color makes them seem original.
A transparent tabletop is cut by the animal's body, which looks like as if the creature is emerging out of the water. You can choose from Rhino table to elephant, dog, seals and many other animals. You can also opt for sitting rhino, hippo with its baby and so on.
In each table sculpture, the designer locked up the animals with the glass surface and secured these with handmade PTF grommets. These bronze pieces are stunning and can be used as coffee table or dining table in your home.