A vintage, farmhouse look is easy to create when you know the most important elements that help fashion a rustic farmhouse decor style. The idea is to use decorative touches that look as if they are weathered and antique, even when they're not. One of the most important elements is the use of wood materials in counter tops, flooring, wall coverings and weathered wood furnishings.
If the wood used is not actually weathered, it's easy to get that look by using things like chalk paint or milk paint. You can even use paint that has been thinned to create a distressed look. The wood used should be old wood, but not heirloom quality. You can brighten up thrift store and yard sale finds simply by painting them, and make them look as if they have always belonged in a farmhouse.
Important Elements Found In Farmhouse Decor
Another important element found in farmhouse decor includes floral patterns in the fabrics used for pillows, furniture coverings and window treatments. These can be paired with fabrics like burlap, fabrics featuring crocheted edging and ticking striped fabrics. Additional elements that help to create a rustic, farmhouse look include:
– Tile slate – Used as flooring or as back splashes in a kitchen help to make the room look rustic
– Vintage style kitchen cabinets – Can be made from reclaimed barn wood or other wood and finished with either paint or stain
– Wood moldings and bead board accents – To add architectural interest to ceilings or walls
– Farmhouse style sinks – Create a stylish look with functionality built-in, featuring open front styling and single or double deep basins, perfect for preparing home-grown vegetables and for washing pots and pans
– Open shelving – Looks rustic especially when it's featured in a nook area
– Accent pieces – Like mismatched white dishes and wooden bowls, and unique vases displayed on mirrored surfaces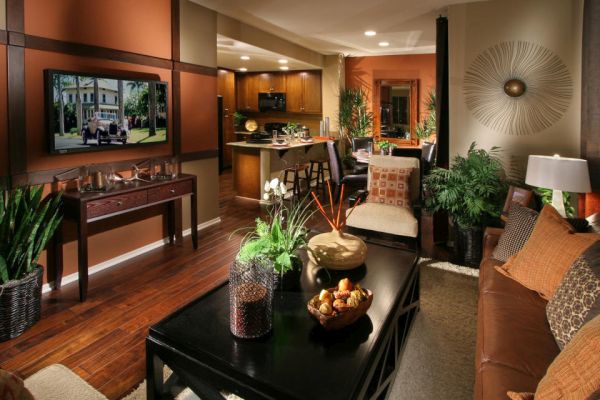 Creativity and Imagination Are Essential Elements of Decorating
Creativity and imagination used in the choices of home accents help to give any room that rustic, farmhouse feel. Using interesting items like old ladders functioning as display pieces, which have either been fastened to a wall or leaning against a wall, creates a focal point in the room.
Things like milk baskets, unique wire baskets, antique milk bottles and metal hardware featured on cabinets and furniture bring out the vintage rustic charm of a room. Unique glassware that is displayed in creative ways also brightens up the room and gives it farmhouse appeal.
Colors Used In Rustic Farmhouse Style
The best colors to use in rustic farmhouse decor style are those found in nature. Colors like blues, browns, tans, pale greens, beige and bright white work well in farmhouse style. Metallic accents should be from warm color groupings like weathered copper, iron, brushed nickel and wrought iron.
The idea is to create a warm, inviting and welcoming look in the home to give it rustic appeal. Accents that are not too sophisticated or modern and are reminiscent of times in the past work very well. Seek out items that are unique like old spools that were once used for yarn, re-purposed for a new use as candle holders. Creativity is essential in farmhouse decorating.
Article Submitted By Community Writer