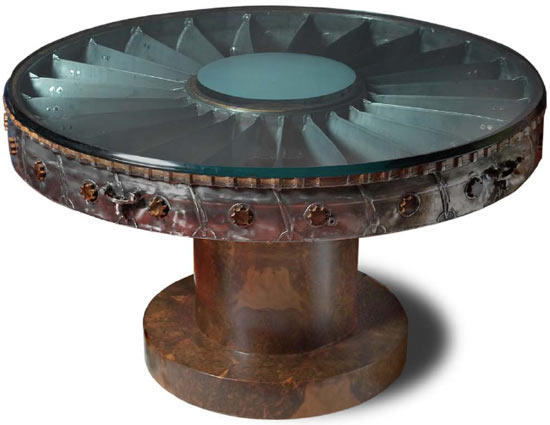 We can hardly assume what's playing inside the minds of the designers. Take a look at the collection of furniture we have exhibited here. We are sure you will never be able to assume want went into its making. These wonder pieces are recycled species, like any other eco green stuffs. But the most surprising part of it is that they are made from the usable parts of vintage aircraft. Thus, the bonus point of these furniture sets is that, on one hand they are sleek, minimal and stylish to suit any modern home and on the other hand, they are generous to the over-brimming landfills. Let us take a quick look
Aircraft Mile High Bed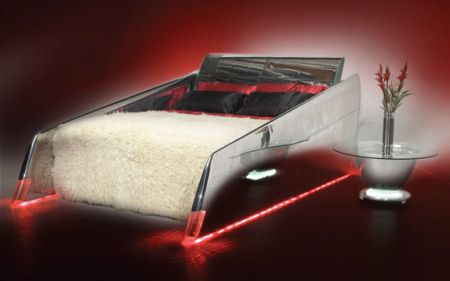 This bed will definitely make its welcoming entry in any modern homes due to its sleekness and sophistication. The functional part of the same is also equal to any other bed you have been using till date. It comes with a roomy dimension of 11' length x 7'6" width x 4'6" height. But the amusing news of it all is that it is made from two DC-9 back stabilizers of an airplane and a C-130 inner flap. The aesthetic quality of the same has been improved by mirror polishing the surface and installing LED lighting. This furniture certainly gives an enigmatic dimension to your bedroom!
Cowling Bar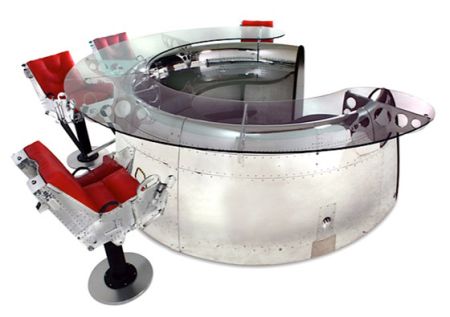 This Cowling Bar is definitely going to be a great treat for your guests and will give your guest room a touch of class. The semi circular structure of the same ensures that each of the guests will get the chance of carrying on face to face discussion without feeling left out at all. It has incorporated the famous Pratt & Whitney jet engine into its making that powered the Boeing 747. A fabricated ½" tempered glass top has been installed over the aircraft based stand of the table. The aesthetic quotient of the stand has been further improved by imparting mirror finish to suit the needs of a modern household. However, the plethora of finishes available enables further experimentation.
C-119 Aircraft Cadenza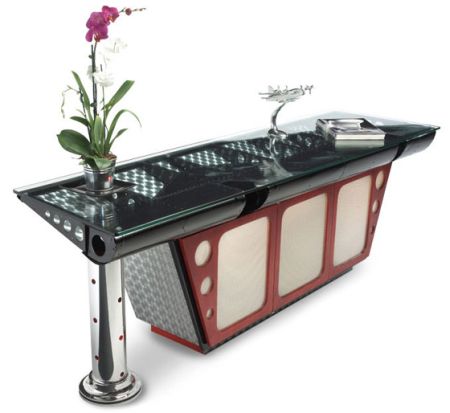 A cadenza is a functional as well as artistic complement of a contemporary living space. This one is undoubtedly a superior version as it has eco friendly attributes as well. While wood has been incorporated in the making of the same aircraft parts hold the major part of it. Parts of C-119 Aileron and a damper valve of Boeing 707 have been used to create this extravagant furniture. Further, functional enhancements have been achieved by means of tempered glass top, internal illumination and aluminum laminate.
C-130 Airplane Desk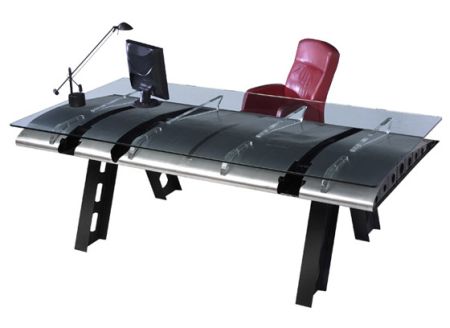 This hi-tech desk has the qualities of transforming any office area into a modern space of the new age. The glazed glass surface is best suited for desk jobs, while the glazed counter beneath it helps you to arrange all the stationery in place. The outer flap of C-130 airplane has been wisely implemented to create this breathtaking desk.
B-25 Mitchell Bomber Desk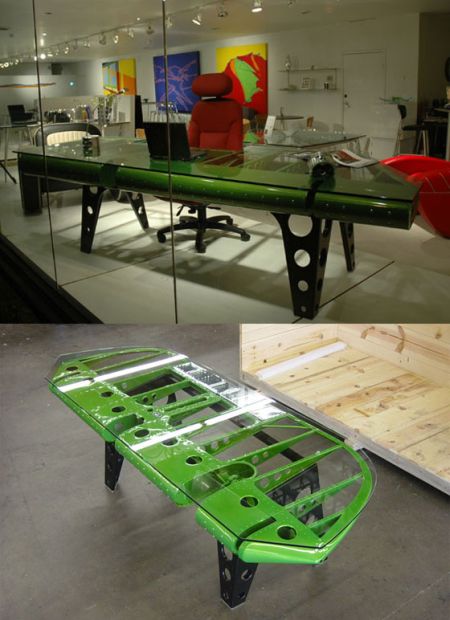 The usable parts of a bomber aircraft went into the making of a highly elegant desk this time. The beauty of this superb furniture is its elevator and rudder detailing, which is visible all throughout its surface. The designer has placed a crystal clear tempered glass table top over it to make it functional without jeopardizing its unique look. The wooden stand on which this hi tech tabletop rests, has also been skillfully engineered in order achieve synchronicity in appeal.
Albatross couch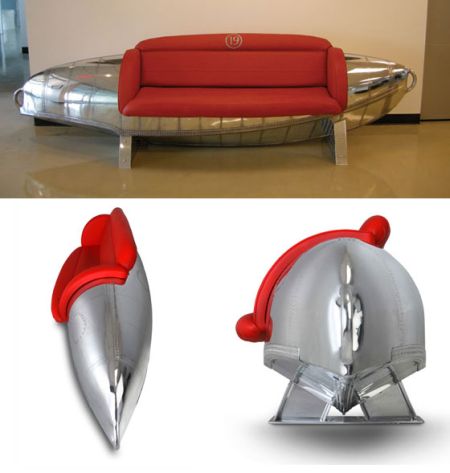 A relaxing day break in a comfortable couch is the dream of majority of us. But, with hi tech couch like this one, the time of relaxation can be extended throughout the day! The nautical lines and the uncountable rivet detailing of the Albatross Float Tank has been harnessed optimally in order to create a most relaxing and most eye soothing couch. The juxtaposition of shiny silver backdrop and valentine red cushion is also alluring.
F-4 ejection chair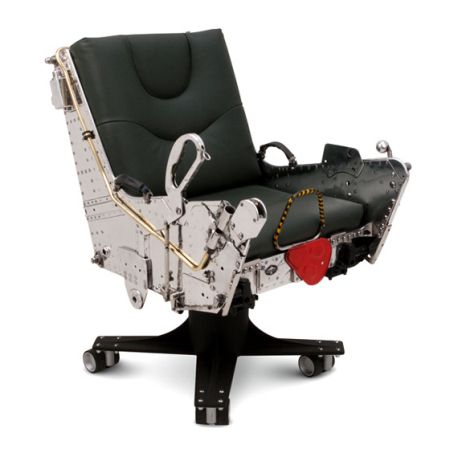 A low riding reclining chair is the best medicine to soothe your tired body after the day's work. This chair is undoubtedly a better species from its usability point of view. It is as kind to your ached and stressed out body as towards the landfills. So, the essential parts of F4 aircraft have been utilized for making this unique low riding seat. Additional fabrications in this chair are the soft and cozy upholstery, sturdy aluminum base and double wheeled casters that team up together to create furniture you will love to treasure.
Boeing 727 Conferencing Table


This conferencing table is the most futuristic companion of ultra modern conference halls for organizing the most vital board meetings and professional assembly in style. The capacious table is suitable enough to accommodate quite a number of people at a time. The functional part of this conference table has been taken care of by means of the horizontal stabilizer of Boeing 727. The stand has been created from sturdy aluminum with I-beam punch detailing, while the table top is further decorated by implementing a glazed glass sheet.
DC-9 Nacelle Geometric Coffee Table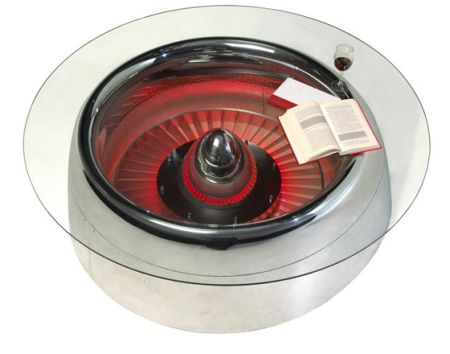 A personal coffee table is the most effective means of rejuvenation. This aircraft part implemented coffee table is even superior as compared to its traditional counterpart. It is available in either geometrically spherical or an oval shape. At a dimension of 52" length x 49" width, it gives the additional advantage of internal illumination. The usable parts of DC-9 Nacelle, such as a jet engine stater and a polished have been used to design this amazing piece of furniture.
PW-747 Bar Table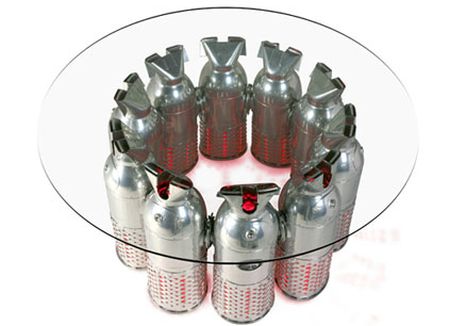 This bar table will give you a grand option to say, 'Cheers'. It has a round top with a diameter of 40" and is tout and compact. The feet of this bar table create visual impact. As many as ten burner cans from F-4 Phantom aircraft have been incorporated in order to create the same! The powder coating over the surface of these burner cans and the tempered glass top gives it aesthetic boost.