If you like to sit close to your window in starry nights and look at the moon, then now you can let the moon step inside your room and illuminate the room all night. Moon lamps are based closely on their inspiration; they inherit the structure, design and even movements that run close to the original. With these moon lamps, your space fantasy comes alive and seats comfortable on your table.
The moon lamp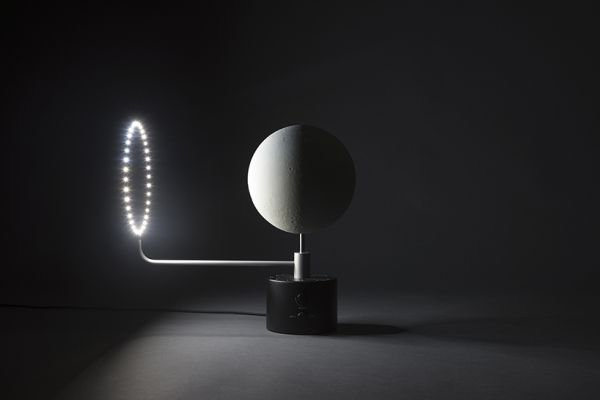 A 1:20th billion scale replica of each crater and elevation on the moon, the moon lamp has every space enthusiast talking. This brilliant replica follows the phases of the moon in automatic or manual modes. A ring of LEDs act like a mini-Sun revolve around the moon and create shadows identical to the original. From inspiration to execution, this piece displays extraordinary attention-to-detail. This extraordinary moon lamp has been designed by Oscar Lhermitte and Kudu Studio.
The moon collection by nirmeiri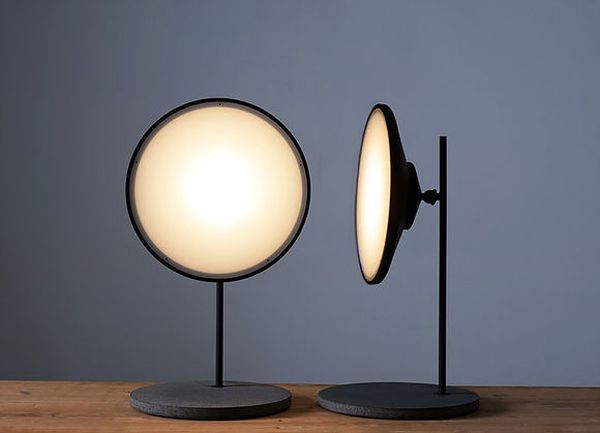 Inspired by the shadows that are inherent of the many phases of moon, nirmeiri studios designed their moon collection. The collection has been commissioned by the Nilufar gallery in Milan. Among its many variations are three basic designs for table, floor, and ceiling. Each lamp is made out of metal and basalt stone and cut into clean forms.
The lamps have detachable LEDs that spread the light from center to the edge. The lamps can be adjusted in height and angles as per your wishes by using a small clip located at the back. The ceiling lamp has 7-lampshades, floor lamp has 2 pieces of lampshades and the innovative desk lamp version has a single moon.
1960 moon lamp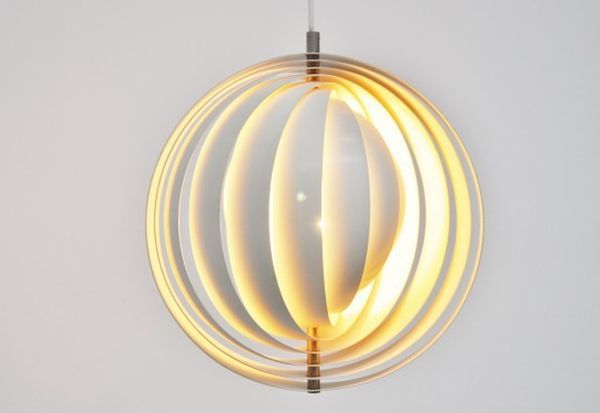 Love for vintage products can be satiated with this unique product. This is a Verner Panton model, made of multi-layered white lacquer metal. Rings of various sizes circle around a bulb, which when lit spreads a beautiful luminous pattern that warms the whole room. The original was designed by Verner Panton for Louis Poulsen in Denmark in 1960s. The 1960s Moon Lamp is made in enameled steel and is 14 inches in diameter.
Luna Lamp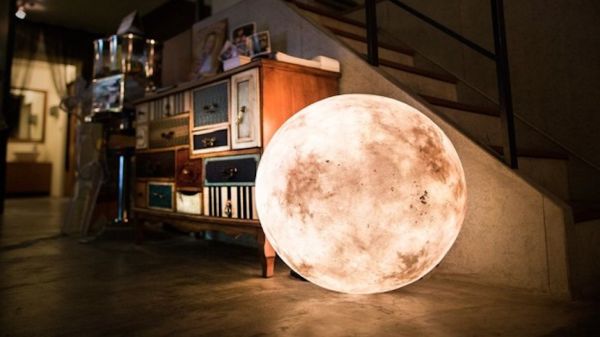 Turn any space in your house into a magical place with this artistic version of the moon. In terms of the lamp design , the Luna Lamp is basically a glass-fiber ball that is coated with non-toxic latex. Place this shinning ball in any corner and transform the look of your room; it comes in variable sizes ranging from 8.2cm (3-2inch) to 58cm (24 inch) or XXL.
Designed by Acorn studio, Luna can easily be hanged from a wall. All you need is a hook in your ceiling and a durable nylon string to pass through a ring on top of the lamp. The lamp uses various powers and volts of halogen bulbs for all the sizes.
Super Moon in your Room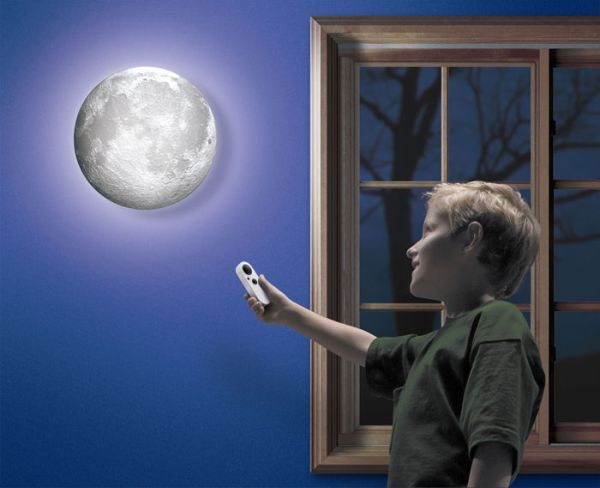 About 30% bigger than the original "moon in your room" lamp, this innovative lamp can automatically cycle up with the natural moon cycle and change phases. Integrated with a web code for audio tour and sound effects, this is a great centerpiece for your child's room. The lamp is a ball crafted to be a realistic replica of the moon.
The functions can be remote controlled and the 12-lunar light up phases can be changed manually too. The Super Moon in your room can easily be hoisted from the ceiling using a hook and a strong nylon string.
After a day full of stress, an easy way to regain your calm is to look at the white ball of wonder that hangs in the black sky. With innovative designs in lamps, now it is possible to bring the ambiance of the moon inside your home and create the perfect aura for a calm evening or a romantic dinner.