Light bulbs help illuminating an area and add warmth to the space. Be it a home, an office, a restaurant or for that matter of fact any outside or inside space, none is complete without these as making a space all the more beautiful is practically impossible without a light bulb. But what happens when it burns out or breaks? Without a second thought, out it goes from our lives and lands in a trash can. A single glimpse at Ecolo designed by Nancy Palm and I am sure you will start adoring these burnt out pieces of lighting as much as you love them when they glow.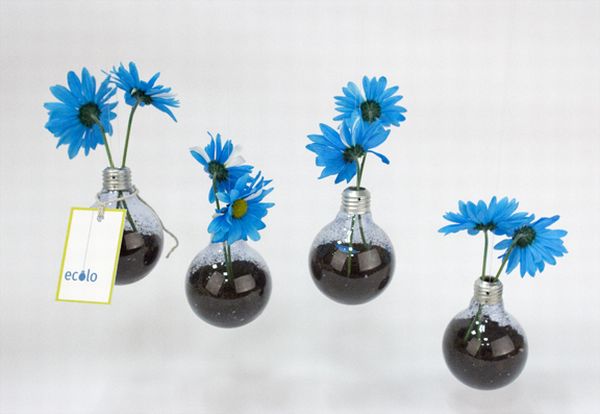 The designer skillfully swaps used light bulbs into delicate vases, which will never fail when it comes to beautifying your home in an eco friendly way. Ecolo is a great example of injecting a new lease of life into waste products, which is very important in this polluted world. These cute flower vases come tagged with lot vivacity and will add a touch of sheer creativeness to the decor of a place. Add your favorite flower and place it anywhere in the house to see the cheerfulness it creates. If you like growing your own herbs and are looking for an eye appealing pot, then its time you give Ecolo a chance. Simply, add soil and create your very own hanging herb garden right inside your kitchen space.
Ecolo is a great example when it comes to proving nothing is waste and recycling always doesn't mean boring products. It will prove to be a great addition to your home as it brightens up the area in a green way even after the light bulb has burnt out.
Via: Behance