It takes some unusual and out of the box ideas and designs to make an interior decoration interesting. You cannot find your home interesting if you get to live in a space wherein you see same objects and features every day. On the other hand, if you keep adding a few new and interesting projects to your home, you will never find it boring. One such DIY project that you can incorporate in your home décor is the chalkboard table. A fantastic addition to any room in the house and are absolutely easy and fun to create.
Make dining all the more enjoyable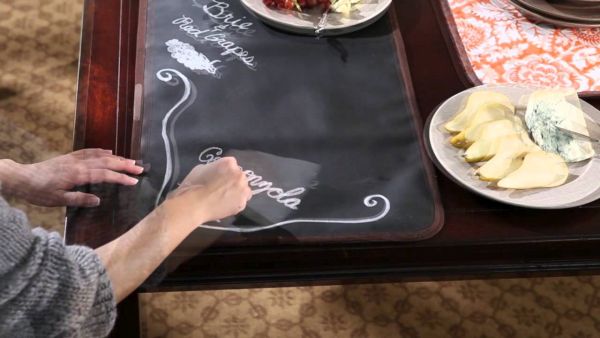 Chalkboard table projects do bring the creative and the element of interest into your room décor, and one thing that makes these projects so special is that they give your old and worn out table a brand new look. You need not but new tables to turn them into chalkboard tables but simply put some old table to use and see what magic it creates in your interior décor.
Turning your dining table into a chalkboard dining table, you need to sand it so that you get a smooth surface for the application of chalkboard paint. Apply two or three coast depending upon the darkness you want, and let it completely dry for two three days.
Now you can start with your creativity, and it would not be permanent, as you can change the pattern with every meal. Write your guests name with chalks around their plates, write name of every dish placed on table, or do whatever comes to your mind.
Play table for children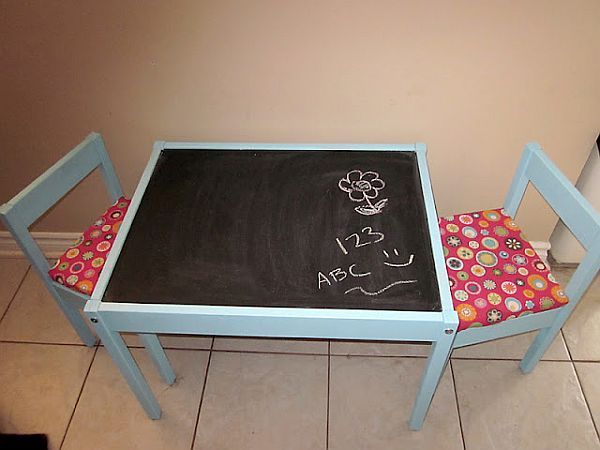 Your children are going to super love this project. Take a table and paint its surface with the chalkboard paint. Your children can use it to make their crafts. Mark places with names to store items used in craft making, such as stars, beads, sequins, lace, tape, and other such items.
You can make it a play table for your children who can play any game on it. You can teach your children to play chess on it, and many other games. Your children can draw roads on the table and drive their toy cars on it. Let your children think of several ideas and activities to do on their pay table.
Table you can write notes upon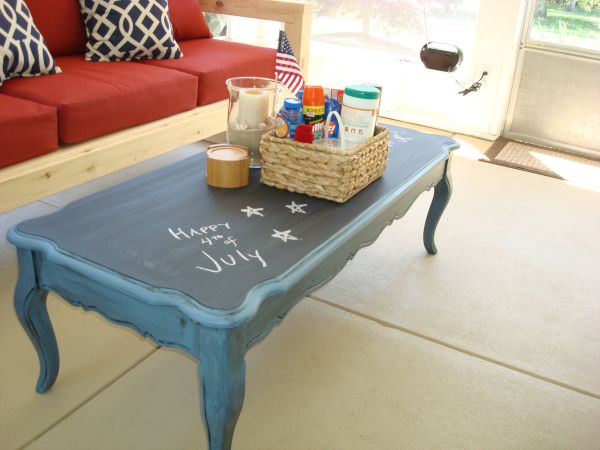 A corner table in your home is old and you do not want to see it anymore in your home. However, a little change in it will make you fall in love with it all over again, so check this idea. Simply change the top surface of the old table, as in paint it black with the chalkboard paint, and you can keep the rest of it appearance same as before.
Change its location in your room, as in try to make it a focal point. You can do this by placing some books on the table, showpieces or other catchy decorations. On the empty space of table surface, you can write some notes or reminders, such as Parent Teacher Meeting at 2, dentist appointment on Sunday, and more.
The multifunctional table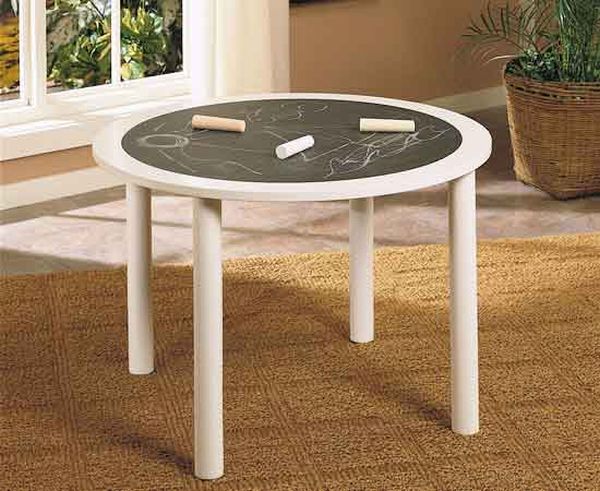 You can design a table that works as a dining table and a coffee table all in one. You just have to pull down the side extensions whenever you wish using it as a coffee table, and pull them up when you desire adding some length to it for using it as a dining table. You can decorate the chalkboard surface with some text and patterns using colorful chalks.
Chalkboard tables in a room décor look unique and lovely. You can change their appearance every other day or even numerous times in a single day. Keep some patterns and beautiful designs in your mind, and give your chalkboard table a new look to add surprise and fun to your room décor.