It may seem like a small consideration, but a well-chosen front door can have a big impact on curb appeal. This is especially true if your home is small, or if it is connected to other similar homes as in many urban areas. For houses like this, the front door brings individuality and identity to your little home. It's essential to your home's "face", and worth some extra thought if you are planning on updating or replacing it. There are many kinds and colors of doors. Here are some of the things to consider when choosing your own.
Color and Contrast. It is a common for an exterior door to be colored in sharp contrast to the rest of the home, though this is by no means a rule. It is in vogue for some homeowners to use the door to show a pop of color to the outside world, in the middle of an otherwise subtle color palette on the rest of the house. For this reason, Los Angeles door suppliers like Door Store America have many options in natural, untreated wood. But doors like this are also a blank slate for other approaches. Perhaps your home would be better suited with a natural finish door, stained and finished in dramatic fashion. Natural wood tones can look luxurious and elegant, though simple. The thing to remember is that your door makes a statement to people as they approach your home. Use it as an opportunity to dazzle with color, or to calm with natural or somber hues.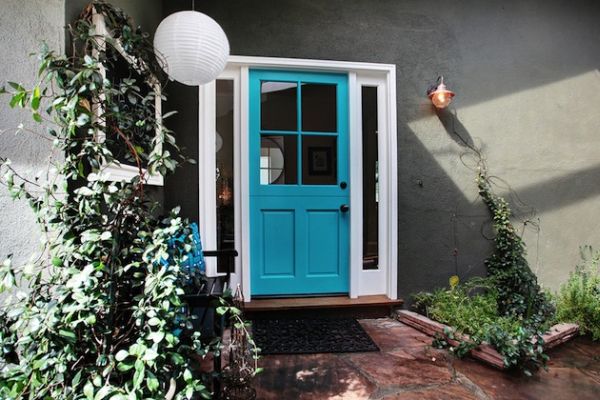 Windows and Light. The front door of your home says much about how you see you house as a part of the surrounding community. Some people prefer lots of light to come through the front door, giving a home the friendly appearance of openness and accessibility. Other people will prefer the stately privacy of a front door without windows. People entering a home like this will feel like trusted guests, and the effect on your home can be one of individuality and calm.
Interior Doors will be chosen for different reasons. Interior household doors have a variety of purposes. Some provide visual privacy, others soundproofing, while others are in place to define spaces, giving dimension and boundary to otherwise open concepts. For these reasons, interior doors will be made of different materials than exterior doors. Because they don't serve to prevent intruders from entering your home, they tend to be lighter. And unless you are capricious in your interior decorating, interior doors don't tend to be as colorful as their exterior cousins, though this is by no means a rule.
So think about the above when choosing your next interior and exterior doors. Whether you are choosing them for a home you will be living in, or you are just flipping houses, doors give definition and personality to buildings of all kinds. Because homes are intended to be lived in, they can create a mood that the residents enjoy. Choose your doors wisely and they will increase your happiness with your home.
Article Submitted By Community Writer