Cottage style interior décor has a certain charm about it, which is cozy, welcoming, and a homey feel. People love adding it in some way or the other in their modern homes. Majority of people choose to transform their kitchen into a cozy cottage style kitchen while keeping the other décor modern. You can also have this country style in your kitchen and make it more inviting. Here is how you can do it:
Add Timeless Materials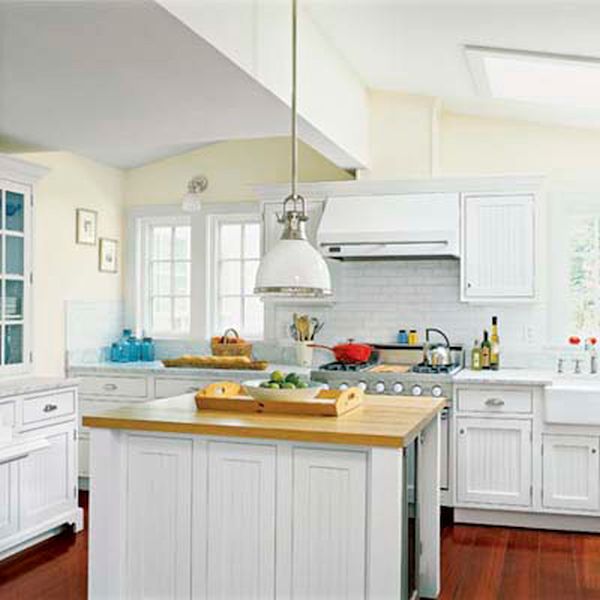 Cottage style is timeless, so what better could exemplify this theme than to add some timeless features to a cottage style kitchen. Marble countertop surrounded by your favorite counter stools, and some ancient flower vase on the counter are some examples.
Open Shelving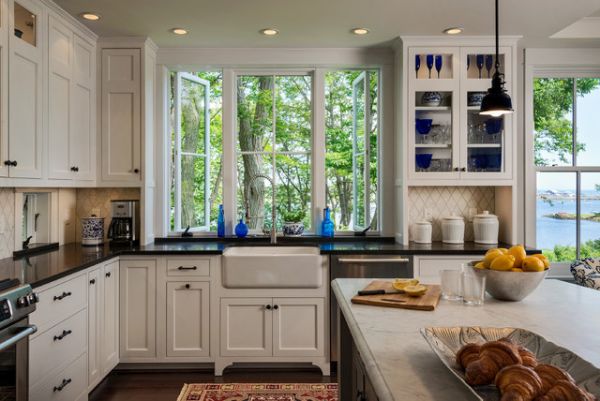 Exuding cottage style in your kitchen with open shelving is an easy and an effective decision. Open plate racks that put your crockery on display look fabulous. The corbels and the brackets holding the open shelves attract a lot of attention. They make the shelves look simple yet stately. You do not need to spend money on buying ne open shelves but you can take off the doors of existing cabinets to create inexpensive open shelves.
Wood Flooring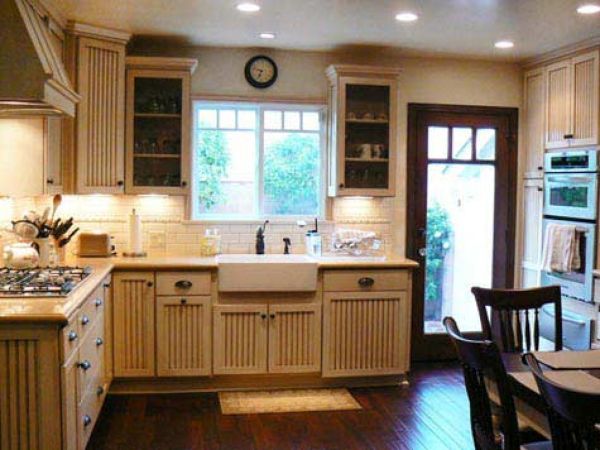 For a true cottage feel in your kitchen, you will have to bid adieu to the marble floors and splurge on wood flooring. It gives a kitchen the authentic cottage feel, which is warm, homey, and inviting. You can choose a natural finish, painted, or stained wood flooring but make sure it has potential to bear high traffic and kitchen spills.
Small glass pane windows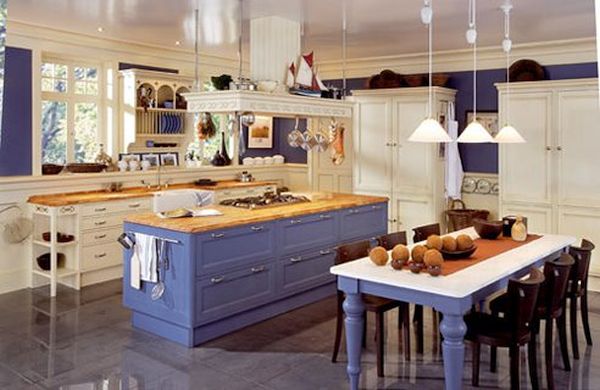 Another element of a cottage style kitchen is a light and an airy atmosphere. You should go in for paned glass windows, and if privacy is a concern, you can hang curtains. It goes for the kitchen cabinets as well. Replace cabinet doors with glass doors, and again if you want to hide the things stored, you can install curtains on the inside of the cabinet door.
Exposed Beams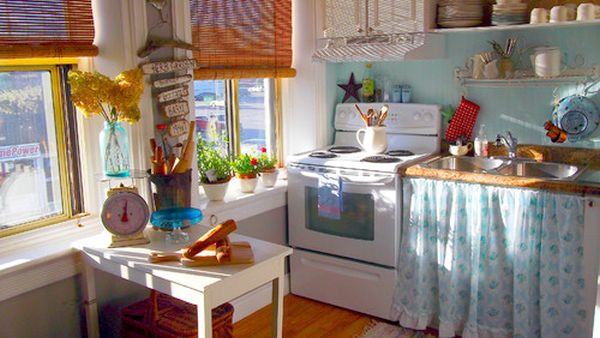 Exposed beam is yet another feature of a cottage style kitchen. You can expose the existing beams by doing a little renovation work, or you can install new exposed beams on your ceiling. They create a warm and a rustic feel that are integral elements of a cottage style kitchen.
Beaded Board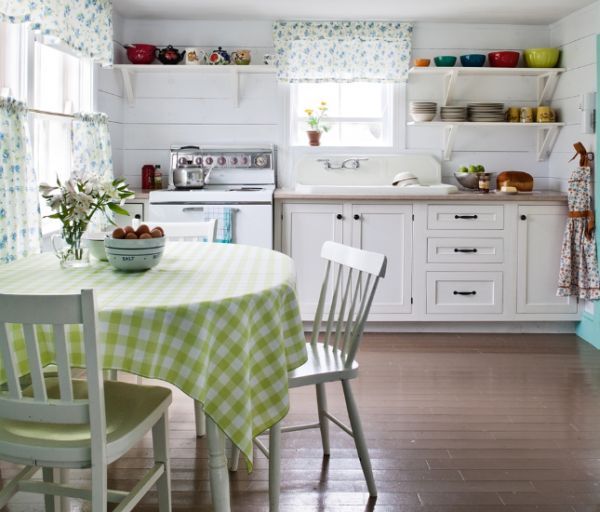 Beaded boards are integral features of a cottage kitchen. Whether you use them on walls, cabinets, ceiling, and on the island, it looks gorgeous. It looks lovely painted in simple white color, and installing it horizontally enhances its beauty.
Cottage Sinks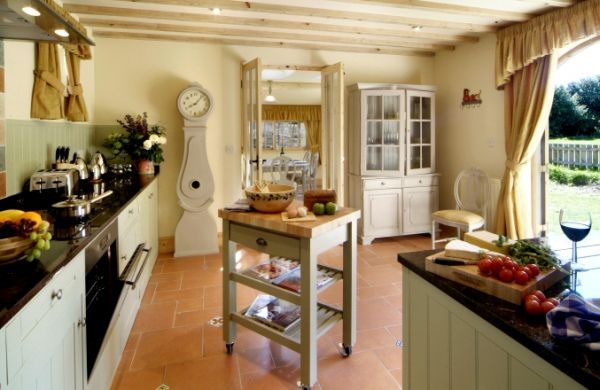 The sinks you will find in a cottage style kitchen are way different than sinks found in other types of kitchen. They are sturdy and practical. They are big in size so that they are able to accommodate big pots, and extra dirty dishes. They become a focal point in a kitchen owing to their big, deep and easy to use design. Pick a sink that has a unique and trendy material and some fancy design on its outer side, so that it appears to be a perfect amalgamation of country design and modern looks.
Bring in some greenery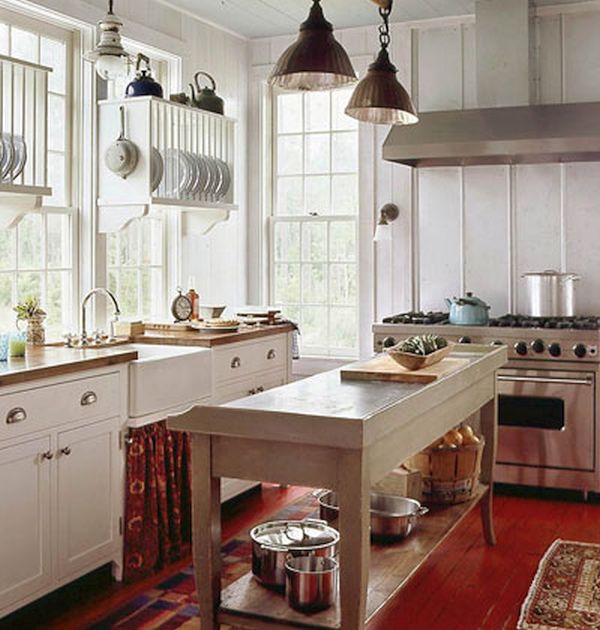 A cottage style kitchen would be incomplete without some greenery inside. Put in efforts to create a small herb garden inside, or plant some indoor plants in tin pots, or planters and keep them beside your kitchen window. You can invest your time in creating some gorgeous DIY planters to adorn your kitchen.
Cottage style kitchens are cozy and more inviting than other types. It is an easy practice to transform a traditional kitchen into a cottage style kitchen in your modern home taking help of some DIY inspirations.