Do you love unique and innovative lighting in varied artistic forms? If yes, then you would definitely appreciate this piece of art designed by the Swedish company Tengbom. They have created a wonderful set of lighting for some custom space. Find out what this lighting is all about and how it adds charm to a dull place.
Lighting design and creation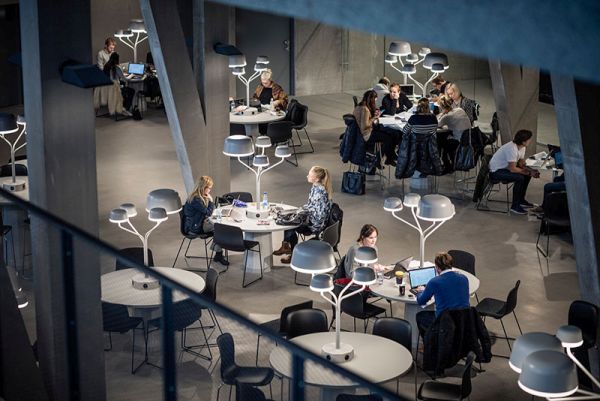 Tengbom was especially hired to add some furnishings and to light up the study space at the Örebro University. The project was for the new university building designed by Juul Frost Architects. While designing study tables for this space, the company came up with an idea to add lighting to them.This led to the development of the mesmerizing lamps that carried the form and style of a mushroom.
Thesestudy tables have power outlets built in them. At these outlets, the lighting is installed so it may brighten up the entire space surrounding and on top of the tables.Each mushroom-like light carries the design of a little tree with branched-out lights. There is one big light and three smaller ones on each lighting tree. This entire mushroom tree-like lamp structure has been affixed in the center of each table.
Appearance
Several tables are arranged beautifully, with a comfortable distance kept between every two tables. Since the entire spacehas many table lamps, it looks like an attractive artificial garden of mushroom trees.The lights are sleek and smooth in appearance.
While the shades are bluish-gray in color, the lamp base is in white. The combination seems classic and elegant to suit the custom needs of a study area. The unique touch given to the space through mushroom lighting makes it inviting and delightful.
Usefulness
Since the organically shaped mushroom lighting has been custom-designed, itstheme fits well with the purpose for which it has been made. The use of subtle colors and delicate style in these lamps is great to make the space study-oriented yet joyful for students. As the lights are placed in the center, students can conveniently sit around these round tables and receive sufficient space to keep their books and laptops. Since each lamp is branched out in different directions, it spreads the light evenly on the table. It does not even cast a shadow of a sitting person on the stuff kept ontables.

The mushroom-like lighting designed for the custom study space looks appealing and elegant. It works well in a study space where sufficient light is required to work.
Source : Contemporist.Com