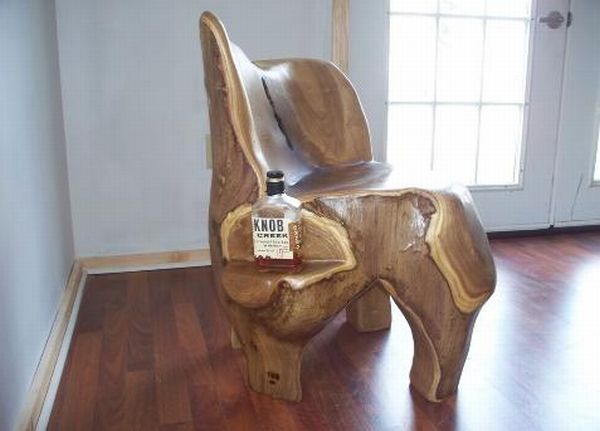 The world of recycling has seen a rapid growth and this green change is highly appreciated for its unique ways of using the unwanted or useless stuff. But, the tree trunks have always been in use for some or the other purpose. These trunks are really effective in recycling and making something cool and effective out of them. People out there have used them to make most of their home accessories like a stool or a table, etc. There are some exceptionally beautiful designs made out of these tree trunks which are not only useful but also add to the beauty of the object and ultimately to the beauty of the house. Here is a list of seven recycled designs carved out of tree trunks which are making a buzz in the recycling market and are worth keeping in stock. Have a look!
1. Ellie's Chair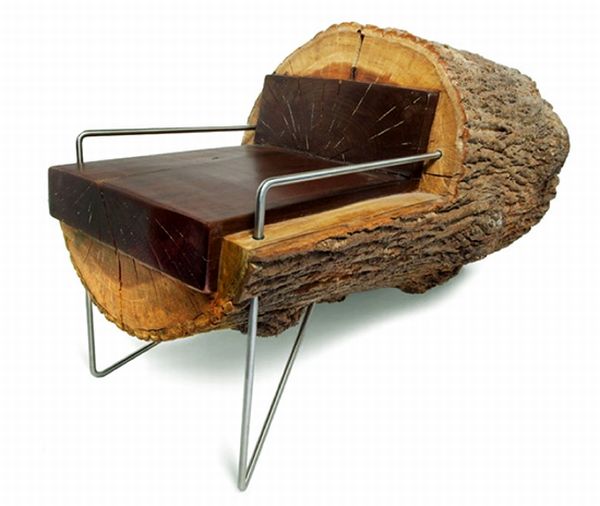 This cool chair is something that is really creative and is worth trying. This long comfortable chair is made completely out of a tree trunk which is used as a source to support the chair placed on the front. The cool design and awesome concept makes it worth possessing one. It is quite easy to make a similar structure which offers ultimate comfort.
2. Arbor Chair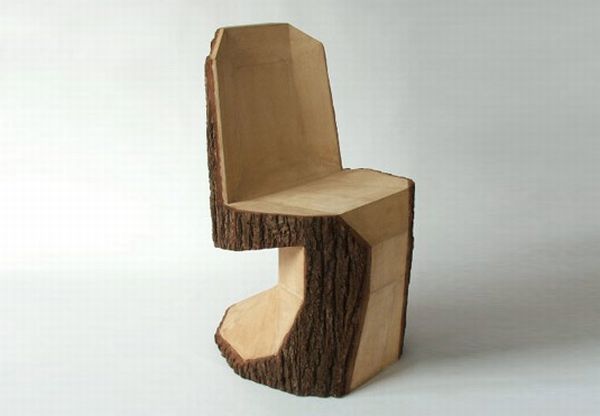 The Arbor chair is another cool concept chair made completely out of a tree trunk. This chair derives its looks from the traditional chairs which were used to provide ultimate comfort. But this chair is far stronger than those traditional chairs and is quite stylish and gorgeous. It is made by cutting the tree trunk in shape so that it attains the structure of a chair. The lower back bottom of the chair is removed to reduce the weight and provide a comfortable sitting.
3. Outdoor Burned Wooden Furniture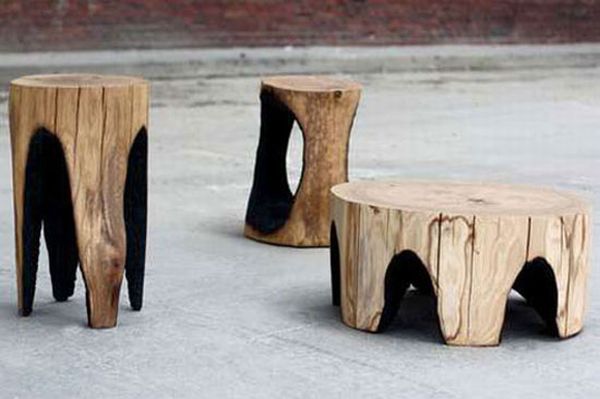 Many a times while on a leisure walk, you may find burnt wooden pieces. These pieces of wood can be effectively used to make furniture's and other related structures which can serve several useful purposes. This can be used to make a mini stool or a standard size stool or even a chair that looks cool both by design and structure. Also, the way in which these accessories are made is quite simple and anyone can try their hands on it.
4. Upside Down Chair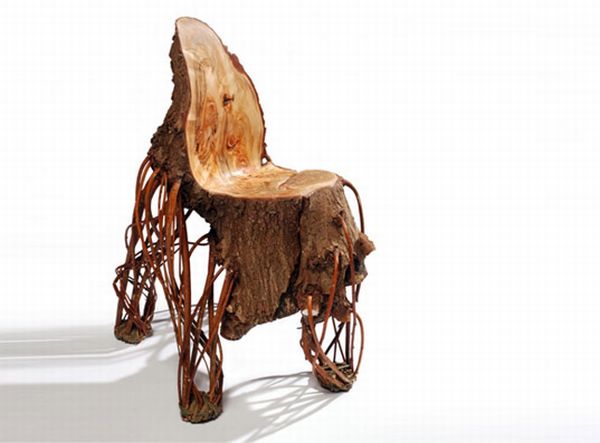 The upside down chair is awesome by design and structure. This cool chair is designed by artist Floris Wubben and Bauke Fokkema. The artists have made a creative concept chair and have completely taken the comfort of sitting on a chair to a whole new level. This awesome chair is crafted from an inverted willow tree and is supported by twigs which are arranged in a particular shape that really looks cool.
5. Tree Trunk Chair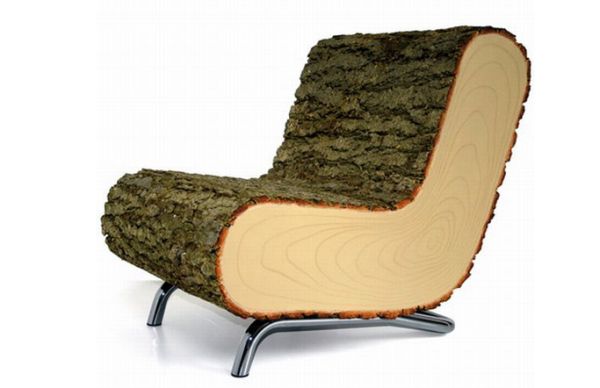 This is an ultimate relaxing chair and will surely grab your attention for what it looks and delivers. The comfortable smooth edges of the chair with nice finishing, makes it way above other such chairs in terms of comfort and luxury. The bottom part of the trunk is supported by steel rods and the sides are perfectly cut to give an awesome experience to the user. The best part of this chair is that it is made out of a single piece of tree trunk so that it offers ultimate durability. This structure is really adorable and is worth keeping in mind if you are planning to get something like this.
6. Kairo Chair Design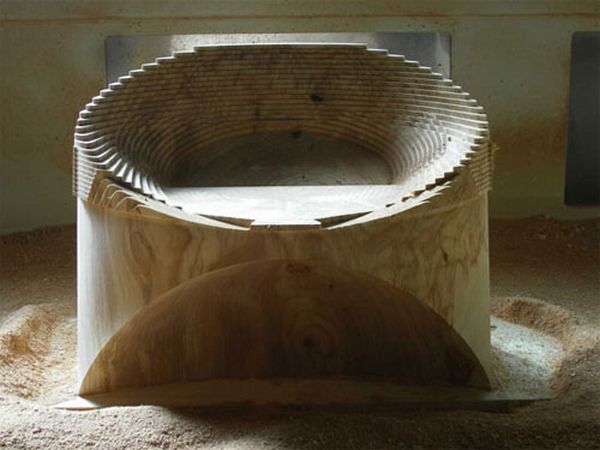 The Kairo chairs are known for their ultimate comfort and also the elegant designs. This cool chair is imprinted with cool designs on the front side and the back side. The tree trunk is smoothly cut into the shape of a chair which has a curved body and the bottom space is half taken out so that the ultimate comfort is provided to the user. Also, it can be added along with cool and fashionable accessories and it will really look like a masterpiece then. This cool and smart design by the Kairo is highly appreciated by the people.
7. Unusual Hand-Carved Tree Trunk Chair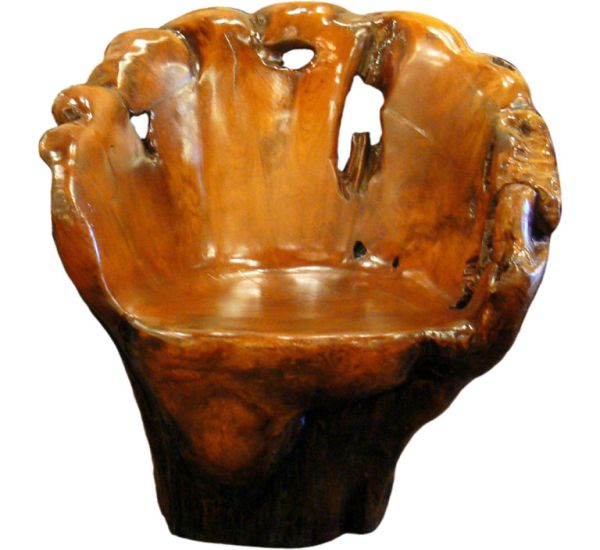 This chair is a real masterpiece and there are actually no words to describe this ultimate beauty. You will be shocked to see this gorgeous chair and for sure you will go crazy over its design and super cool finish. This chair is known for its ultimate comfort and luxurious looks. No matter what it is made out of, it will take the beauty of you house to a whole new level. The chair is given a glazed finish which is pretty attractive. Due to this glazed finish, this chair cannot be used outdoor, that is it cannot be used under the sunlight as it might affect the color of the chair.