Times have changed and so have the gadgets that keep a tab on time. Clocks are no longer just a machine to tell you what time is it, but they have evolved into beautiful things and come in some really fascinating and innovative designs. These innovations are not just restricted to the designs of these clocks, but have also occurred in the realm of the material used, their placements (wall clocks are no longer meant to hang only on the walls) etc. Let's tell you about some such cool clocks:
Cool and creative clock designs for trendy spaces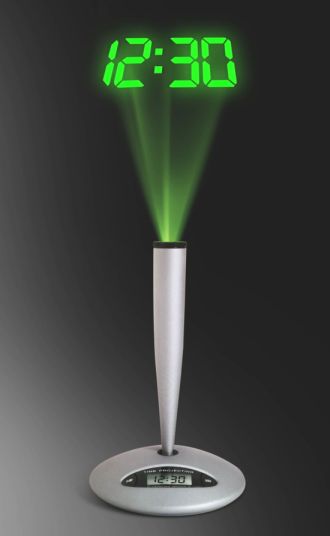 From Bedol, the clean lines of this clock project clear and dark green numbers on your ceiling, walls or any other surface that you fancy. The prompt visibility of time is ensured by the adjustable pole and the clock's integrated focus control. Made of die cast metal, it measures only five inches in length. It is not only a timepiece, but also a unique piece of home decor that has a novel function. Wearing a price tag of $38.00, it is powered by three AAA batteries or by an AC adapter.
Annular Eclipse Clock displays time uniquely
Annular Eclipse Clock by Lee, Gimpo-si, Gyeonggi-do is a unique kinda clock that unlike traditional clocks don't leave you bound to read time an hour hand and a minute hand. The designer thought out of the box and turned hands into light or you may say the shadow. What actually the concept is that the transparent plate (in the morning) becomes opaquely dark as time passes. This change from transparency to opaque dark makes time reading all the more interesting.
Reclaimed wood takes the form of artistic Eco-clocks
Clocks have taken a giant leap, be it design or technology. Beginning the story from sand glass, the clock design has reached new elevation. Just like these Eco-Clocks, which are made of reclaimed wood from the jungle. Made by Los Angeles-based design studio se_earch+resQ, and deigned by Ando Pndlian, the clock is an arty laser-printed time piece. The clocks are etched with laser on different kind of reclaimed wood from various construction sites, back alleys, and cut-offs from the studio's own furniture and skateboard designs. The price ranges from $100 to $300, and each piece is unique in itself. The clock features colored hands but without numbers, so it's actually fun watching time with these clocks.
Oclock clock designs
This clock makes it presence felt in any room, even if you have minimal furniture, this clock will make it look quite full. The designer says that he didn't intend to produce such a clock but the production process led to this unique piece. This clock is made of plastic powder which is set in a mold and then put in an oven. It is a kind of organic shape and despite the diameter being 120 centimeter, the Oclock Clock is light weight. So you get a nice, big clock with a very unique design, light but one which has an overwhelming presence in the room.
Melting Clock
This clock is inspired by the famous painting "The Persistence of Memory" by Dali. It has been designed to give a feeling that the clock is melting, connoting that time waits for none and is slowly passing. This clock may be a surreal, melted clock but is very accurate when it comes to telling the time. Moreover, it can balance perfectly on any flat surface, a desk or any counter. It is not just a clock but, without a doubt, a piece of art. The melting clock measures 7.5 inch in heingt, 5 inch width and 6 inch in depth.
Pop Quiz Clock
This clock will remind you of your days in school when you used to have nightmares about mathematics, or some of you were in love with the numbers and equations. It has a blackboard look to it while the numbers are scrolled down to look like they have been written with a chalk. And if you want to figure out what time is it, you'll have to solve the math problem written on the board. It can be quite a headache for some, but those who love numbers will love this clock as well.
Bent Hands clock designs
The bent hands clock is ideal for those who want to keep a track of time in different countries. This clock has a single spiralling hand placed inside concentric circles. Names of different countries are written within these circles and the points are linked. This clock also adds to the beauty of your room as its design makes it look like a showpiece.
Uber cool Twinkle clock
This twinkle clock has hand-bent neon tubes with sparkling green light. The base is laser-cut aluminium and the center is hand painted. The linear movement of the light project in the room and the disappear. The clock looks attractive and is very high on the bling quotient. It is not suited for those who like the sober look. However, it would be a great addition to the room for those who love the glitz and sparkle.
Digilog clock designs
The design of the clock is simple and there's nothing much to talk about on that aspect. But the clock is unique in its own way. This clock is a combination of the digital and analog. While the analog hand shows the minutes, the hours are displayed digitally in top of the clock. It may not have an innovative design or any bling, but it definitely is a unique piece. A worthy addition to your room.
Good Afternoon Clock
The Good Afternoon Clock is nothing but a mere circle. This clock neither has a face nor hands. So how does it tell the time? This clock has slits on the inside of the circle from which three light beams emit to tell the time. It can be placed on the wall or any other flat surface. This complicated time piece may not appeal to all as why would anyone want to take such pain to figure out the time. But it may still be able to find a place in offices.
Spire Clock
The Spire clock has been inspired by the Japanese fan. The two hands of the clock are the spiral form at two ends. It also folds and unfolds like a Japanese fan.
Manifold Clock displays time in pretty unique way
I really wonder how designers around the world come up with such innovative ideas! Indeed, there are many clocks lying on the market shelves but this one is surely unique and worth checking out. The Manifold Clock from Studio Ve by designers Shay Carmon and Ben Klinger is the cool clock that has two hands connected by a piece of Tyvek, drawing a random-but-not-random 3D form that changes each minute. Watching time would any day be fun with Manifold Clock
So, these were some highly innovative and artistic clock designs. As you can see, these clocks no longer just fulfill the need to know the time but are also a piece of art that adorn your house