If you have the privilege of designing your home or supervising its construction, you would probably have a say in the accessories you would want in the rooms. If this is the case, then this would be the perfect opportunity to set up the perfect bathroom you have always dreamed about. Instead of opting for standard fixtures that would make your bathroom look any other run of the mill bathrooms in other homes, consider choosing unique designs that would make the space more modernistic in look and appeal, starting with the wash basin. Here are some innovative washbasin designs that would make your bathroom stand out for sure!
Towel Rail Basin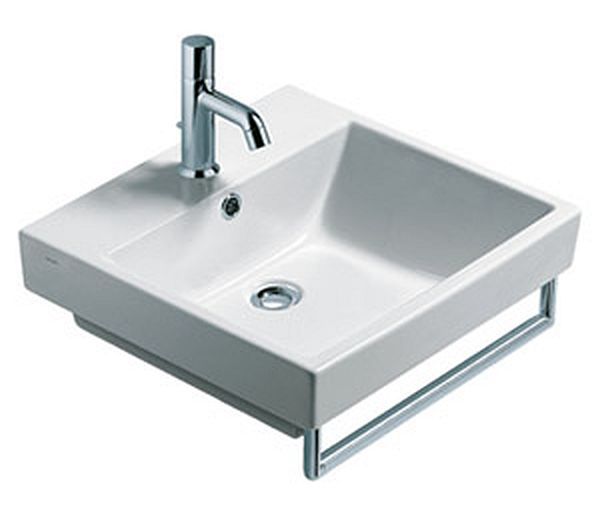 With this washbasin design, you would never need to walk halfway across the bathroom with your face dripping with water to reach for the towel. The towel rail basin features a mug like basin that comes with a handle protruding out of it. The handle can be used as a towel rod to hang your towel. Available in white, the basin would be a definite attraction in your otherwise normal looking bathroom.
Color Pop Wash Basin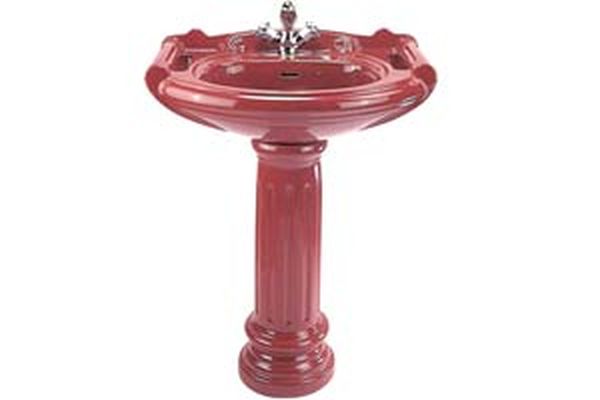 Who said washbasins had to be in neutral shades? Take a look at these basins which would be the perfect additions to your artistically designed home. Featuring a uniquely curved design, the basins are available in a myriad of eye catching colors that can brighten up any bathroom instantly.
Water Slide Wash Basin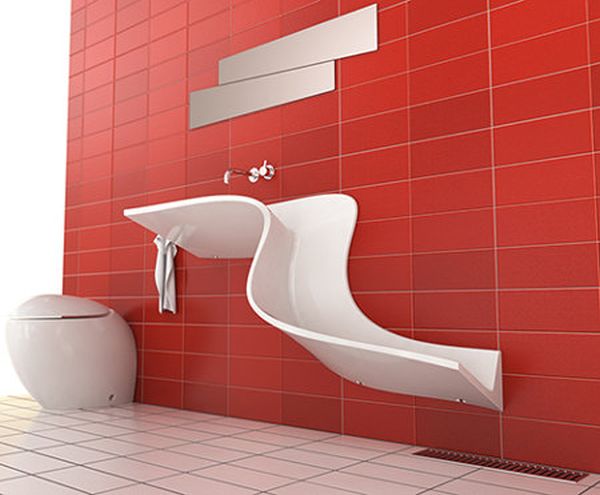 If you want a unique washbasin design for your bathroom, consider the Eumar Abisko washbasin, which is shaped just like a water slide. Featuring a neatly curved design that slopes beautifully towards the drain below, the Eumar Abisko washbasin would work great against dark backdrops and would grab eyeballs the moment anyone steps into the bathroom.
Aquarium Wash Basin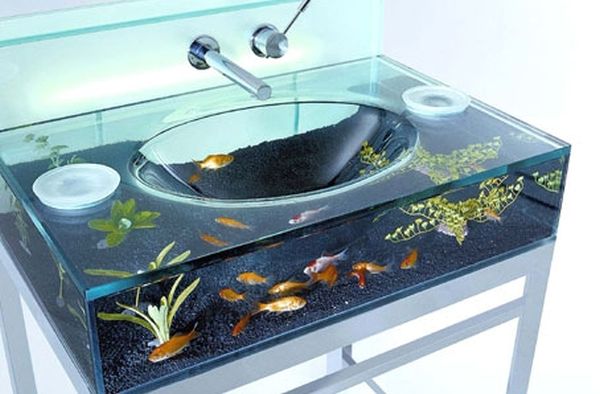 How about installing a washbasin that actually has an aquarium inside it? This washbasin is a perfect reflection of that idea and combines a real life fish aquarium with its design. This eye catching washbasin design can make your bathroom look absolutely mesmerizing. Don't worry about feeding the fish and maintaining the aquarium though. Two openings at the top are available for the same purpose and are carefully camouflaged by the soap dishes placed on the basin.
Stalactite Wash Basin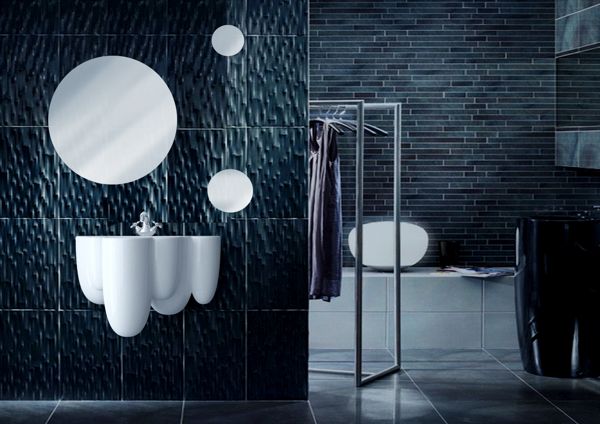 This washbasin gets it name from its design that more or less resembles the stalactites usually found in caves. In addition to a unique design, the innovative color combinations on the basin make it a truly mesmerizing addition to any bathroom decor.
Ammonite Wash Basin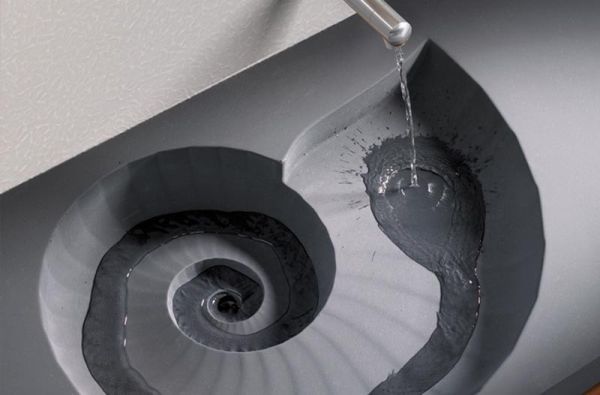 The distinct feature of the Ammonite washbasin is its design that resembles an ammonite fossil made out of concrete. Available in the color variations of sand, grey, ochre and purple, the washbasin would add a creative touch to your bathroom for sure. Notice how the spirals form a unique pattern for the water to flow through before reaching the drain. Definitely a must have for contemporary bathrooms we say.
Moist Wash Basin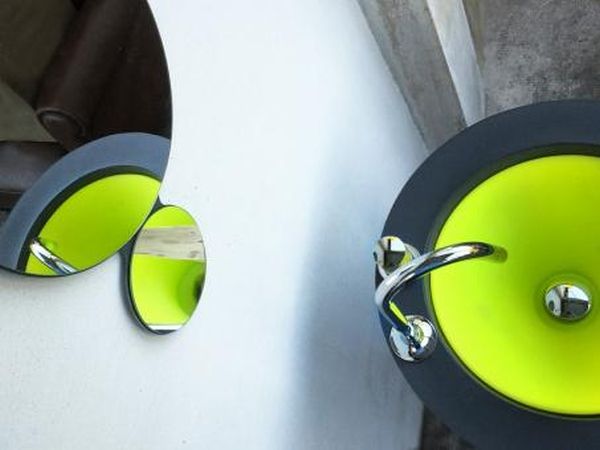 Designed by Fusion II, the Moist Washbasin is already gaining a lot of attraction in the market owing to its vibrant design and color options. In addition to a very creative design that makes the washbasin stand out from the other accessories in the bathroom, the Moist washbasin also features LED lights which can be used to lend a soft glow to the design.
The Pod Wash Basin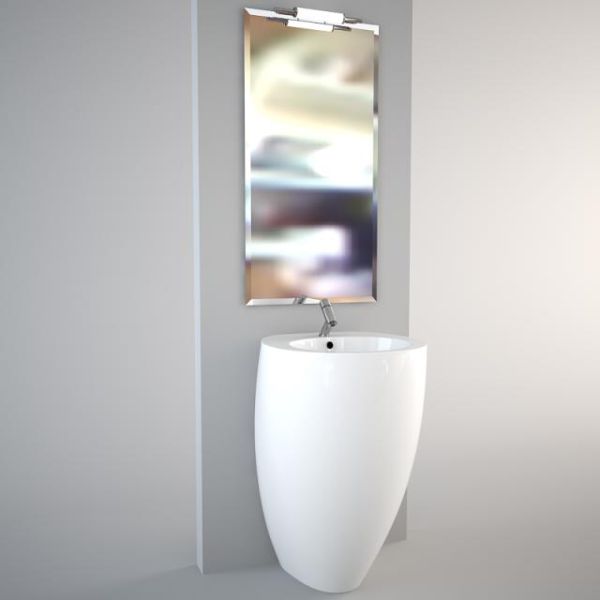 One look at this washbasin and you will probably feel as if it was an accessory that probably came back in time from the future. Shaped like a space capsule pod, the design is elegant enough to catch your attention. It is also compact enough to be fitted in a corner of the room without taking up too much space.
Summary
Instead of opting for any 'run of the mill' washbasin for your bathroom, consider installing a really unique design that would capture everyone's attention. From futuristic pods and aquariums to water slides and stalactites, there is no dearth to the number of creative design options you can choose from when it comes to installing a one of a kind washbasin in bathroom.