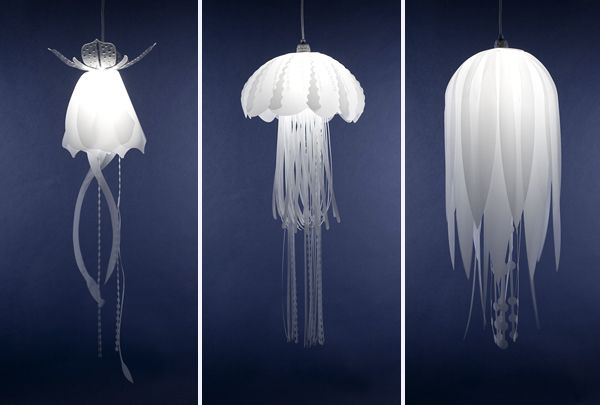 Pendant lamps can really transform the look of your home with its aesthetic designs. They are not just beautiful additions but are very practical and enhances the appeal of your rooms. If you want to bring a new look to your living room and bedroom, installing these unique and smart pendant lamps is the most effective way. These innovative lamps come in mini and large designs depending on your requirements. These lamps are listed on reliable online stores but ascertain that the store from where you are purchasing is genuine. Pendant lamps will ensure the best advantage for working out your home decor. These suspended lamps will also decorate your ceiling for no extra cost. These lamps are sure to transform your home, provided that you choose the branded designs which will suit your mood.
1. Curiousa & Curiousa Creative Pendant Lights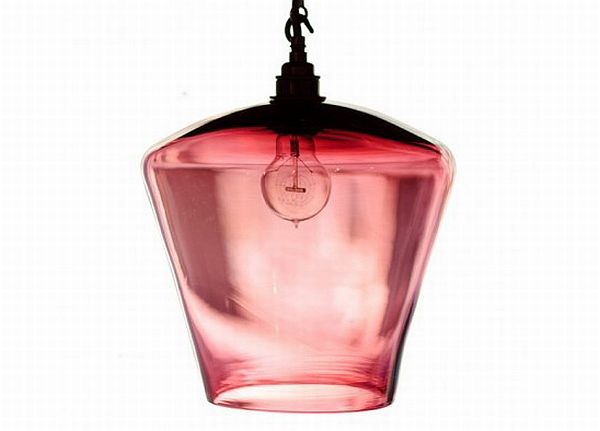 Curiousa & Curiousa uses blown glasses in their amazing pendant lights. They can come separately or arranged together in various styles and shapes of wine glasses. These hand blown pendants comes from UK in colors of blue, yellow ochre, olive and purple. The shapes vary from a teardrop, round, bowl and traditional in various sizes from small to extra large. The two common objects like pendant and glass has been given a new twist in design which is such an eye catcher. The lamps also come in bone china material which is produced by the founder of Curiousa & Curiousa herself. Her designs for the lamps are drawn from artworks and poems. The colors of the pendant lamps can be customized out of ten varying options.
2. Roofer by Benjamin Hubert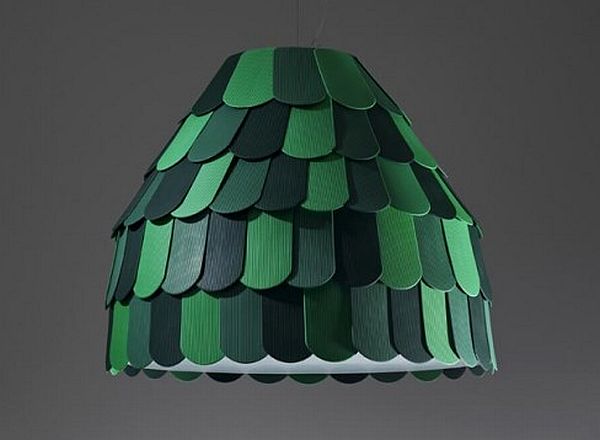 Benjamin Hubert drew inspiration from roof tiles in Marrakesh while creating this for Fabbian. A curvature steel frame is clad with single tiles which comes in a selection of various colors. Being made of silicon polymer, the tiles are flexible to be molded on the frame and translucent enough for light to shine through. Different shaped lamps can be created out of a single tile and this is what makes the design so flexible. Framework along with selection of tiles can be bought to customize your own design.
3. Bau Pendant by Normann Copenhagen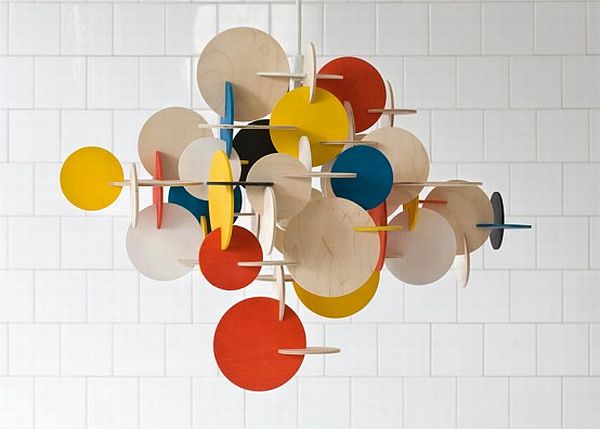 Many circular plywood pieces are structured to get the sculptural shape in this creative suspension lamp made of plywood pieces. All the pieces are in different sizes and colors to create that unusual creative look. It makes for a great centerpiece of perfect, chaotic splendor. Dubbed as Bau Pendant, it is a perfect decorative piece to give any room an unusual lift and was designed by Vibeke Fonnesberg Schmidt for Normann Copenhagen.
4. Exquisite Giara pendant lamp from recycled cork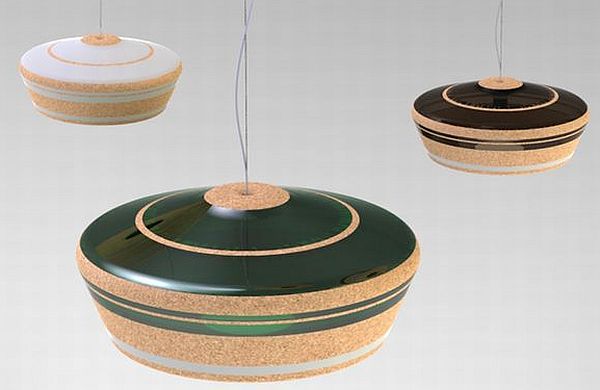 Made from recycled cork, an environmentally green material in combination with resin, this lamp illuminates a diffuse halo of light into the room. It comes in shades of green, white, brown and red to suit all types of homes. This lamp speaks of innovative technology of sustainability. It is a quirky, sturdy and natural lighting piece that truly spells class and appeal. It was created by Chiara Goose Gustinelli of McGiver Creative Lab, without using any glue and adhesive. It is simplicity in innovative designing.
5. Free folded paper pendant lamps by Andrew Ooi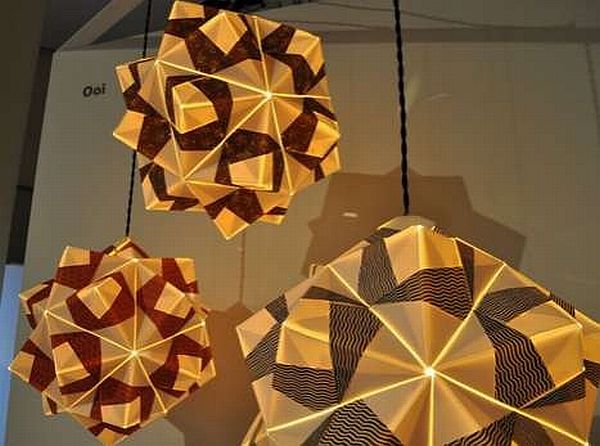 Designed by Andrew Ooi, this is based on Origami art. The free folded paper lamp is not only impressive but produces different lighting due to its unique shapes. Its light creates a cozy and warm atmosphere in the house. The shape of the lamp and material used makes it all the more creative and cheerful for any room in the house. It has the affect of happy warmth and bouncing joy throughout the house.
6. Medusae pendant lamps by Roxy Towry Russell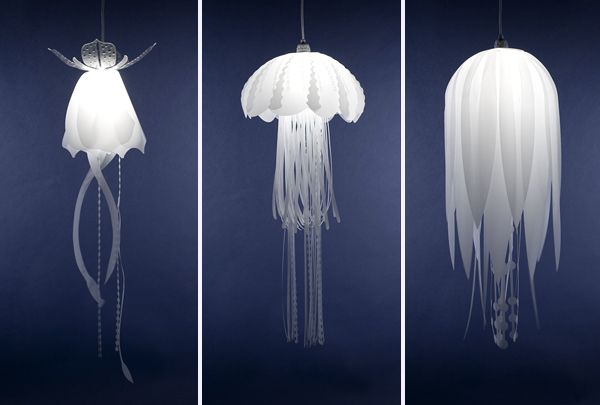 These are very wispy, tender and beautiful lamps in unusual undersea forms. It is the perfect lamp for those who loves the ocean and its splendor. These Medusae inspired forms are sure to make your interior come alive in various moods of the ocean. The design was created by Roxy Towry Russell from Pasadena.
7. Amazing and unique pendant lamp by Limpalux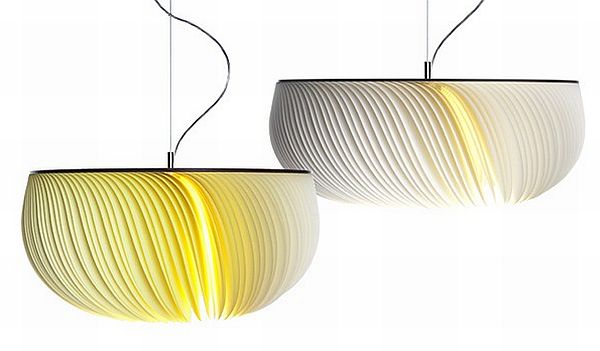 Named as Moonjelly by Limpalux, this lamp resembles an Origami craft made out of paper and arranged neatly on a lameller body. This amazing and unique lamp is good for all types of modern homes and architectures due to its sculptural organic element. When light is switched on, the lamp casts a soft glow transforming the room into a magical area.