Today, multifunctional furniture has acquired a good standing in the market, perhaps due to the proliferation of urban dwelling where space is at a premium. An example multifunctional piece of furniture is the FLOP, designed by Elena Sidorova, a designer from Moscow, Russia.
A multifunctional armchair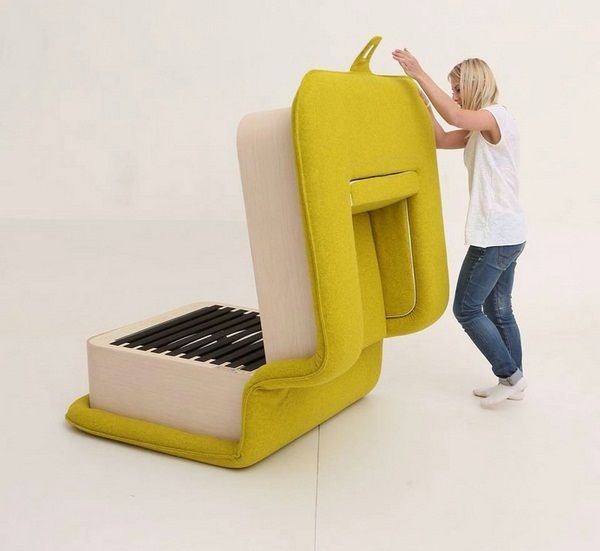 You need to have compact beds in your homes to facilitate a comfortable accommodation for your guests. Not many people are blessed with big sized homes with quite a good number of rooms wherein they can accommodate their guests. In small apartments, it really becomes a difficult situation when a few guests arrive and you do not have the faintest clue as to where to make them sleep.
Well, here is when compact beds come to your rescue. They usually serve two purposes, a comfortable seating during the day and at night, you can turn them into a bed. However, many compact beds people complain are either cumbersome, or they are unappealing to look at. People want compact beds that are comfortable, have multiple utility and are charming to look at. It seems Elena understood this requirement well and she designed FLOP.
Armchair and sofa bed
The beautiful armchair that you see in the picture unfolds and becomes a super comfortable sofa bed or a one-person bed. FLOP is a must-have furniture piece for people whose house does not allow them to have a separate guest room, still they want to have guests over.
With this super efficient and ultimate looking armchair cum sofa bed, you can have guests over and feel good to provide them with a comfortable compact bed for sleeping.
Bright color and softness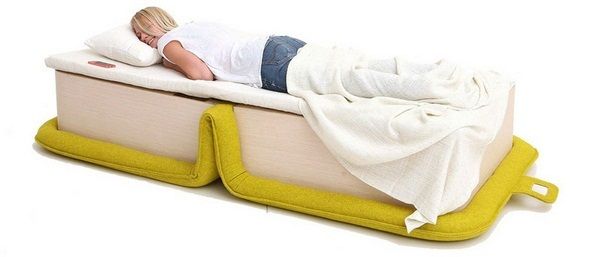 The soft and beautiful yellow colored upholstery is made of sheep wool, and the elastic straps enable you to fold and unfold FLOP as per your demand. It also has a cute little storage, big enough to store a pillow, bed sheet, and a blanket. While you use it as an armchair, the pillow and blanket stored inside remain invisible.
The bright yellow color makes FLOP a modern, youthful, and a fresh design. You can place it as an accent chair in your drawing room, in your library, or just about anywhere, you like.
Both the versions of the FLOP, the armchair and the bed, are super comfortable. The space saving feature makes it a must have for people who own small apartments.
Source : InteriorDesignIdeasForHome.Com