A bathroom is never complete without a vanity. But just about any other normal vanity will not do for the bathroom. You need to plan out every attention of the vanity to detail to make sure it fits in your bathroom's scheme of things. Here are some useful bathroom vanity design tips that can help you create an absolutely lovely and elegant vanity space in your bathroom.
Choose an appropriate layout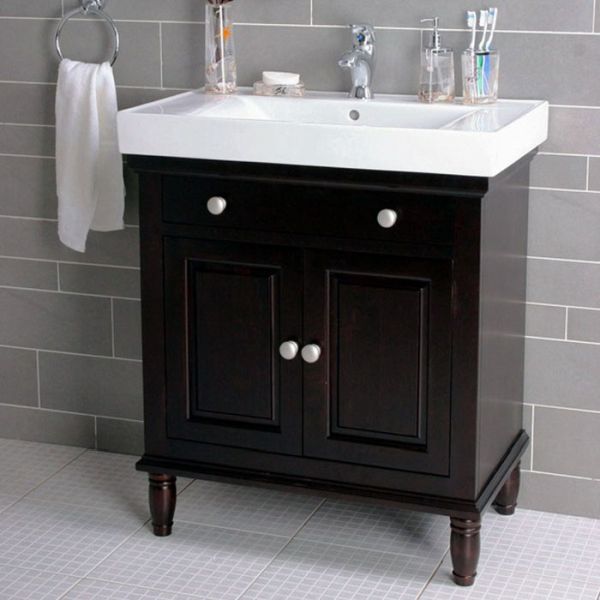 Choosing the size and location of your vanity is the first thing that you need to figure out when designing a bathroom vanity. Depending on the size of your bathroom, you may want to opt for large sized vanity with storage drawers, or a simple tabletop vanity with a single sink. The most common layout featured in many a bathroom is the traditional horizontal vanity which has one section dedicated to cabinetry. In addition to letting you take full advantage of the available countertop and storage space, this vanity layout lends a streamlined look to the bathroom.
Choose the number of sinks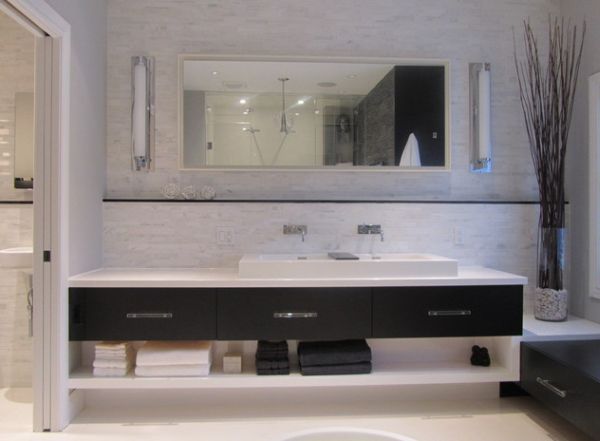 Your next step in choosing a vanity design is choosing the number of sinks it would support. Of course, all of us love to have a giant sized vanity with two sinks in our bathroom. However, space constraints may force you to choose only one sink. For instance, vanity designs bigger than 60 inches come with two sinks with an option to forgo a sink for extra counter space. Vanity designs smaller than 60 inches usually come with a single sink.
Choose the vanity style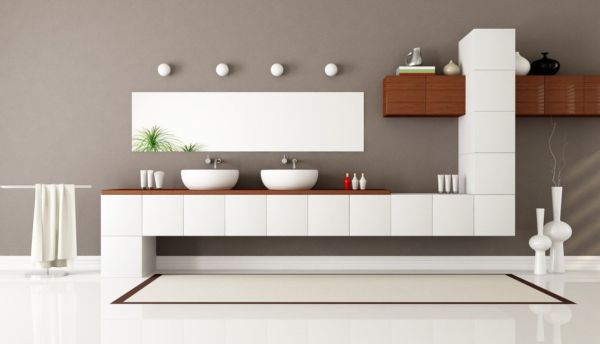 How do you want your vanity to be? Do you want it affixed to the wall or free standing? Do you want it mounted on the wall with space left beneath? These are important questions you need to answer when choosing a vanity design for your bathroom. If you have limited space in your bathroom, a floating vanity will offer an airy look. However, if you have enough space, you can opt for a freestanding vanity.
Choose the color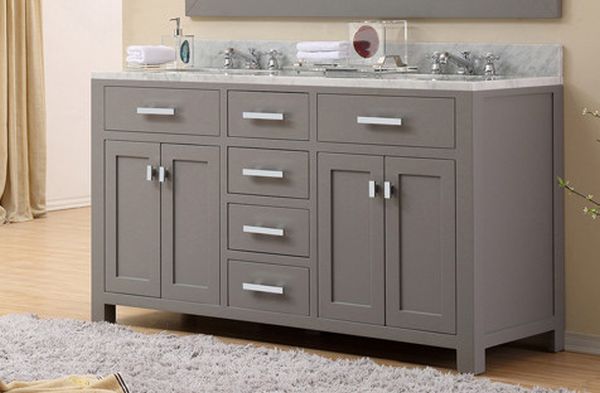 This is an area of contention, one that is often debated over by many homeowners. Many consider vanities to be somber pieces of furniture that need to define classiness and elegance rather than liveliness. However, some believe that as furniture, vanities do require their share of color and patterns to stand out in a bathroom.
When choosing the color for your vanity, you need to ensure that it matches or at least complements the other colors of the bathroom. Try to balance out the colors and patterns to ensure that the vanity does not take too much of the attention in the bathroom. Then again, you need to ensure that the colors and patterns you choose don't make it disappear into the background. A nice idea here is to choose bold colors and patterns for the kid's bathroom and choose neutral shades and patterns for the other bathrooms in the house. You can also choose to complement the vanity's design and colors with appropriate wall art in the bathroom.
Choose the fixtures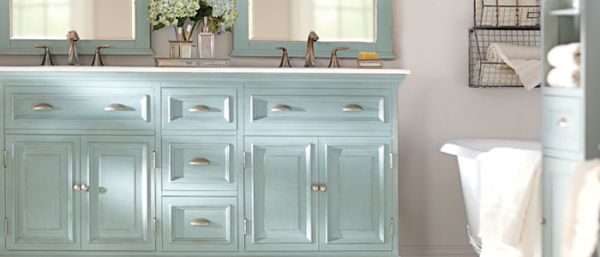 The last thing that you need to think about when choosing a bathroom vanity is the fixtures you will be installing in and around it. By fixtures, we don't mean the tap alone. Rather, the term will encompass everything from faucets, mirror and lighting to cabinet hardware like knobs. Ensure that you choose an appropriate style for all these elements (you can choose between modern, contemporary and traditional). You will also need to choose an appropriate finish for these fixtures (choose between brushed nickel, stainless steel, oil-rubbed bronze and chrome), ensuring that these too complement the vanity's design as well as the bathroom décor. 
Designing a bathroom vanityrequires careful planning wherein you will need to choose everything from the layout, countertop material, number of sinks, and vanity style to colors and fixtures after careful consideration.