Home decorating is always fun. There is so much you can do while designing your house. The variety of themes and concepts, ideas and inspirations are endless. You always have a different ways to do your house. Adding color to your walls always bring in a new change. The Rainbow colored themed is one of the best ways to incorporate the multi-colored look. You can blend in all the colors of the rainbow by opting for each of them one by one. You can also choose to go for the multi colored look all under the same room. If you are wondering how you can do this, here are some ideas for you.
Rainbow colored wall art using butterflies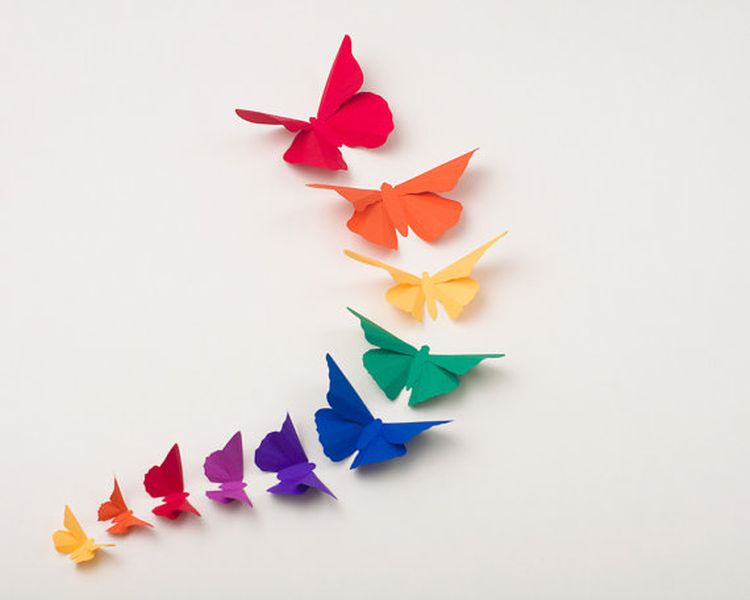 You can make your own DIY rainbow colored wall art by making your own little butterflies. Color them with the different colors of the rainbow. To give the blend in transition effect, you can make butterflies with dual colors from one color to another. You can also play with hues or shades of the same color to make the transition more real. Stick these butterflies on one side of your wall.
Paint your wall shelves with the different colors of the rainbow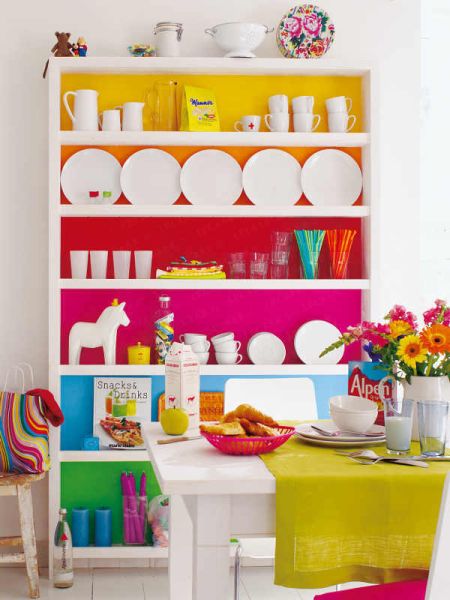 Instead of opting for the regular colors of white or neutral shades for your cabinet shelves, consider the multi color option. You can paint each rack a separate color to bring in the rainbow-shaded effect. This idea is perfect if you have a bookshelf in the house. You can also consider this option if you have a nice big cabinet in your living room. Along with that, you can use laminate sheets of a dark or light neutral color depending on the shades you use inside.
Lace or net materials of the rainbow shades for your curtains and table clothes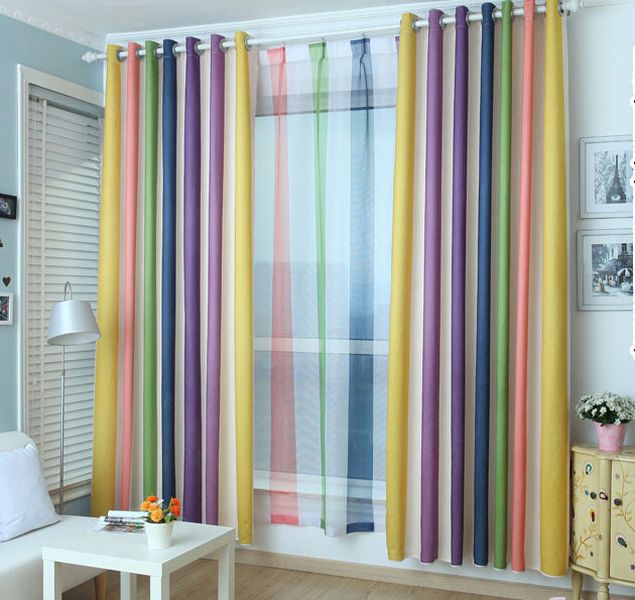 If you have a plain white wall color, play with the rainbow colors for your tables and curtains. You can choose lace or net materials with a little glitter work. For your table, use a simple white color tablecloth and add the lace materials on the sides. For the curtain idea, consider a multi-colored shaded option instead of going for solids.
Use a multi-colored rug in front of your sofa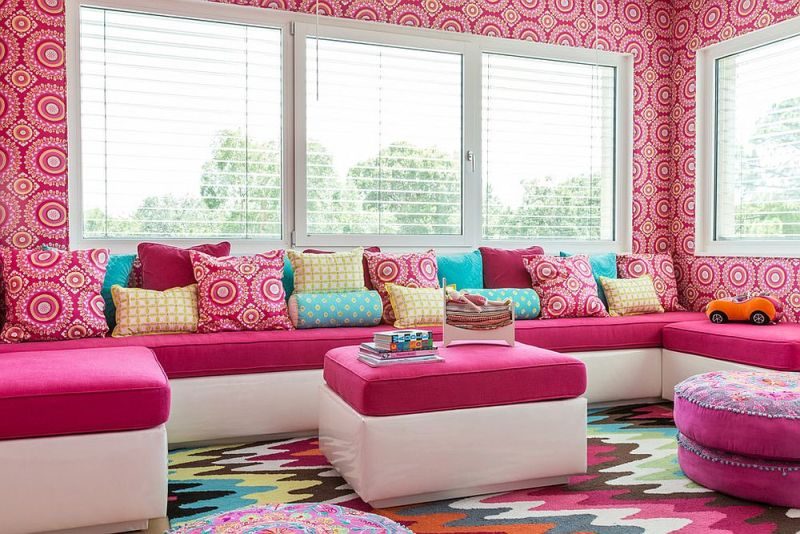 If you do not want to make your house with too much of color, you can choose to opt for a multi-colored rug in your living room. You have various options to choose from. You can either go with solid checkered colored rug or choose neatly and delicately hand designed carpets or rugs to make it look elegant and beautiful.
 Playing with the rainbow colors for your kitchen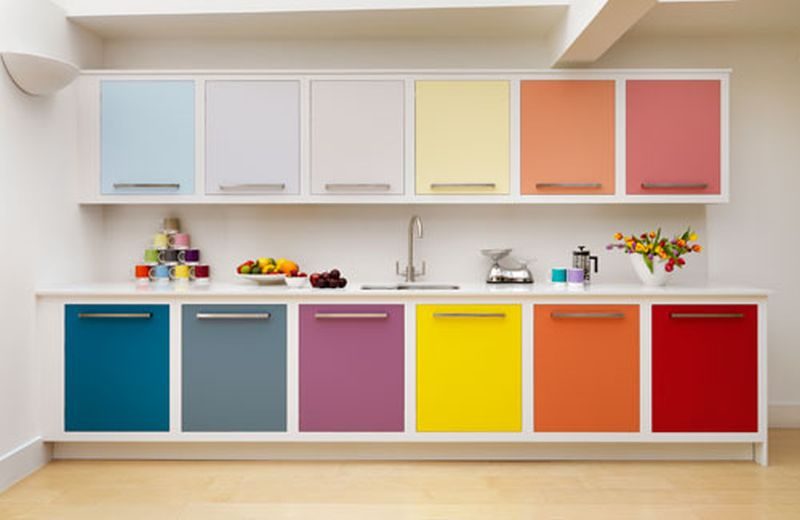 Over time, you may get bored of looking at the same kitchen over and over again. Choose different colors for your cabinets. Choose from the solid colors for the individual multi-colored look or go for the shaded effect. You can also choose to have multi-colored furniture like chairs or tables to blend in with the theme of your kitchen. Even while choosing the lighting fixtures, consider different colors. This will complete your kitchen perfectly.
The polka dot rainbow color wall art for your living room
On one side of your wall, bring in the boon of different colors by opting for the classic Polka dot concept. You can choose to have differently sized polka dots colored in various ways. If you want, you can choose to have the water drops theme towards the ceiling of the wall and blend that into the polka dotted effect towards the bottom.
The rainbow shaded effect in your bathroom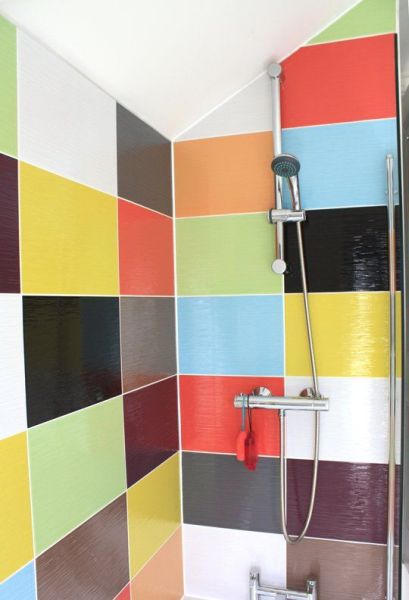 Forget the boring shades of bathroom decor and opt for the colored effect in your bathroom. Play with the decor wisely and choose differently colors accessories. For the sink, you can take a separate color while the tub can be another color; similarly, you can consider a multi-colored counter top and cabinets.
Multi-colored blinds or shades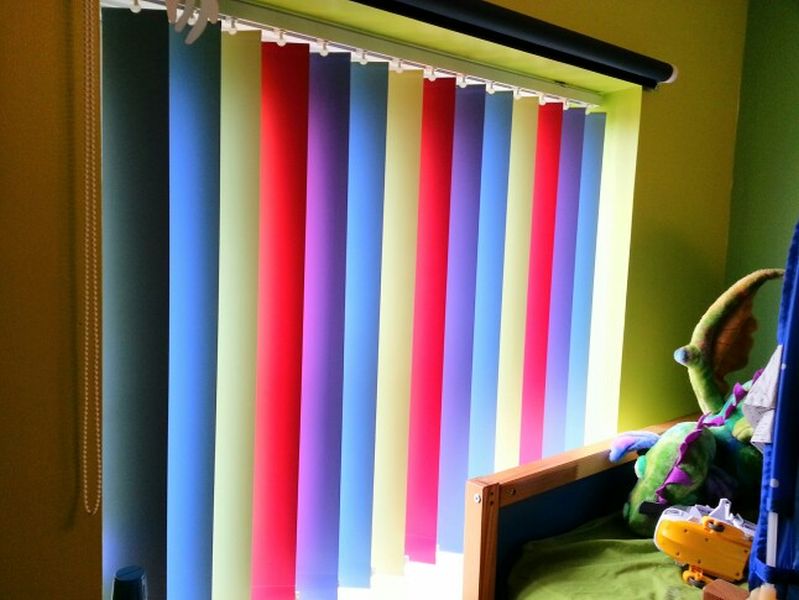 When you have window blinds or shades in your house, the regular white color can get boring. No doubt, it does have a classic touch but over time, it gets dull to look. You can bring in the change by incorporating the rainbow-shaded theme. You can use this concept in your child's bedroom or even in the living room.