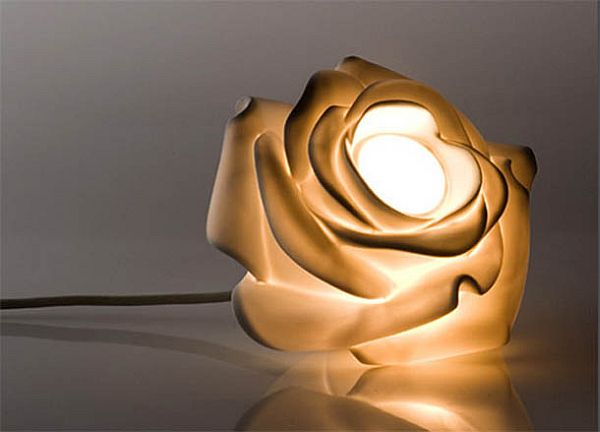 Lamps offer a unique decency to your collection of furniture. You can lend a great look to your room by having a magnificent lamp in it. There are several inimitable designs to choose from and that can give a great look to the aesthetics of your place. The following eight masterpieces in the all-time-great collections can guide you very effectively to choose the one fitting your place. The great thing is from the gamut of classic, modern and the usual designs, you can pick up anyone because most of these are worthy enough to be timeless.
1. Flower-shaped floor-lamp shades design – Arum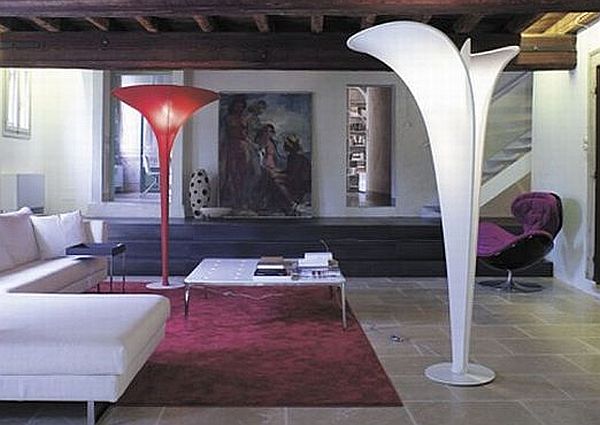 Arum is a large lamp with an opening at the end. It is designed by the Italian company Lucente. It is based on round shape and from this it is designed stylishly upward, ending with the shape of a flower. It is obtainable in red and white colors. The lamp is so skillfully designed that when viewed from various angles, you get various designs. Its metal frame has white color and its shade is made of washable fabric upholstery. The unique quality of this lamp is it changes its shades of light as per the atmosphere and moods.
2. Flower light by Filip Streit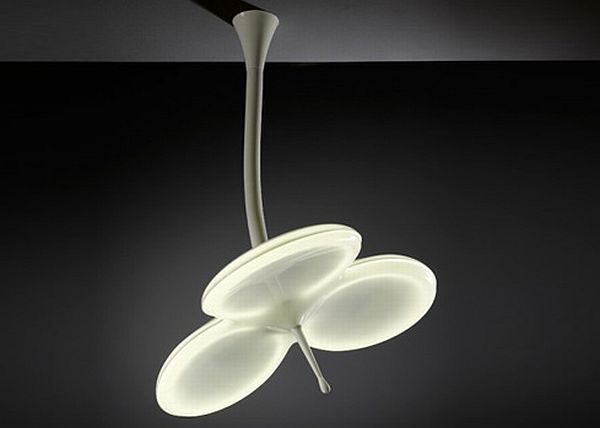 This magnificent design was created by designer Filip Streight. It is encouraged by circular florescent bulbs in the petals of luminosity. It is a flower-shaped pendant-shaped light by Czech designer Filip Streit for the company ATEH. It has organic opal glass known as Plexi and joined by the help of a firm neck and on a flexible bar of variable strength, which is adjustable. It has received the award for good design in the year 2009 by Chicago Athenaeum – the renowned museum of architecture and design.
3. Bloom flower lamp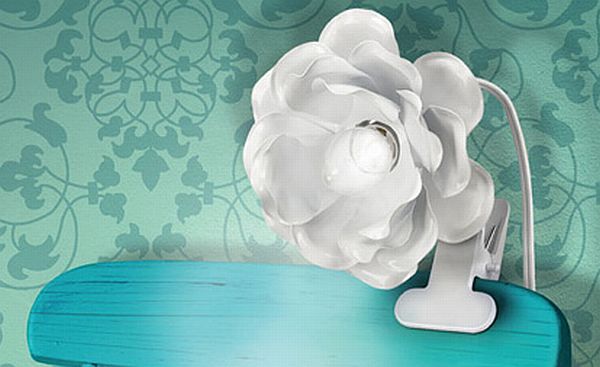 You can match it with the clip in the fans that your parents had kept in the room. Especially those to cool down in the hot summer nights that you want to stick your fingers into. It is a clip-on light called bloom flower lamp. The usual colors available are in tickled pink, vibrant green and classic ivory and these lamps usually use 40 watt bulbs. The impressive design of it will lure you to give a touch to its open bulb.
4. Table lamp inspired of nature flower- Bloom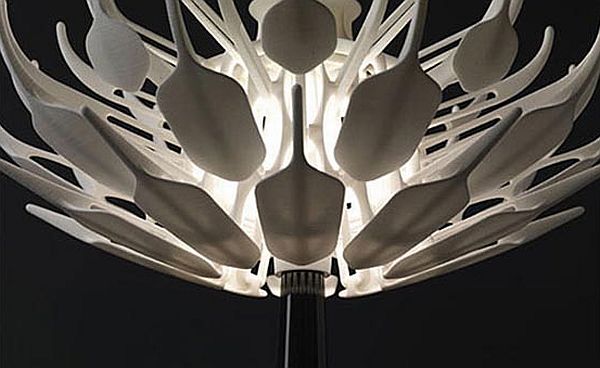 These fabulous lamps are designed by designer Patrick Jouin with mind-boggling features like getting expanded and closed so that the light from it can reflect better light. It has been christened as bloom lamp. It is based on style nature and has a flower shape. It can produce two different looks while going through different amount of light. This lamp can even beat the quality of light produced by that of 3D technologies. It is made of polyamide.
5. Green garden lamp design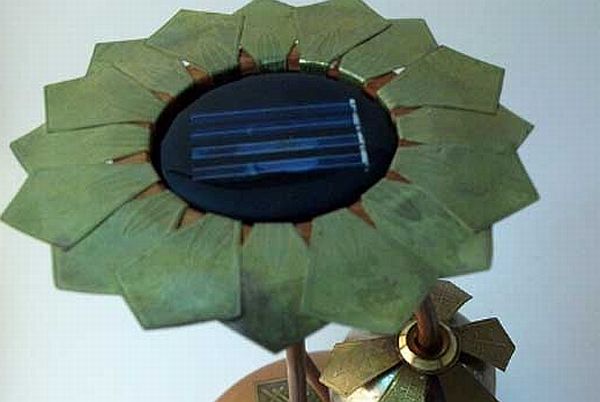 This unique lamp combines in itself the shapes of a sunflower and moon flower. Most likely, this lamp will give a good blending scene for your garden. It might be surprising for you to know that it is solely operated by solar light. It uses a solar panel to create its energy source. Originally, it was aimed to make it a green product because it is constructed with recycled used and reused materials. Hence, there is no need for electricity in it. Most of the constituents of these lamps are from brass olden solar lamps and it is supported by LED to qualify as a green product.
In this the moon flower is the holder of the 10 mm LED lamp and it is a nickel plated brass cup. The top part is attached with etched brass leaves and the stamens are the LED lamp holder. The crates are made from brass nails. This lamp is very expressive about sharing and caring in life and it has an exotic appearance due to its wooden material. It can virtually make you feel about the green leaves.
6. Beautiful rose flower lamp lighting design by Lasvit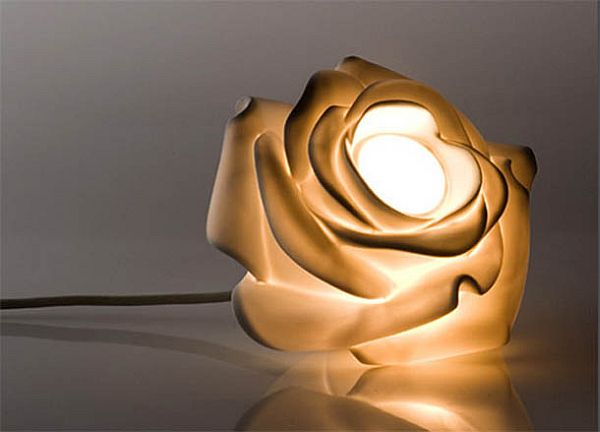 Do you think your house still retains the classic theme? If the answer is positive, here goes another suggestion to decorate your interior with this exquisite lamp. It is the rose power lamp designed by Lasvit. The basic design is inspired by a rose. It shows a rose in full bloom. This bears similarities to the famous flower sculpture of China. This is a beautiful item to adorn your table top.
7. Lull flower light shade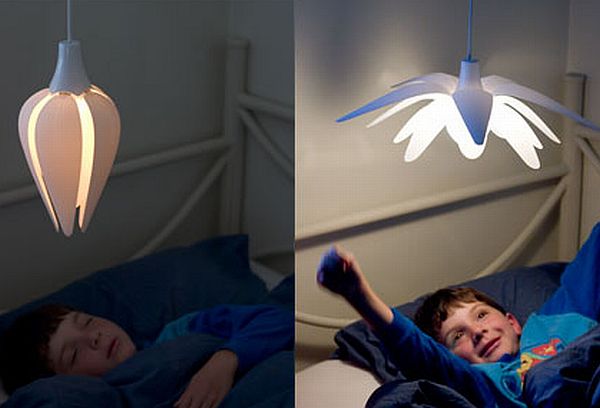 This is another wonder from the collection of lamps and it is cocksure that you will appreciate this with a "wow". This lamp has a flower-shape like that of a lotus and it opens and adjusts by spreading its light with various intensities. Perhaps, it is named "lull" because it induces you by softening its light's intensity and wakes you up by increasing it in the morning. It is best suited to the dwellers of those apartments, where there is not enough entry of natural light.
8. Beautiful wall lamps for kids by IKEA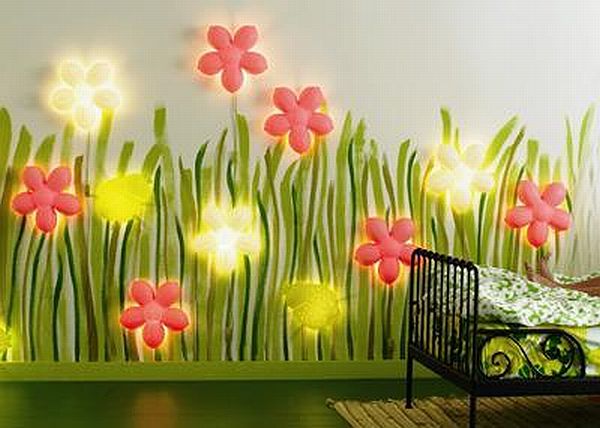 This is another one-of-its-kind lamp mostly fitting to the needs of your children. In case, you have kids who sleep alone in their rooms and complain because of bad dreams and fear, this wall lamp can act as a reliever. Literally, its presence remains a soothing presence as your kids continue to sleep. This is another marvelous invention by IKEA – an established company for lighting solutions. Anna Efverlund – the designer of this lamp has covered the lamp with plastic to make it temper proof. You can hang it safely to your wall to keep it safe from the little fingers of your children. As such, children resist sleeping with light off in the room.