If you want a tidy linen closet or seek to create a welcoming pile of towels for a guest, you should know how to fold bath towels properly. Hotel attendants are particularly adept at fashioning towels into a luxurious format, and it's not just because they do it hundreds of times each day. There is a certain technique they use to yield the full, clean look. Let's learn how they do it.
Get Started
Of course, your towels must be perfectly clean before you get started. Clip off any stray threads that may be dangling from the seams, and make sure you've used fabric softener so that the "pile" of the cloth is nice and fluffy. Using a scented dryer sheet will make your towels even more welcoming.
Fold It Up
Follow these simple steps to achieve the proper fold:
Fold the towel in half lengthwise. Line up all the corners neatly. You should have just about a perfect square at this point.
Fold the towel in half again, making sure to keep the corners tidy.
Fold one side into the middle, leaving about 1/3 of the towel unfolded.
Fold the other side into the middle to overlap the first side.
Turn the towel over so the folds are on the bottom. If you are creating a stack of fluffy towels, make sure to line up any design details for a clean, organized look.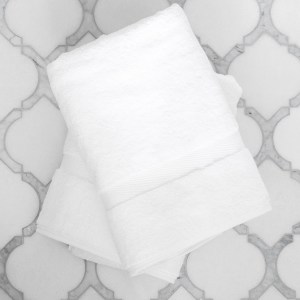 Guest Prep
If you have guest coming to your home, you can stack a luxurious pile of towels of various sizes and leave it on the counter of the bathroom for them. Put a bath towel on the bottom, then a hand towel, and finally a wash cloth on the top. You might add a creamy bar of special soap to the top as well.
Whether you are expecting visitors or want to maximize space in your linen closet, folding your towels like the pros can elevate your style from lackluster to luxurious.
Article Submitted By Community Writer