France is the dream destination for many. The romantic spell of France can be a part of your life too, no matter in which part of the globe your home is. If you feel perplexed, let us tell you, going the French way in your home décor will be primary measure that will make it a romantic condo of your own. But you must know the basic tips that will create the authentic French ambiance in your home. We have shared a few essential tips. Take a look at them and give your home a French makeover.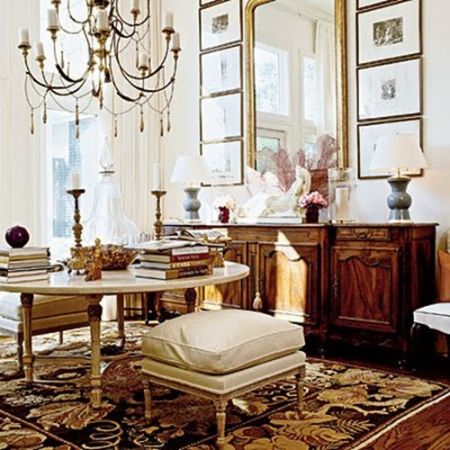 The iconic French emblem
When we talk of France, the first thing that pops up in our mind is the image of the Eiffel Tower. So, whenever you plan to go the French way for your home décor installing this characteristic French emblem is a must. It can be a model of Eiffel Tower that you can put it at the table top of your drawing room. As soon as the guests enter, they will have a feeling that they have landed into a French territory. You can also arrange for a few miniature prototypes and put them inside your showcase or the wall mounting shelves in your home to harmonies with your theme. Wall hanging with embroidered Eiffel Tower will also be of great use for you.
Renovate your furniture and fixtures
French furniture bears a distinct characteristic that remains unparalleled. So, if you have made up your mind to create a purely French atmosphere in your home, your furniture needs to be selected carefully. The furniture varieties that are inspired by Vintage style are the best options according to expert interior decorators. They give a traditional lift to a home décor and do not create monotony either by being restricted to Eiffel Tower resembling species only. So, a few further expert tips on this is that a capacious French armoire in your bedroom will hide away your modern clothing, electronic gadgets and peripherals. An antique, slightly tarnished, gilded framed huge mirror in that wall way or corridor will impart a French vibe. So, run your imagination and install the right furniture and fixture in the right place to cast the French spell.
Cushions and pillows need a makeover
Now that you have brought in authentic French inspired vintage furniture and fixtures, the next thing to turn your attention to will be the cushion pillows. Although very minor, they can either look too mismatched or set a perfect unison with your theme if the right ones are chosen. Therefore, shop for pillow covers that that are made from shiny satin fabric. Look for tasseled detailing, so that they comply with the French ambiance in your home.
Color selection and embellishment
As you have already selected Vintage French style furniture, never try to be too experimental with their colors. Be restrictive with the natural tones only, as authentic French furniture always bears natural wooden tone. A transparent veneer finish is what you can go for at the most. This will make them look brand new and create a protective base on their surface, thereby increasing their resilience. For the embellishment part, the least you can do is to go for distressed brass hardware to create further visual interest. For the wall paints, neutral shades like brown, taupe, ecru and white goes best. For the upholstery colors, periwinkle blue, banana yellow and pale pink set the right ambiance that you are trying to create.
French style curtain décor
The dominant feature of French décor is its lightheartedness and elegance. Go for lacy fabrics, nets or sheer fabrics as French laces are famous all over the world. Thus, you need to synchronize the curtain décor with that feeling. The selection of sheer fabric will allow ample of natural light to come in, along with cool breeze, which will make the curtains flutter merrily. One vital thing to complement with this frolicking French mood is to replace the usual curtain pole and pelmet with toggle hooks. As you hang your see through curtains from these hooks, it will look as if they are caught in the wind and not deliberately hanged. Use French style tussles to tie them up when you need more light in your interiors.
French style ambient lighting
Light plays a crucial role in French style decoration. This city of lights, as France is called, calls for ample of illumination everywhere. So, your first task will be to allow sufficient natural light. Therefore, get clear glass panes on your windows instead of the shaded and tinted ones so that they do not obstruct the natural light. Now, for the electric lighting, ensure that each corner of your home is illuminated. In order to do this, install lights of different intensity in different sections of a particular room. This will have an added advantage too, as it will section out the entire available space. If you have lampshades of Vintage style appeal, replace the dim lights in them with brighter ones. The lampshades need a makeover too. Replace the ole, darker one with a lighter one in neutral shade, having French style tassel embellishment so that a harmony in visual appeal is created.
Set up a slice of greenery
France is characterized by its sunny landscapes and lush green pastures. So, it is essential that you bring home this authentic French atmosphere by installing some potted indoor plants. A palm tree in your living area will enhance the visual interest too, together with setting a synchronicity with the theme. Similarly, a series of braided Ficus or Dieffenbachia in the hall way will look splendid. Your bed side table can accommodate a moth orchid or a rubber plant as well. Your local nursery will be your greatest source of knowledge on this.
These essential tips will come really helpful for you when you decide to give your home French look. They are easy to follow and you will be startled at your own creativity for sure when you find your condo transform into a French villa!