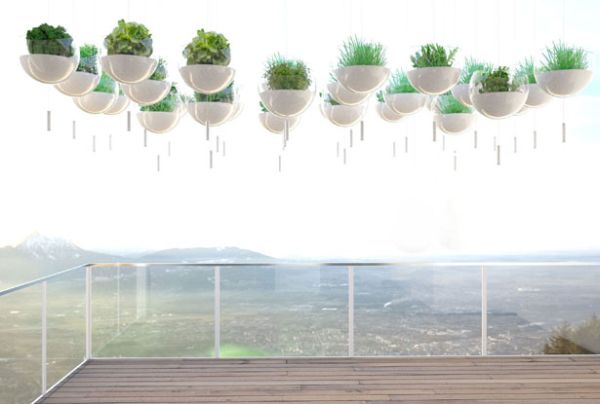 Designer / Manufacturer
Cities and towns in most of the countries are totally dependent on the rural farms for sourcing herbs, fruits and vegetables. However, soon the trend is going to change and the urban spaces are going to become self sustainable. All thanks to the designer Manuel Dreesmann, who has come up with a new concept for city dwellers to grow their own farm in their Balconies aptly naming it as 'Skyfarm',
Inspiration
There are balconies rather than backyards in urban apartments due to cramped living spaces. So, the idea works by properly utilizing the neglected space in balconies which can be effectively used by this green concept hanging Skyfarm.
Concept
The Hanging Balcony garden consists of molded acrylic spheres filled with enough soil to support plant growth. They can be hanged through the ceiling of your balcony to grow salad, veggies and herbs. The height can be adjusted with the help of a handle by lifting the planter up and down. The planter can also be labeled to recognize the plant in that particular sphere.
Benefits
Perhaps the best part is growing your own food with the surety of toxic and chemical free treatments. Moreover, watching the little seedling you once planted grow in to a full fledged plant will be quite a joyous thing.
In urban spaces where everyone is cribbing about the space crunch, nothing better can be done to utilize the neglected space as effectively and healthily as this.
For a person, who is greatly fond of gardening, Skyfarm gives him enough reasons to live his passions and interests even in a high rise apartment.