Gone are the days when kitchens backsplashes were used to protect the wall behind them. Backsplashes today accomplish more than onefunction, and incorporate a range of trendy designs to make the kitchen stand out. If you are planning to or in the process of installing a backsplash in your kitchen, here are some trendy designs you can opt for.
Cobblestone Backsplash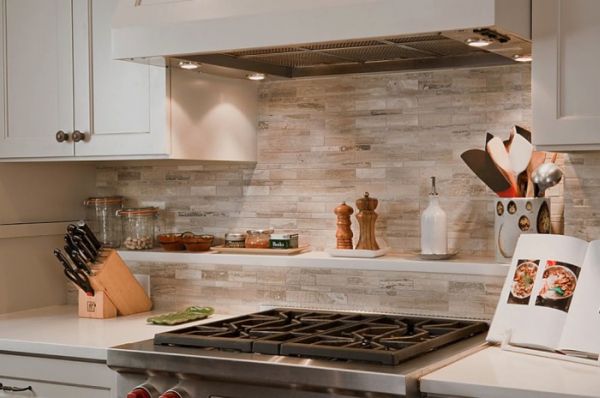 This fail proof backsplash design lends a natural look to your kitchen. The stones used for these backsplash are not that expensiveand even people with limited budget can opt for the design. If you do not want to call in a professional to do the job, you can do the project yourself in a hassle free manner. Just make sure you get the necessary amount of stones to fill the entire backsplash. The rest of the project would then be all about simply sticking the stones and applying grout on them in a smooth and even manner.
Wine Cork Backsplash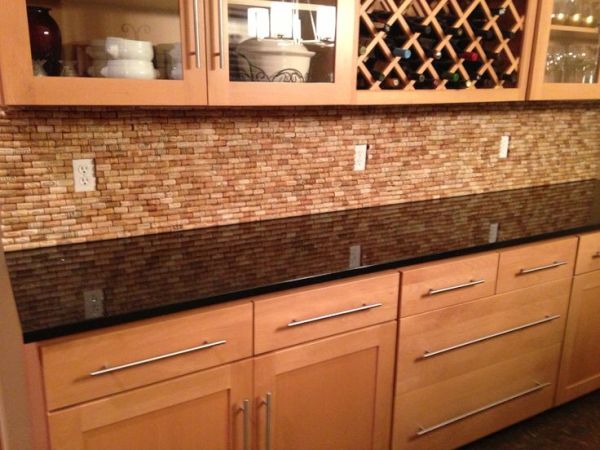 Here is a great way to make a stunning backsplash on your own with nothing but reused wine corks. You read it right. You need not to throw all those corks from the old wine bottles in your cellar. Simply stash them until you get the required number of corks for the project. The simplest way to achieve a natural-looking wine cork backsplash is to first stick the corks on a wooden board and then place the board on the wall. The result will be a spectacular backsplash design giving that much needed warmth to your kitchen.
Fabric Wallpaper Kitchen Backsplash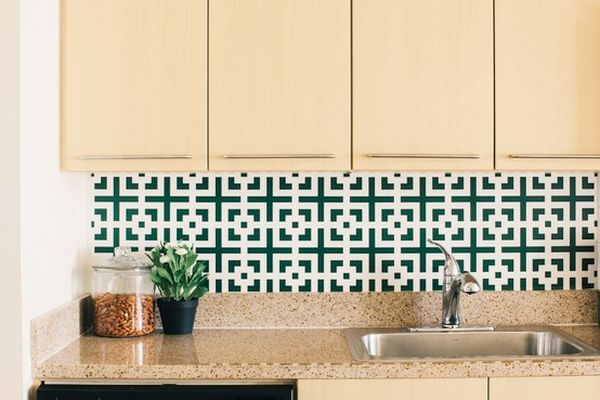 If you have some scraps of fabric from your tailoring projects lying around, consider repurposing them to create a personalized kitchen backsplash design. You can either stick a single long piece of fabric to a board and place it on the wall, or use multiple colored fabrics to create a collage of sorts.
Wallpaper Kitchen Backsplash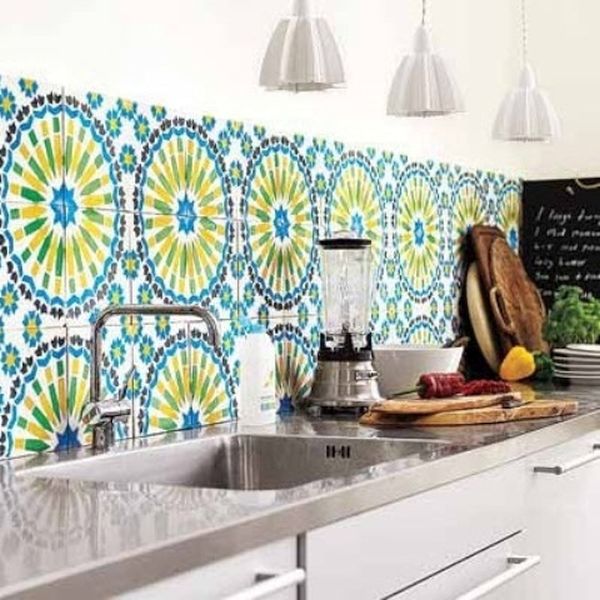 Vinyl wallpapers will make a great addition to your kitchen backsplash. Stronger and more water resistant than standard wallpaper, vinyl wallpaper can look wonderful, as you can choose from myriad colors and patterns to decorate your backsplash. All it needs is a coat of primer on the wall followed by a coat of super glue. Simply roll the wallpaper over the glue to affix it to the wall and you are finished.
Mosaic or Ceramic Kitchen Backsplash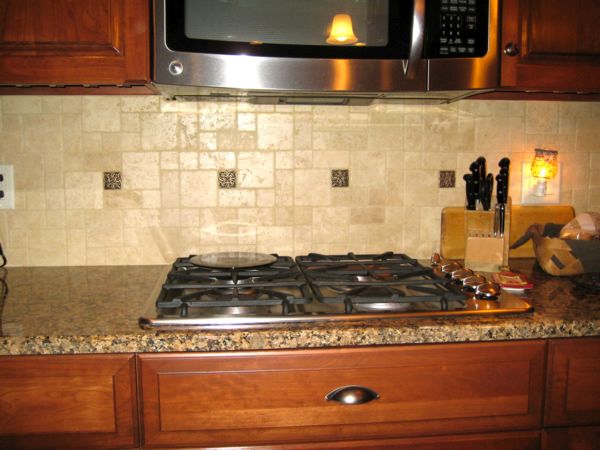 This idea will let you explore your creative side to the max. If you have broken mosaic or ceramic pieces from previous projects, simply stick them to the backsplash wall in a specific pattern to create a colorful and highly personalized kitchen backsplash.
Stainless Steel Kitchen Backsplash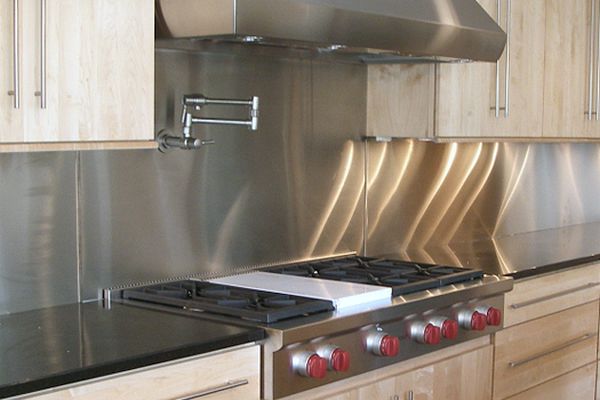 Many homeowners are opting for stainless steel kitchen backsplashes, owing to the gloss and sheen offered by the material. Stainless steel tiles are easily available in the market and do not cost much as well. The DIY project needs some extra care, as you will have to be wary about using too much glue on the wall. You also need to be careful about live wires and other electronic appliances placed near the backsplash in order to avoid accidents.
Chalkboard Backsplash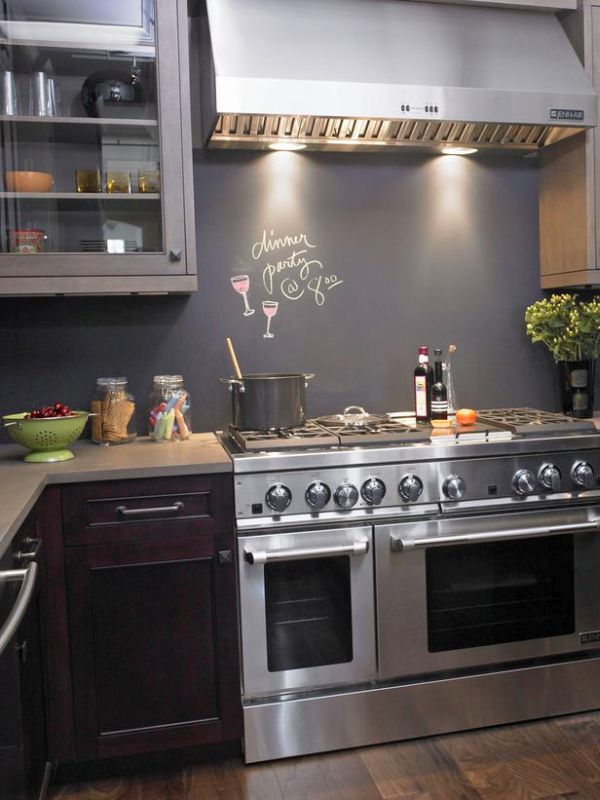 This DYI kitchen backsplash idea can make the cooking area more personalized and enjoyable. The greatest benefit of using chalkboard for your kitchen backsplash is that it allows you to write and draw on it. You can write down your favorite recipes to follow while cooking, or inspirational quotes to get you going. You can also use the chalkboard as a base for your drawings and mindful scribblingto make the space reflect your personality. The best part is that you can simply erase everything you did today and start again with a clean canvas tomorrow.
If you are thinking of a unique way to design your kitchen backsplash, you can use different objects to create a trendy design. These objects can range from cobblestone, fabric and wine corks to stainless steel and chalkboard and make a stunning kitchen backsplash.