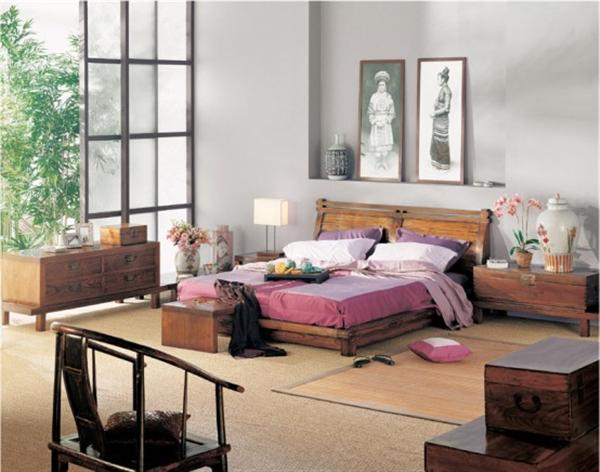 Our bedroom is our place to unwind us from a day long tiresome journey. Chinese styled and designed themes can offer a perfect spot for you to relax yourself besides adding a splash of exotic Chinese flair into your bedroom design scheme. Chinese style tends to exhibits an old age tradition used by ancestors. However, it has now become a craze to incorporate these old age elements into modernized home surroundings. Chinese interior decors have become the most popular among people who love simple and ethnic designs, art, furnishing and furniture. Chinese style is a blend of exquisite yet simple features incorporated to bring in serenity and peace in the households and surroundings.
You can provide a peaceful ambiance to your bedroom as well, by incorporating and blending the Chinese of interiors with western style. A few leisure elements along with aesthetic qualities and craftsmanship can simply keep your home clutter free as well make a chic place to live in style and comfort.
Chinese dramatic tints
You can decorate your bedroom with simple dramatic tints that utilizes minimum colors for keeping your room serene and unique. Chinese believe that rooms decorated with dark red and other bold colors tend to bring in good luck.
Some fresh tints used in Chinese decor bedrooms are moss green, gold and shades in white. Keeping the shades as simple as possible is the key aim of Chinese style to offer a modernized look to your bedroom.
China is popular in using colors of yellow, green and red as these colors are directly associated with positive aspects of a human life. You can paint your walls in rich dark red or brown color. Some people also use accents of gold for coloring walls.
Chinese styled furniture
Chinese style décor generally uses highly polished bamboo or wooden furniture. These woods are used for the purpose of crafting, window shades, containers, furniture as well as picture frames.
Chinese people usually use multi-purpose furniture so as to provide maximum space to other bedroom furnishings. A futon Chinese bed can be used both for both sitting as well as sleeping purpose. Many people use wooden cabinets or trunks for stuffing or storing junk stuff at home.
There are luminous paper, natural stones and natural plants that are used to provide artistic expression in Chinese interiors. Bamboo and Bonsai plants are the more commonly used plants in the Chinese style as they are generally considered auspicious in their culture. Adorned in elegant pots these plants are embellished with red and gold tassels.
There are window blinds made up of simple wood or bamboo. These blinds are painted in neutral colors like brown, tan and white tints to further elaborate the design of window treatment.
Chinese styled hangings, textiles and accessories
You can also hang paper lanterns purchased from some of the antique online or offline stores that have antique wooded carved light fixtures in abundance to jazz up your bedroom. Chinese hanging lanterns or wall hangings featuring Chinese mythology scenes, Buddha statues, umbrella, and Chinese bamboo can embellish your bedroom with Chinese orientation. You use Chinese inspired textiles for bedroom window, rugs and bedding.
You can buy accessories for your bedroom made from Chinese porcelain, such as jade and ivory statues or religious statues of Buddha and animals likes dragon, snakes, tortoise etc. This will not only look ethnic but also will bring goodwill in your abode! Use bamboo for building headboards, desk, dressers and end tables. Antique lacquered wooden furniture is considered among the best traditional alternatives of the Chinese. You can incorporate these furniture to give Chinese appeal to your bedroom.
A single dragon statue or a single orchid placed prominently over the dresser or a night stand, catching the window light, can make that particular area a key piece of your bedroom. It is however, important to reduce the clutter of your room so as to enhance the features if the Chinese style, colors, materials, accessories, furnishing themes and designs. You must make every attempt to strive for balanced colors, symmetry, and furniture that are evenly spaced so that every unique and distinct piece of style can make its independent and attractive impact in the bedroom. You can further browse for many Chinese decorating, architecture books and magazines, Chinese artwork and tapestries to get inspired and gain more and more idea on how to mix contrasting colors and designs and add a Chinese flair in your bedroom.