The concept of a kitchen has undergone tremendous change and modern day kitchens have various style elements, such as elegant countertops, artistic cabinets and the all-new and exciting kitchen lighting. You can convert a boring and dull kitchen into a lively and energetic place, all with the help of a correct lighting scheme. Different types of lightings are available in the market, which can make your kitchen appear appealing and inviting. Here are few reasons that would force you to have kitchen lighting installed at your home.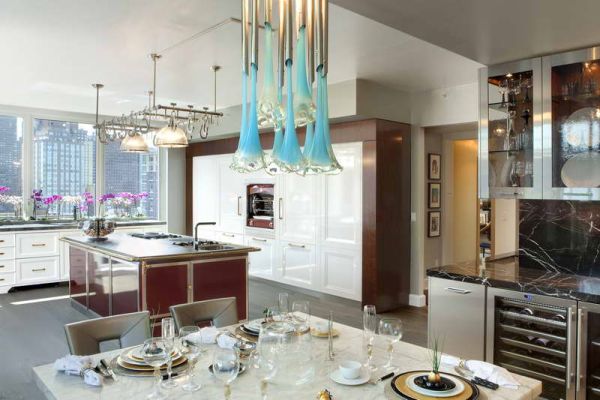 There are numerous kitchen lighting options available in the market. You can choose from fancy chandeliers, modern art resembling fixtures and many other options, which you can use effectively to illuminate and highlight any wall, kitchen-island or other kitchen element. A simple pendant over the main sink or wall sconces on both sides can create a magical look for your kitchen and brighten up your mood as well.
The biggest advantage of decorative lighting according to me is that it adds color to your kitchen as well as your life. This is important for especially those who spent a majority of time in the kitchen preparing meals. From blue to red and metallic copper to gold, decorative lighting are available in a variety of color options. Thus, you can make a strong and colorful style statement. Nowadays, majority of cabinets and countertops have neutral colors, hence it is easy to choose lighting fixture that you can change according to your mood or occasion.
With the help of decorative kitchen lighting, it becomes easy to define and demarcate several areas, such as cooking area, dining table or even your work area. You can easily do it with the help of chandeliers and pendants. All you need to do is to place them in open and large areas without messing up between walls or cabinetry. For example, a large chandelier will look better with an island that has tall ceilings, whereas a small kitchen island will look good only with a series of pendants place together.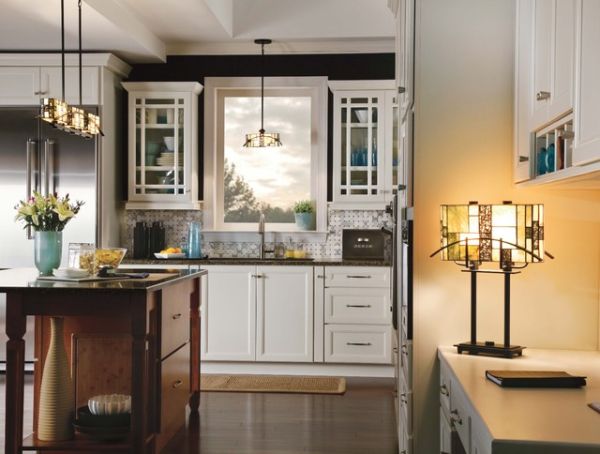 If your kitchen has an empty kitchen wall, you could creatively enhance the beauty of this bare wall with kitchen lighting. Wall scones are an excellent way to highlight the beauty of such walls with the help of lighting fixtures and upward or downward illumination. Recently, the industrial farmhouse wall-arm fixtures have become popular among homeowners.
If your kitchen wall features a painting or a picture frame, you can bring the piece into spotlight simply by using a directional light by focusing it on the painting or the frame. You can give the walls a feel of personalized art with the help of art lighting and other art objects. This will also highlight your love for creativity.
You can also use decorative kitchen lighting as an accessory for the kitchen. Several items including table lamps, lanterns and electrical or battery operated lighted objects look unusual inside a kitchen. However, if used properly, these items not only decorate the place but also illuminate the entire kitchen, making it a lively place. On the other hand, cordless lamps are beneficial, since you can place them anywhere according to your needs and liking.
You can use see through cabinets to display special items and can modify them the help of interior cabinet lighting. For glassware dishes and other objects, strip lighting or puck lighting is generally preferred where the whole cabinet illuminates at night.
Summary:
Decorative kitchen lighting definitely enhances the beauty of your kitchen provided you place all the lights at proper positions and do not overuse them.