A kitchen was ones just considered as a place where our mothers cooked and was treated a room of utility. That is not the case anymore; a kitchen is now where a family cooks together, where the family eats together and spends time together. A kitchen is full of energy and aroma. A kitchen is the main hub of house that fuels the house and the family. Whatever be the size of a kitchen, weather small or big, it should design it properly. Architects offer a number of different types of kitchen designs these days. Scandinavian designs are one such and are fast catching up.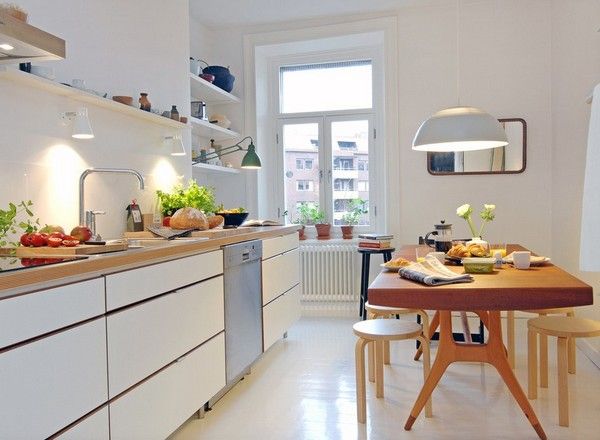 Scandinavian designs have a very modern feel, yet elegant and simple. Featuring here are some of the tips that might be useful if you are designing your kitchen in a Scandinavian style.
The first thing that you will notice in any Scandinavian style kitchen is the element of white and grey. This neutral colour gives a very calming and natural feel. Just a splash of bright colours here and there would as a perfect contrast against the while walls in the kitchen.Setting up an array of white mugs and other cutlery in white colour ads to the elegance.
While the Scandinavian designs are mostly white and plain, adding some floral patterned borders can give more warmth and add to the overall look of your kitchen. Another easy way to add colours and patterns, which only complements the bright feel of the kitchen, is by using coloured textiles. Use bright coloured towels and napkins. You can just place them on the slabs or hang them around in towel holders, which will give the kitchen a very lively feel.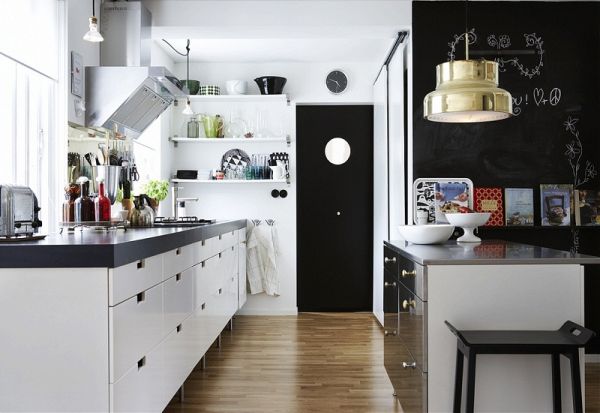 Stripes are often used in the kitchens of Scandinavian designs. These stripes could be either grooved walls and striped wallpapers or striped rugs. A combination of these could add just the perfect touch to your kitchen. You can find a lot of textures and patterns in Scandinavian rugs which are woven motifs giving a very handmade feel.
Metal and wood features enhance the look of the kitchen giving it a very elegant and classy feel. Warm wooden touches can give your kitchen a farmhouse fee look, maintaining the modern feel. A small wooden table with a few chairs is just perfect for a warm and cosy dinner. The wooden cabinet, sink, and drawers boast the gorgeous wood patterning in the kitchen. Stainless steel surfaces and appliances arranged in the kitchen gives just the perfect touch. Light-finished wooden floors will definitely enhance your décor.
Light is as critical as the colours in the perfect Scandinavian design. Large windows allowing a lot of natural right is one of the distinct features of this style. The perfect light fixtures can allow you to add colours to your interiors. A warm feeling is what is required in the kitchen, so do not use very bright and flashy lights but at the same the dull lights should not steal the charm away from your kitchen.
Some of the other additions that are rather less common but definitely worth trying are features like a slanted sealing. This design might not go well with all kitchens and should match the overall architectural design of your home. Exposed brick wall will surely make your kitchen stand apart. Hanging paintings in the kitchen will help you play with the colours. Positioning and having the right kind of painting is important. Finally, simplicity is the key in Scandinavian styles. We hope that you are able to setup the most beautiful kitchen.