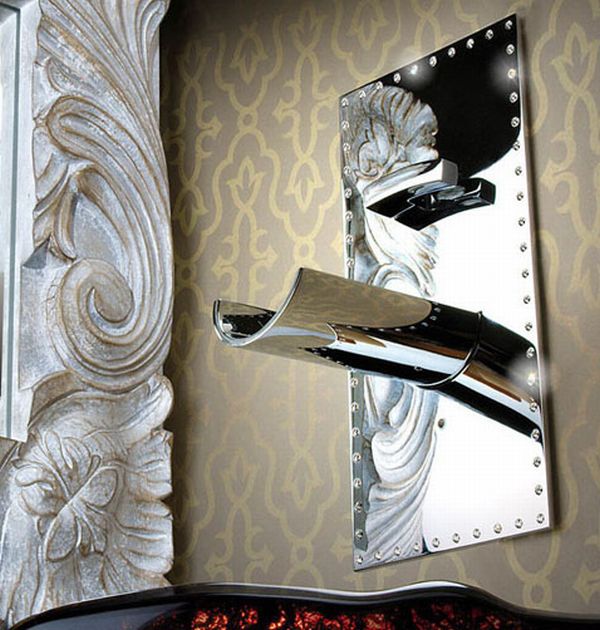 There is a remarkable fact associated with an innovative creation, be it an artwork or any newly designed structure. The fact is that you cannot guess in the first glance as to what the object is all about. And that is the feature of creativity. It is 'something different from the usual'. That is the main reason why the word 'creative' is associated with a majority of inventions by people having different outlook than the others who think in a specific and usual way.
The picture you see above looks as if it is a shining semi-circled case attached to a steel body. But in reality, it is a Faucet named Aquaviva Swarovski Faucet( by Bingo). The spout( that is a projecting tube used for pouring from a kettle or any other object) is given the shape of a plate which gets fixed on the wall on the space above the sink. It is decorated with beautiful Swarovski crystals and the the plating is done with chrome(which is a compound of chromium), which adds a unique aura to the beauty of this faucet.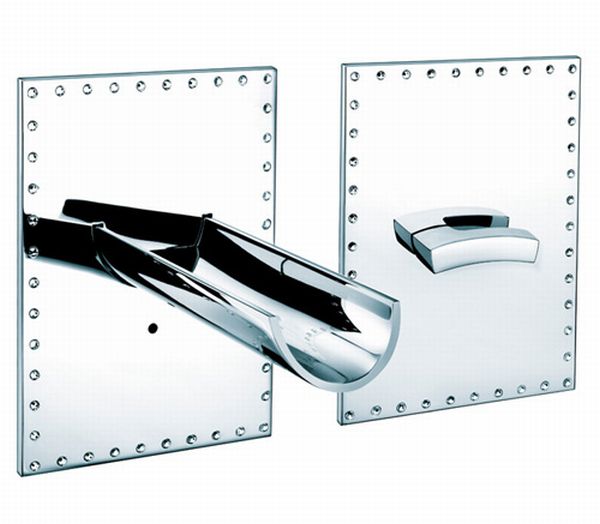 With a beautifully designed smooth and glossy skin, this unique faucet ranks high on quality and durability and is sure to increase the charm of your bathroom. The lines on this faucet are beautifully crafted so that a unique look is achieved. You also have a choice so as to have the spout and the mixer being built on a common plate or to have them built on different plates. Thus, you can place an order according to the specifications you have, for your bathroom depending on the size of the bathroom, color of walls and the availability of space. The most outstanding feature that this faucet provides you with, is its unique look and design that will mesmerize the people who visit your bathroom.
Get ready for the compliments you will be receiving for the possession of this unique faucet. It is also believed that this faucet will be available at a not-so-steep price so that it is affordable by a majority of people. Even if it is a bit costlier, the price is worth paying for because of its uniqueness. The stunning Faucet Acquaviva Swarovski Faucet is highly recommended for all those who have a love for creativity and also for the people who like to do things differently.
Via: Trendir