We all have a thing for beautiful and appealing lighting in our homes and each room needs to have its very own and distinct lighting which lends it that special feeling. There are areas around the house where we like to see gorgeous lights that let out a soft aura of light and also double up as the center piece of the area. One such creative center piece is an exquisite lamp made out of dried gourd to create African-inspired colorful pendant lamps. Once turned on, these colorful pendants shine like colorful gems and stones and make a beautiful spectacle in a room. Created by Przemek or Calabarte from Poland, this artist cum sculptor etches out beautiful Afro patterns on dried African gourds and has perhaps converted a vegetable into the most novel object of beauty.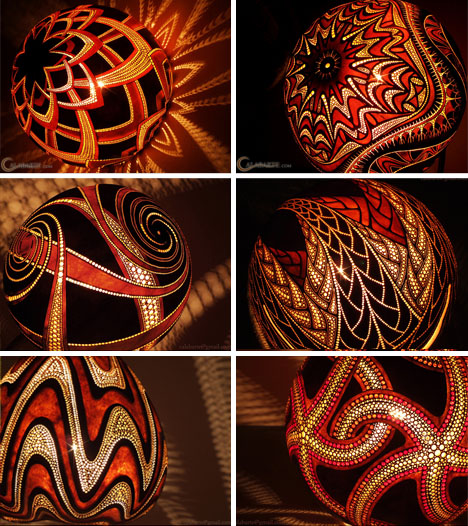 This oversized gourd or the gourdlight are essentially handmade and the ones used by Calabarte are the ones that are unique to the African hinterland. This exotic vegetable or fruit has been dried to create a hard shell into which the designs have been sketched and drilled by making perforations and adorning them with multi-colored stones to give them a spectacular look once light shines through the holes. The designs thus creates are intricate and unique with a great amount of labor put into the details. The natural shape of the large-sized African gourds also added up to the uniqueness of this eco-friendly lamp shade.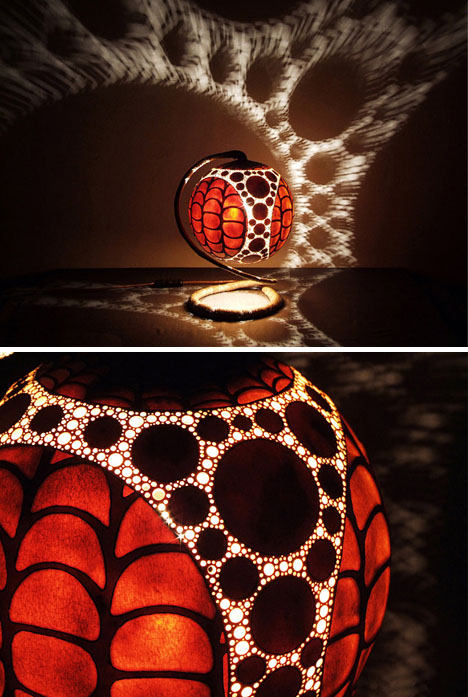 These lampshades and pendant lights look very interesting and novel, simply because no two designs are similar. Staying true to the African inspiration, the colors that are used in painting the lamp shade are also African comprising of their trademark black, orange and yellow color scheme. If you look at the lamp patterns closely, you might even find a certain resemblance of the geometric design to that of the Islamic designs which are commonly seen in their architecture
Not only are these gourd lamps simply breathtaking and 'gourd'geous, but they are also environmentally friendly, as they are created out of dried gourds. The process of drying gourds is very time-consuming as it takes around two months to dry them completely for using it as a raw material in crafting the lampshade. The stage in which the gourd is punctured to create the perforations also requires a lot of time and patience – hence, this lampshade is crafted with a lot of skill.
Calabarte has done Building Engineering prior to working in an architectural studio for near about three years. After putting in seven years to studies, he then realized that his true calling was in making and designing lamps. His travels to Senegal saw him experiment with the exotic African gourd, which later formed the basis of his amazing lamp creations.