Rugs aren't the typical choice for floor décor in places like the kitchen since these areas are more prone to spills and stains than any other region in the house. However, area rugs can be easily used to beautify an otherwise dull kitchen and here are a few things you need to keep in mind before picking a rug for your kitchen.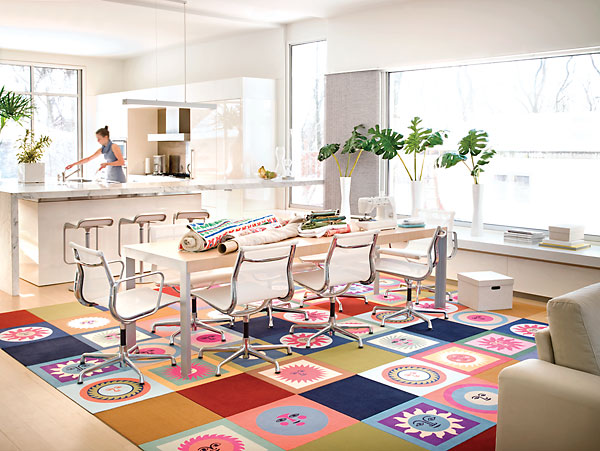 1. Use a colorful rug to brighten up the space
If your kitchen has a predominately monochrome or dark color scheme, an area rug in a bright hue could be just the thing you need to brighten up the space without painting your cupboards in neon colors. If you are looking for an inexpensive kitchen makeover, a budget friendly rug in a bright seasonal color might make a huge difference to the way your old kitchen looks.
2. Pick an easy to maintain rug type
If you have small children in the house or share a house with someone who is prone to dropping food on the kitchen floor, then you should definitely invest in an easy to clean rug in a dark, stain hiding color. If every member of your house is skilled at not dropping liquids and foods on the kitchen floor, then you can also opt for more expensive, dry clean only rugs in lighter shades.
3. Remember kitchen décor style when picking a rug
You should always remember to coordinate the style of the rug with the décor theme of your kitchen. A modernist rug might look very out of place in a traditional kitchen though the same might be completely at home in a minimalist kitchen.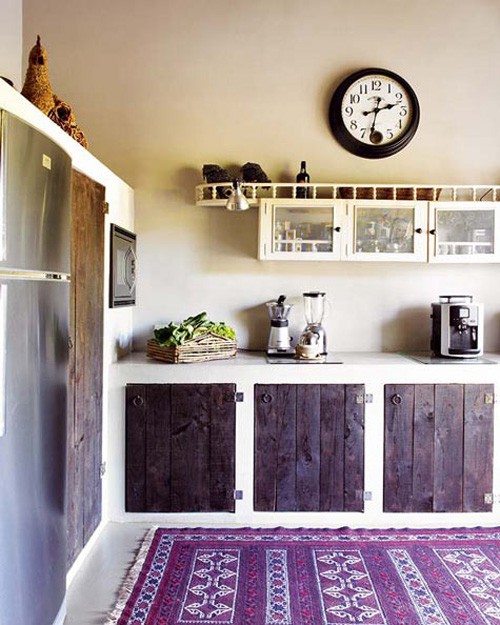 4. Use robust patterns and bright colors
If you aren't too keen on adding a bold wallpaper, multicolored backsplash or staining the cabinets in a funky color, you can still achieve a refreshed look with the help of a bright area rug in a bold pattern and a bright color. these rugs can be changes and replaced more often without you having to suffer through a week of repainting and retiling.
5. Use rugs to give your kitchen seasonal makeovers
If you are the kind of person that likes to surround yourself in the colors and textures and smells of a particular season, area rugs might just be the budget friendly alternative to expensive seasonal paint changes. This trick works best for kitchens with classic all-white or all-dark cabinetry and an elegant floor color since these "go" well with all kinds of color. For spring, you can choose a yellow rug with big bright green leaf patterns on them and then change to a more sophisticated oriental rug to symbolize the somberness of the winter landscape.