When the decorating bug hits, you find yourself wanting to change the look of your interiors. Yet, the thought of making a mess while doing it puts a dampener on your enthusiasm. Relax, you do not have to be a professional to give your home a face lift as there are easy yet creative ways of doing it. From putting up new curtains to sewing upholstery for the sofa set, you can do it all during the weekend. Besides, you will be saving money and getting double the satisfaction at your astonishing projects. Here are some great DIY decoration projects which will give you a fair idea of where to start.
1. Painting your walls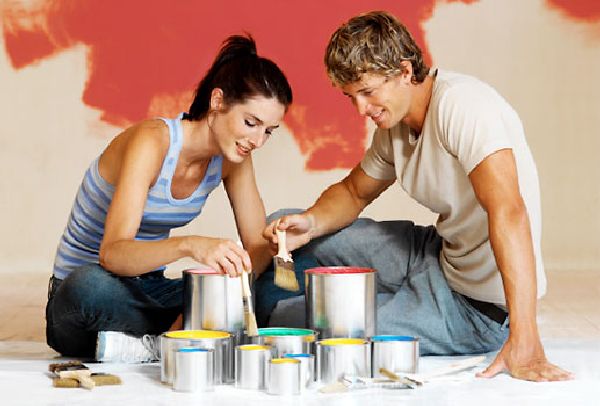 Painting is the most exciting and fun DIY project which is undertaken even by amateur interior decor lovers. Keep in mind that you ought to fill in cracks, do sanding, cleaning and priming before you splash on the colors. These preparations will give better results and will have lasting effects. You can learn about the kind of tools you need, preparation for the project, choosing colors, how to paint, cleaning up and storing the kit from various online tutorials.
2. Create a headboard
There are plenty of ideas available online for making a headboard. It is not so difficult as you can simply make a padded headboard with foam batting fabrics on wood. You can create your own style of headboard instead of going for an expensive one. If you take out time and do a bit of brainstorming, you will come up with a plethora of headboard ideas which can be made using different materials. You can even revamp your existing headboard by adding some unusual items, such as baseball bats, buttons or lily pad headboard.
3. Tables and tablecloths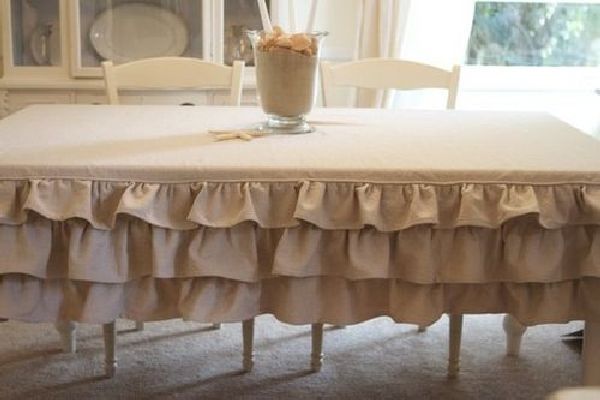 You can add a little bit of luxury touch to your tables by lining them in skirted tablecloths and covering the table top with cut glass shield to protect the tablecloths. They will not only look expensive but will lend an elegant feel to the room and all within a comfortable budget. If you are good at sewing, you can easily run up a nice tablecloth to hide a piece of furniture that you wanted to throw away. See the end result and you will be astonished at your own ingenuity.
4. Make an Ottoman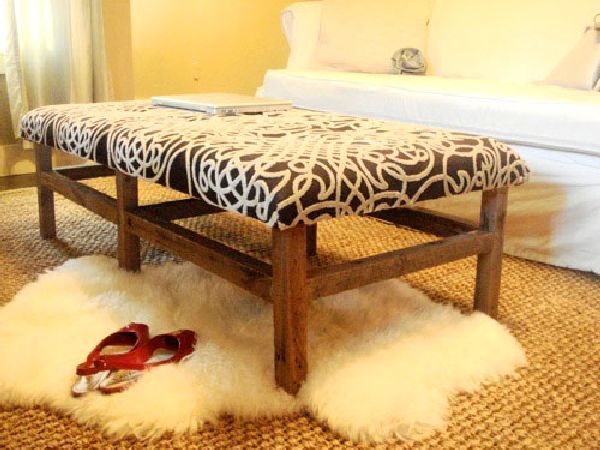 You can easily make an upholstered Ottoman with foam, wood, legs and fabrics and save a lot of money. You may have an old Ottoman, so cover it with new fabrics for its top and skirting and see the end result. Ottomans are coming back in a big way and with new upholstery, it can function as another seating place apart from being a footstool.
5. Moldings for home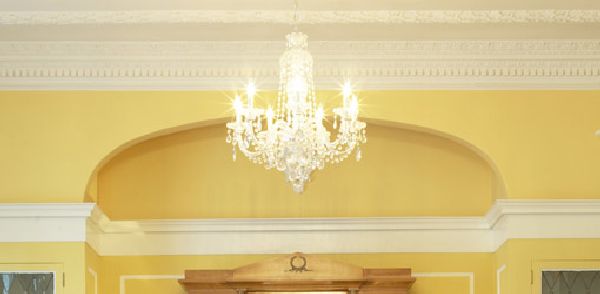 Make your own wall moldings which may require some basic skills and the requisite tools but once completed, will add elegance to any home decor. With a number of online tutorials, you can have a choice of the kind of molding that you need. You may need to stain or paint both sides of the molding before it goes up for installation and then touch up on the nick holes and nails.
6. Faux techniques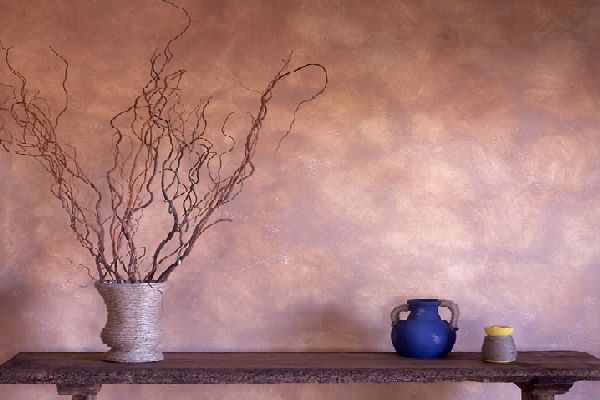 You can go in for tone to tone or color washing rather than the usual decorative painting techniques. The faux technique adds style and interest to your usual decorating schemes and there are plenty of tutorials online which should guide you the right choices.
7. Stenciling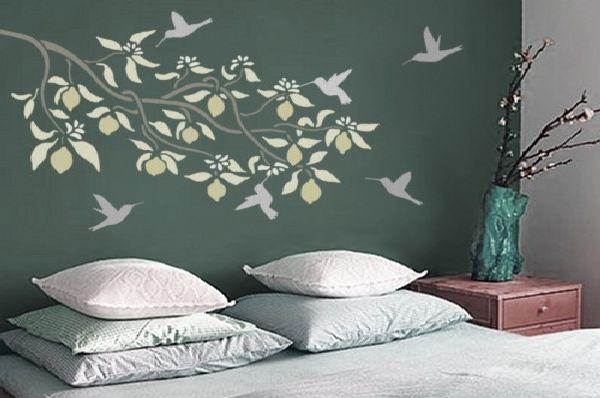 Stenciling is the best way of creating murals when you can not paint. There are so many stencil designs available in the market as well as online tutorials for tips, designs and how to go about it.
8. Make your own lamp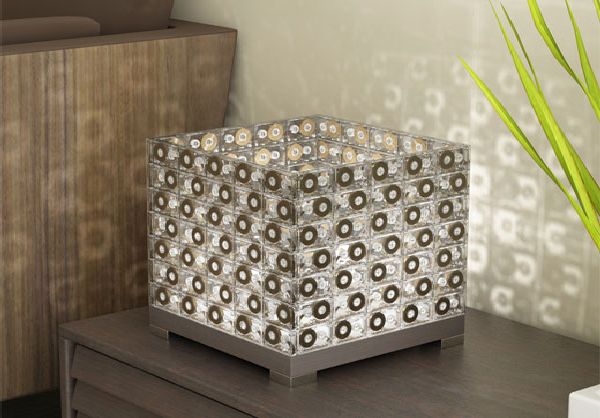 Buy a lamp kit from the hardware store or home center and create your own lamp at home. You can use ceramic urn, glass, wood or even bamboo as the lamp base and top it with a nice lampshade and wire it up. You can make your own lampshades with cloth, cassette tapes (shown above) or any recyclable material around a lamp shade skeleton.
9. Create your own art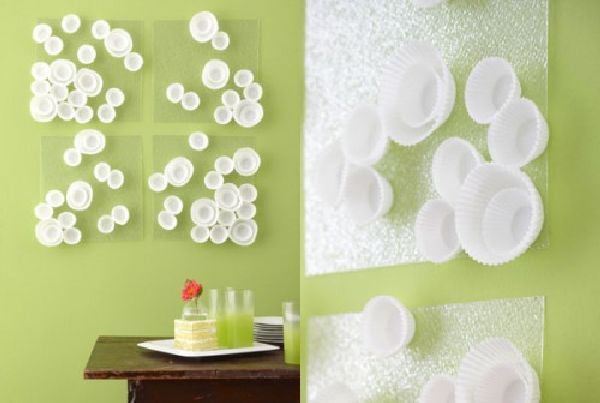 You can put up a collage of photos in a frame on the wall or create your own dried floral artwork on a canvas with varnish finishing, which will not only be cheaper but far more creative. If you can not paint or are not good at crafts work, then put up a pretty calender picture in a nice frame to cheer up a room. Otherwise, you can create your own Picasso corner by splashing some really nice colors in carefree style on one corner of a room wall.
10. Put up wallpaper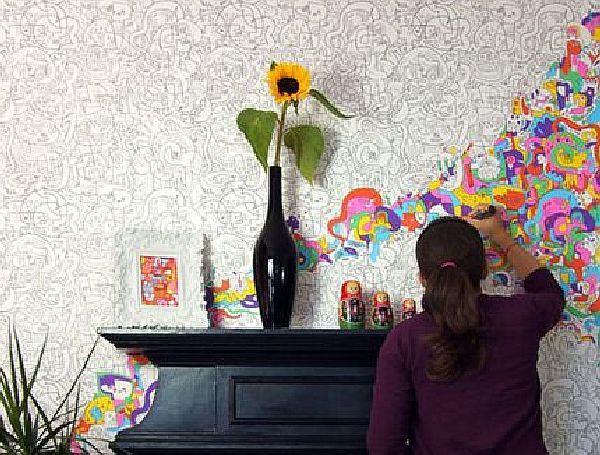 There are many different kinds of wallpapers available these days, some of which can be pasted using water. You can tear them up and apply water unlike those where you need glue. Be sure to do a little bit of research and read the instruction manual carefully so you can put up wallpapers without making a mess. To give your walls a more personalized look you can fill your favorite colors in a white wallpaper with printed patterns.
These DIY projects are ideal if you are really thinking of giving your home a totally new and refreshing look. You need not spend a fortune on these projects however, the end results you will get will thrill you beyond your senses.