The open shelving versus closed cabinetry choice is something that every homeowner struggles to make. As classic closed cabinets are, they can "hide" everyday objects out of sight while open shelving is difficult to maintain on a daily basis. However, in terms of kitchen trends, open shelving is very "in" these days and here are a few open shelving options that you can use in your kitchen too.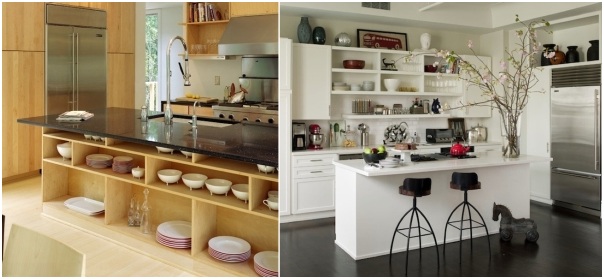 Barely there floating shelving
People who dislike hardware and support structures peeking from underneath open shelving would love the concept of floating shelving. These shelves come with hidden hanging mechanisms and hard to detect support gear which give them the semblance of floating in mid-air. The weight bearing capacity of these shelves differ on the kind of hanging mechanisms you use though most are study enough to hold cookware as well as decorative plates.
Open shelving as a display area
Kitchens are supposed to be purely functional areas in our homes though folks who like to socialize while cooking can use open shelving as display areas for their prized cookbooks, top end cookware and even memorabilia from culinary world tours.

Open shelving converted from open cabinetry
Open cabinets can also be converted pretty successfully into open shelving though you might have to be mindful of painting over hardware used to install these cabinets. Since cabinets are built to be sturdier, they can be used to house and display heavier cookware items as well.
Open low shelving
A lot of people aren't comfortable having open shelving close to the floor level since these tend to get dusty very soon. However, these can serve as a wonderful alternative to eye level or higher displays while opening up a lot of used space for displaying items that you don't need to use too frequently like cookbooks or decorative plates.