Wallpapers are the best way to renovate and beautify the home. They are used by all the households in America and many other countries. Since, painting the walls require effort along with money, it is always a wonderful idea to choose elegant wallpapers to give your walls a more appealing and outstanding appearance. However, wallpapers can also take a lot of time in installation, furthermore, once installed, you won't be able to change them soon due to the cost and hard work involved. But that is certainly not the case with temporary wallpapers and removable stuffs, which are cost efficient and easy to change.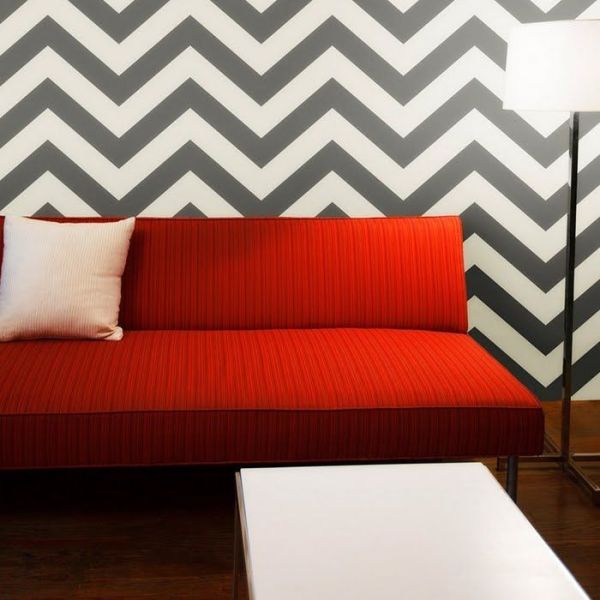 Don't get disappointed by the temporary work that may bring a not so beautiful image of your newly decorated home. In today's evolving technology and stiff competition, you can easily get stunning temporary wallpapers and other removable items that greatly enhances your home's exterior. Below are some brilliant temporary wallpaper and removable things you can install on your walls and home to provide a more glowing presence to your home.
Wallpaper lining: A very effective way to make foundation for your wallpaper, the lining can help you smoothen out any uneven surface on the wall and allow the wallpaper to easily stick to its place. It also enables the temporary wallpaper to be removed without any difficulty for replacement.
Tempaper Cornell Graph removable wallpaper: A refreshing and subtle temporary wallpaper that provides a more classy look to your walls with its sporadic grid design, which is very hard to miss. The guests will surely be delighted to see the perfectly shaped and brightly colored wall. The best part is that it can be replaced easily.
Use double sided carpet tape on rugs: It is difficult to maintain the position of removable rugs on the floor. It is even more troublesome on hard floors. With double sided carpet tape, you can easily hold it down to one place. You can also use it on carpet tiles and stair treads.

Removable contact paper: It is an easy to apply, remove and clean contact paper that can turn your flat's smooth surface to unique chalkboard. You can also cut it in different shapes and length for custom use or stick it to the walls and doors. It is one of the brilliant and useful temporary wallpapers and removable stuff you can ever find at a very cheap cost.
Brayden Studio Ladwig Scandinavian Block Tulip Floral Wallpaper: May sound a bit long, but it's an extremely heartwarming temporary wallpaper that you can install on your walls to give your room a natural presence with perfectly designed florals showcase. It's a must for the nature lovers.
Juila Rothman Daydream Tiles: A highly fascinating removable item that can stick to your walls or floors giving an eco-friendly vibe without affecting the appearance of your other décor items. It offers soothness and calmness to the person around and encourage them to start their day with joy.

Wallcandy Wee Gallery Jungle Temporary Wallpaper: Another temporary wallpaper that is perfect for the walls of your children's room. The colorful presence of flora and fauna crafted elegantly to brighten the mind of the kid with amaze and excitement, this refreshing wallpaper offers artistic design and it can be easily removed.
Washi Tape: Probably the most important item for small jobs that really matters. Washi Taps are designed to décor your home stuffs such as furnitures, chairs, your table and anything that is present in the room. It is extremely cheap and still offers a colorful and mesmerizing appearance on the ordinary looking items, plus, it is very fun to use. It also doesn't take much time to remove. A very useful product for home decoration.

Paisley Elephants: Provided by Walls Need Love, this temporary wallpaper offers an ancient design filled with equally sized elephants dressed as a royal ride for some Indian Maharaja in an eye-catching color, supported exquisitely by the background.
Sarah Jane Nautical Anchor Print: Achors put weight. And so will your walls when this navy themed dark blue colored temporary wallpaper will be installed on them. A very fine option for the bedroom to bring a light hearted and kind feeling to the person.