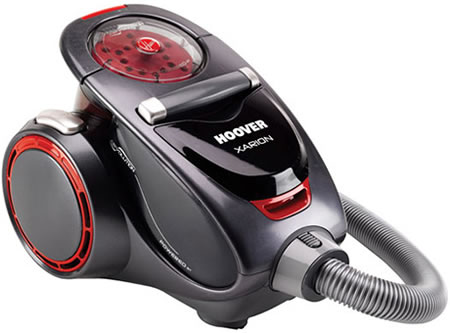 Hoover is one of the famous and oldest names in vacuum cleaners and is recognized around the world for its innovative design, high quality, high suction power and hygienic dust management. Hoover parts are designed to extend the life of the machine and it also work with specialized add-on tools and accessories for hard-to-reach, detailed cleaning jobs. It offers models at all prices, hand held convenience vacuums to upright vacuums to self-propelled Hoover power drive. Whatever your home cleaning needs, Hoover has the right cleaner for you. Here, we have shortlisted few Hoover Vacuum Cleaners. Have a look.

1. Hoover Xarion Allergy Care Plus TAV 1620
BRAND : Hoover
PRICE : USD 225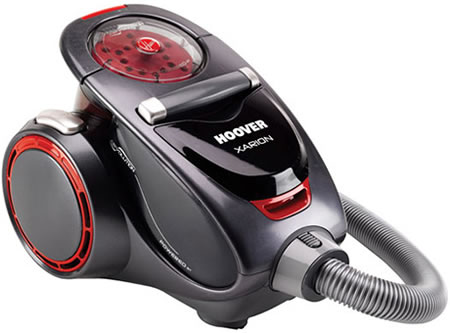 Are you looking for hi-tech vacuum cleaner? If yes, then this product is perfect for your requirement. Airvolution technology delivers sustained suction power and makes the dust get collected in the bin. It is incorporated with a variable suction control into the vacuum navigator handle along with telescopic extension tubes that provide you complete cleanliness and it features washable exhaust filter, rubber wheels, adjustable carpet/hard floor nozzle.
USP
It makes life easier for allergy sufferers, equipped the Xarion with allergen remover brush and washable HEPA filter
PROS
Airvolution Technology reduces the risk of its blocking and achieves high-sustained suction power.
2. Hoover Dust Manager DM6216 Bagless Upright Vacuum Cleaner
BRAND : Hoover
PRICE : USD 136.02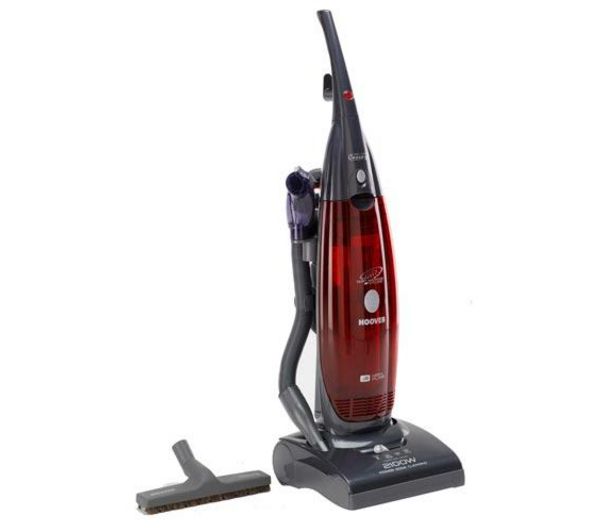 If you have hard floors and carpets in your home, then Dust Manager is the ideal solution for that. It weighs 7.5kg and boasts 230 air-watts of suction power. It consumes 2100 watts of power and features 5-stage filter, 7m of cord length, washable HEPA filtration, washable micro exhaust filter and 2ltrs gross of bin capacity. You also find a hard floor caresse nozzle, which is especially designed to pick up the dust and debris from hard floors without any damage or scratch on the surface.
USP
This is equipped with pet hair remover turbo brush, which effectively lifts pet hair from carpets keeping the home clean and hair-free
PROS
It is light in weight.
3. Hoover Portapower Commercial Portable Canister Vacuum Cleaner C2094
BRAND : Hoover
PRICE : USD 121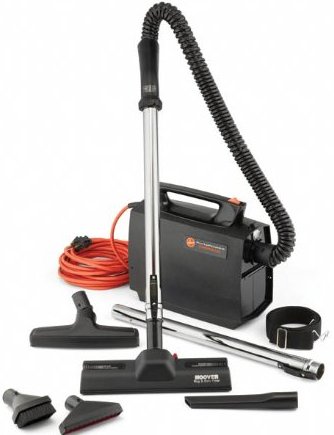 This cleaner comes from the house of Hoover. It includes 10 inch floor brush, rug and floor tool, crevice tool, dust brush and upholstery tool, 3 wires, reusable 3-layer cloth bag and takes about 7.4-amp motor power along with 2.2 Horse Power, 33 foot SJT cable length for large area cleaning and two chrome wands. It is easy to carry with the help of sturdy handle on the top and the shoulder strap.
USP
This is a compact, portable vacuum with good suction power and plenty of attachments
PROS
It weighs 8.3 pounds and has a built-in blower.
It comes with 1-year warranty period.
4. Hoover Capture TCP2011 Pets Cylinder Vacum Cleaner- Red
BRAND : Hoover
PRICE : USD 77.29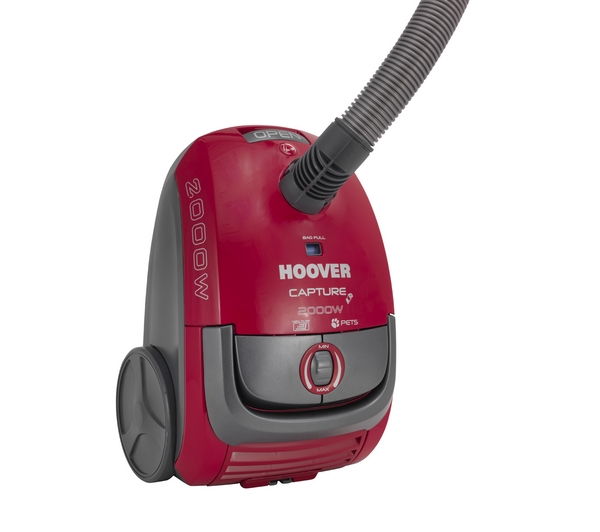 The bright red TCP2011 Pets Cylinder Vacuum Cleaner is designed for homes where there are many pets' hair to clean. It contains 5.8kg of weight, 5m of cord length, 2litres of reservoir; it consumes 2000W motor power and on-board tools, pet hair remover brush, hard floor/carpet nozzle that helps to clean almost any type of floor and telescopic tubes that enable you to reach harsh areas of your house.
USP
HEPA filter traps allergens inside the vacuum cleaner, leaving your house allergen free
PROS
It is easy to carry around anywhere in the house.
5. Hoover Platinum Upright Vacuum Cleaner (UH30010CO)
BRAND : Hoover
PRICE : USD 244.93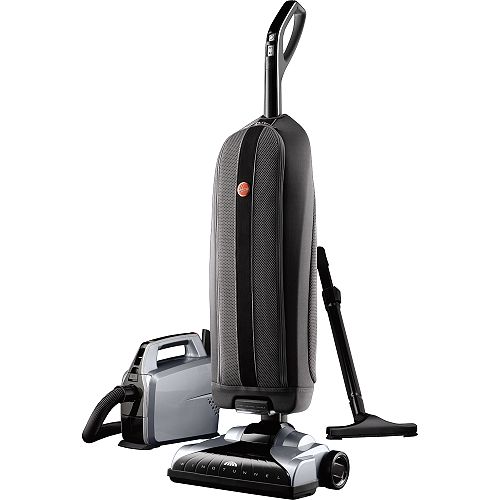 The Hoover Platinum Upright Vacuum Cleaner weighs 12 pounds, which makes it easy to handle. It is equipped with certain characteristics such as HEPA filtration system, extra long 35-foot power cord for large areas, edge cleaning channels with bristles effectively clean the hard-to-reach areas, 12-inch extension wand, crevice tool, dust brush, hard floor tool and consumes 12-amps of motor power.
USP
Wind tunnel technology helps to remove embedded dirt and minimizes blow-back or scatter on carpet
PROS
This cleaner comes with portable canister vacuum that cleans floors to ceiling.
It comes with 6-year limited warranty.
6. Hoover CH30000 PortaPower CH30000 Lightweight Portable Vacuum Cleaner HVRCH30000
BRAND : Hoover
PRICE : USD 111.53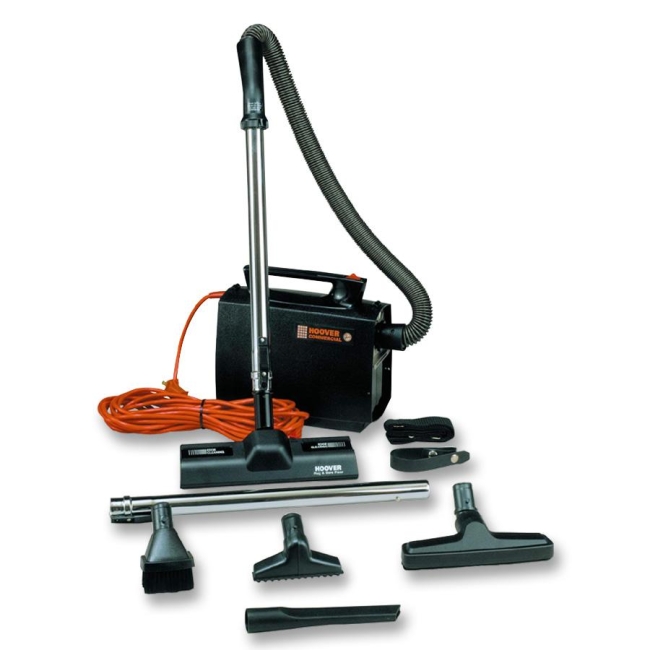 Hoover's PortaPower light weight portable vacuum cleaner comes with crevice tool, wall/floor brush, dusting brush, furniture nozzle, rug/floor nozzle, two chrome wands, storage strap and shoulder strap attachment which makes it convenient to carry. It also includes seven-piece tool set with super stretch hose and carrying strap, reusable cloth bag collection system to collect dust and this is basically listed for commercial use.
USP
This cleaner has sufficient power for dry pickup or blower use with its heavy 2.2 Horsepower motor
PROS
This is light-weighted and weighs 8.3lbs.
7. Hoover SL8123 001 Pets Vacuum Cleaner
BRAND : Hoover
PRICE : USD 307.75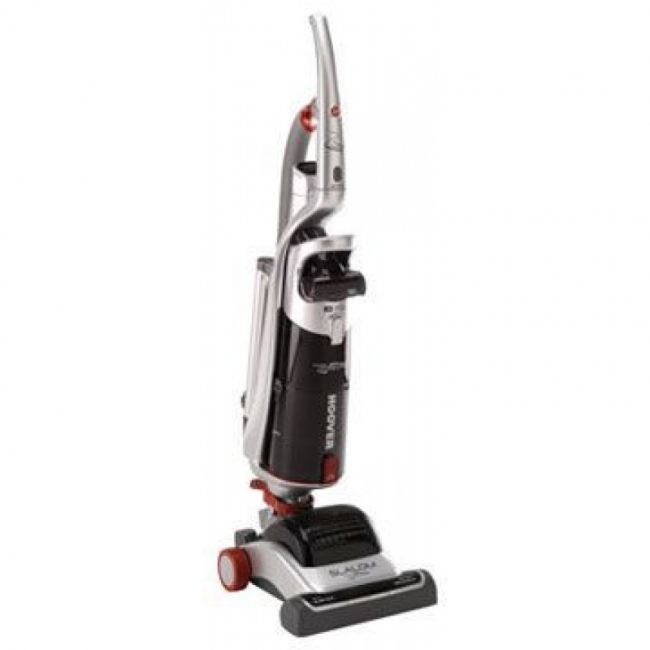 Are you looking for a cleaner, which requires less effort? If yes, then this product is best suited for your requirement. Hoover's Pets Vacuum cleaner takes only 220 air watts and is equipped with certain features like active steering for maximum control and unique twist, washable HEPA filter, unique airvolution system, micro exhaust filter, 2.2 liters of dust container capacity, and 8.5m of cord length with 8.37kgs of weight.
USP
Pivot-like design makes it easy to move it wherever you want.
PROS
It is equipped with lots of features like active steering, unique airvolution system, micro exhaust filter etc.
It comes with 1-year labour and 5-years of parts warranty.